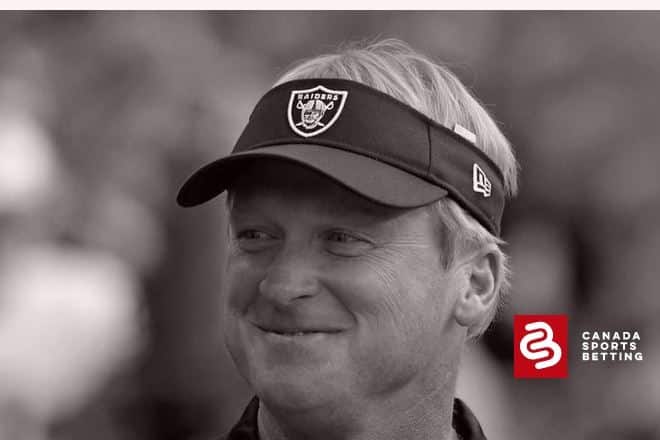 With Jon Gruden out of Las Vegas, the Raiders defeated the Denver Broncos on the road. Can they win at home against Philadelphia? It is NFL Week 7 Late Picks.
As always, with the bye week, we take a look at a few more picks from the late games and Monday night football for our picks. For Week 7, four games are starting between 4 and 4:30, the Sunday night contests and then the Monday nighter.
This week, we pivoted away from the Sunday night football tilt. Instead, we took on a game between the New Orleans Saints and Seattle Seahawks. The Seahawks are quite the underdog and no, Russell Wilson is not coming back yet.
NFL Week 7 Late Games
These betting picks for the NFL are going to be something else. The problem this week was so many huge disparities in the moneylines because teams were favoured by 15+ points in at least two cases. When having that on a bye week, that only compounds the challenges. It makes the closer games more difficult. These late games are interesting in different ways.
At Canada Sports Betting, we managed to come up with three pretty solid contests to ride the moneyline on. After all, it is popular and easy to bet on. So, what other games made our cut? Let's see some of those prime late games for Week 7.
Primetime Week 7 Betting Contests and the Numbers
The numbers from the sports betting sites are essential to follow this week. One just has to understand that there will be a decent-sized underdog, one slight favourite, then one more lopsided team. The goal is to ride these moneyline picks once again. Sweeping last night capped quite a good run. Even the Arizona Cardinals won big in Week 6 — destroying the Cleveland Browns on the road 37-14.
At least two of these three games expect to be intriguing, the third could be for a lot of reasons. Either way, let us get a gander at those betting numbers. It is table time.
The NFL late-game odds once again pointed us in at least one unexpected direction. Read below to see what the thought process was. Anyway, let's dig into that Monday night contest.
Las Vegas Raiders over Philadelphia Eagles — The Headline Pick
When Jon Gruden was dismissed as head coach last week, it was as if a weight was lifted off the Las Vegas Raiders' shoulders. The result was a resounding 34-24 road win over the Denver Broncos. The Raiders looked like the team most saw the first couple weeks of the NFL season. That win moved Las Vegas back into a first-place tie with the Los Angeles Chargers.
Derek Carr looked more like himself as he shredded the Denver defence to the tune of 341 yards and two scores. Las Vegas was also +4 in the turnover battle as they had a clean sheet. The same could not be said for the Philadelphia Eagles.
Philadelphia does have a better road record oddly enough at 2-1. However, this is Allegiant Stadium and "The Black Hole". It is a special kind of home-field advantage. The Raiders are 2-1 at home and have looked better as a team there. Last week was the first road contest of the season where they had "that home look".
The Raiders should be able to get after an Eagles team that can make quite a few mistakes. For as talented as Jalen Hurts is, he is youthful and tries things he should not. Sometimes it works, and sometimes the ball goes the other way.
Just because Las Vegas has a chance to go 5-2 and stay ahead of Kansas City and Denver, there should be extra incentive late Sunday afternoon. Our headline pick is taking the Las Vegas Raiders over the Philadelphia Eagles. with a 1.59 moneyline.
Monday Night Pick — Seattle Seahawks Over New Orleans Saints
This is not the headline pick but it is close. This Monday night contest gets a little more press than usual because of the unexpected nature of the game. Jameis Winston is starting for the New Orleans Saints but Geno Smith will be under center for the Seattle Seahawks.
The New Orleans Saints come in 3-2 while the Seattle Seahawks are now without Chris Carson and Russell Wilson. They stand at 2-4. They are a game out of a potential playoff spot and the season is getting late rather quickly.
Geno Smith did nearly lead the Seahawks back against Pittsburgh last week but Seattle fell in overtime. What makes this pick even more dangerous is that New Orleans might see a player return to the lineup. Kicker Will Lutz may be returning and Michael Thomas is a couple of weeks away. The kicking game in New Orleans has been an adventure, to say the least (just four field goals attempted of late and two missed extra points).
What drew us in was that moneyline number for this NFL Week 7 NFC game. It was hard to pass up numbers ranging from 2.7 to almost 3.
Seattle plays well at home and anything is possible. For that reason, our pick is the Seattle Seahawks over the New Orleans Saints at 2.95.
A Last Late NFL Week 7 Pick – Tampa Bay Buccaneers over Chicago Bears
The Tampa Bay Buccaneers had a tough time disposing of the Philadelphia Eagles but their reward was ten days off. They get an opponent in the Chicago Bears that can be vulnerable in their secondary. It is a home game where Tom Brady and company are around 14-point favourites. This sets up too well.
Our pick is the Tampa Bay Buccaneers to easily defeat the Chicago Bears.
All the best sportsbooks like Sports Interaction have been providing great numbers all season long.