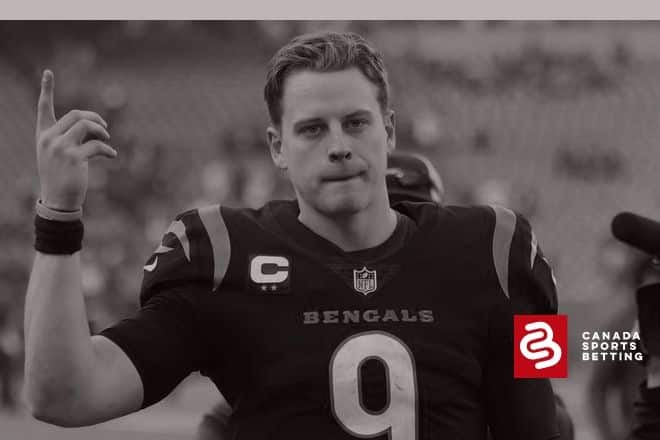 Here we go again in our quest for more NFL Super Bowl 56 Props. This time at Canada Sports Betting, we take a look at some of the best Joe Burrow props.
Joe Burrow Super Bowl 56 Props
First of all, most never expected Joe Burrow and the Cincinnati Bengals to make it to the Super Bowl. Against daunting odds, the Bengals got past Las Vegas, Tennessee, and then Kansas City on their way to Super Bowl 56. Since we examined some of the Matthew Stafford props, it seemed fair to take a look at some options for Joe Burrow.
The nice part about these props is that there are ways to aim a little higher or lower to adjust one's wager a bit. Also, Super Bowl 56 is not until February 13th which is more than a week away. Numbers, injuries, and yes COVID could still shift things between now and then. Look at this as a nice starter guide to some of the player props to look out for.
Joe Burrow Numerology
Again, there will be more Super Bowl 56 Prop Bets but our focus here is on Joe Burrow. More specifically, we look at three of the better props out there for the Bengals quarterback heading into Super Bowl Sunday. There are the usual suspects in touchdowns and passing yards. However, because of Burrow's scrambling ability, one may take a look at rushing yards? That's correct.
Also, some of the best and top online sportsbooks offer more progressive choices when it comes to sports wagering. Those may be worth a look too. Below, however, is the numerology err data for Burrow's props.
Now, some of the best NFL playoff betting odds and predictions are right at one's fingertips for the Super Bowl.  With just one game to determine the NFL's best team, the crescendo keeps building to crown a champion. Next up is Joe Burrow and we start off with passing yards.
Joe Burrow Props – Passing Yards
The idea, once again, is to keep things relatively less difficult then build upwards as needed. Joe Burrow's number is set at 273.5 passing yards which is a little lower than Matthew Stafford's. That is not an accident. Burrow does not have quite the familiarity with SoFi stadia like Stafford. Also, there is that Los Angeles Rams defence to consider. They kept Tom Brady under wraps for almost an entire game and kept Jimmy Garoppolo under 250 yards.
Furthermore, Los Angeles yielded just 241.7 yards per game the entire season. That makes the number set above a bit more difficult to reach. However, there are always variables to consider. For one, what if Los Angeles gets out to a decent lead as they did versus the Tampa Bay Buccaneers. Then essentially, Burrow would be "throwing from behind". That tends to pad one's totals at least enough to appease the prop.
In the playoffs, the Cincinnati signal-caller has only gone over 273.5 yards once. That was the game in Tennessee where he threw for 344 yards against a somewhat more familiar opponent in the Tennessee Titans. This is where things get tough. Does one try to play it safe? Is there that temptation to take a gamble and try to up the ante a little?
The tendency is to believe that Burrow may have to throw the ball a bit more behind a below-average offensive line. Taking the safe bet with the over set at 273.5 passing yards is a wise move. Risking anything higher would prove to be a difficult proposition.
Joe Burrow Super Bowl Props – Passing Touchdowns
Second on or list is the dreaded passing touchdowns prop. It is a true crapshoot in the sense that Burrow has only thrown for four touchdowns in these playoffs. That included zero in Tennessee. So, there are two games where the Bengals' quarterback hit the back of the end zone twice. This Super Bowl again could feature Burrow having to throw more often late which increases the chances for more touchdowns.
There have been games where the Los Angeles defence has been out of sync enough. Again, Jimmy Garoppolo threw for two touchdowns last week in the NFC Championship. He even missed a couple of opportunities down the field. With Ja'Marr Chase and Tee Higgins able to stretch defences downfield, Burrow could toss a long touchdown or two.
The number to go is the benchmark set at 1.5 touchdowns. Going with two touchdowns is a reasonable and modest pick here. Heading up to three and above just seems too dangerous given how the Rams typically play. Burrow would have to have a lot of time to throw frequently. Few can see that with the Cincinnati line.
A Quick Joe Burrow Prop – Rushing Yards
There is one last quick Joe Burrow prop to consider and that is rushing yards. The rationale and thought process is not hard to figure out. Burrow is going against one of the best front sevens in football, period! Expect him to have to run for his life often. Therefore, with his scrambling ability, rushing for more than 11.5 yards seems not to tall an order.
Burrow scrambled five times for 25 yards in each of the last two games where he saw a top ten passing defence. This is a risk and one can play it safe. However, this may be worth a modest risk. Take Burrow and his ability to run for 22 or more yards on Super Bowl Sunday at plus money.
Last but not least, take a good look at some of the NBA Free Picks for later this week.