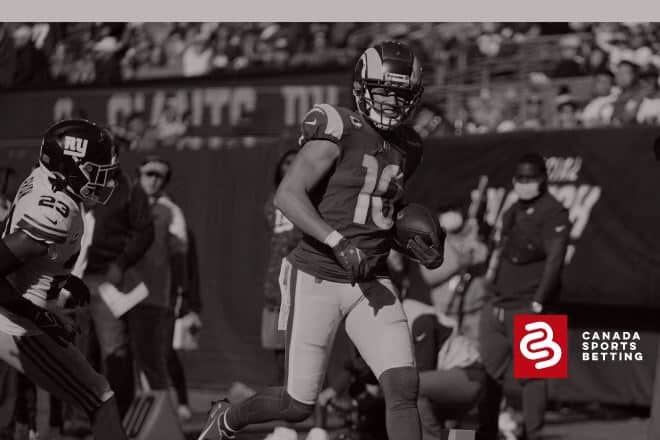 With just two Super Bowl spots at stake, expect crazy. We look at player props for the NFL Conference Title games such as receiving and passing yards.
Hello NFL Conference Championship Player Props!
Now, it is time to have a little fun with the NFL Conference Championships. Here, at Canada Sports Betting, we have explored moneylines of all sorts, futures, and props but no player props. That time has changed. These are typically numbers set for wagering that do not always have an impact on the game. Sure, it is great if your choice wins, but that is not the sole reason necessarily.
Anyway, two early player props caught our eye. One is the most receiving yards and the other is the most passing yards. Sometimes these do have results that are unexpected. The conference championships take place on Sunday, January 30th. Let us explore some of these numbers.
NFL Conference Championship Player Props – Number Time
Alas, it is number time for the NFL Conference Championship Player Props. There is always a little science of the expected and unexpected. The competition for both of these props likely comes down to three players each. That sounds crazy but that is where the numbers seem to fall. Here is the betting table below.
Again, there are more NFL Playoff Predictions and betting odds as always. Not to mention staying up to date with the latest Super Bowl betting odds.
The numbers with these do have a clear cutoff much as one sees with other sports and their player props. A good example is to look at playoff MVP races in various sports. There is a clear group of top contenders, then a drop.
Now, it is time to examine some of the possibilities with these player props in more grand detail. We begin with the receiving yards.
Player Props – Most Receiving Yards – Cooper Kupp A Favourite
One of the more intriguing player props out there is for most receiving yards. Who is going to wind up catching the ball and gaining the most yards on Sunday? That is the question. Some will look and think immediately why not Deebo Samuel. The San Francisco 49ers wide receiver is one of the best pass-catchers in the league. Unfortunately, he runs the ball about 8-10 times a game now. His targets pass-catching are more limited. NFL betting sites are not heavy on him.
Samuel had four 100-yard receiving games in the first eight weeks but just one after Week 10. He is a long shot though an interesting one. The real favourite is Cooper Kupp. Kupp is having a career season for the ages. In the regular season, he caught 145 passes for 1,947 yards and 16 touchdowns. The 28-year-old caught a career-high 75.9% of his targets.
Kupp had a 1,000-yard season two years ago and then nearly one last year before missing a few games. Every year, his production rate has increased. This year has been otherworldly. Kupp seemed to be everywhere right from the opening game. Matthew Stafford had chemistry with him that rode the entire season into the playoffs.
It started in Week 1 against Chicago with a deep touchdown catch to last week with the 183 yards and a touchdown in Tampa Bay. Why is he also a favourite here? The two previous meetings with San Francisco presented a matchup nightmare. Kupp averaged 120 yards each contest which led all receivers. With a home matchup, our pick lies with Cooper Kupp.
Player Props – Most Passing Yards – Backing Joe Burrow?
While this is by far the most challenging of the player props, at least there are two clear favourites for most passing yards. The belief is that the AFC Championship expects to feature a ton of passing yards. Now, Patrick Mahomes is a solid favourite at 1.19. Mahomes has already tossed 782 yards in two games so far. He even outdueled Jos Allen which is why most expect him to win this prop.
Not so fast. This is a big risk but Joe Burrow has a good chance of replicating what he did in Cincinnati against Kansas City in Week 17. Burrow threw for 446 yards and four touchdowns in the 34-31 win. Now, the Cincinnati Bengals' quarterback does not have to win, he just has to throw the most passing yards on Sunday.
It is likely Matthew Stafford will be limited by the San Francisco defence at least a little bit. He may throw for around 300 yards but approaching 400 is unlikely. The feeling is Mahomes and Burrow have the better shots of reaching that top number.
Our choice is that Burrow will benefit from playing behind in this one. Cincinnati will have to throw the ball more often and that should be just enough. Take Joe Burrow to win the player props for most passing yards Sunday.
Any Different Plays Perhaps In Either Player Prop?
We casually mentioned Samuel as a possibility as he did average 96 yards a game against Los Angeles. Travis Kelce and Tyreek Hill are not different plays and may come close but not close enough. However, one name comes to mind as a real possibility in the receiving player prop and that is Ja'Marr Chase. Chase did have 266 yards and three touchdowns in the last meeting. Hey, we're just saying.
There are lots of other free sports picks to come in the final days of January. Go take a look and place a wager.