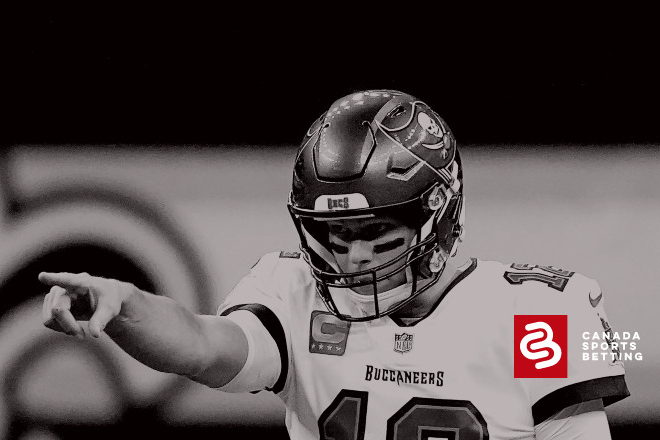 The Tampa Bay Buccaneers headline the early pick for Week 6 of the NFL season as we examine the Thursday night and early Sunday games for Canada Sports Betting.
It is once again time to examine the NFL action for Week 6. The focus on this edition at Canada Sports Betting will be on the Thursday night game and early Sunday contests. Then, we will make our early picks.
Week 6 of the NFL season starts the bye weeks but more importantly features an early matchup between the Tampa Bay Buccaneers and Philadelphia Eagles.
NFL Week 6 Early Betting Picks
Here at Canada Sports Betting, we realize there are only 13 games to look at in this NFL Week 6. However, getting some of these early betting picks in is important. Taking advantage of the moneylines is prudent and potentially more profitable.
One of our favourite teams in the early going has been the Tampa Bay Buccaneers led by Tom Brady. They are part of the Thursday night game this week against the Philadelphia Eagles and young Jalen Hurts. It shapes up to be an intriguing matchup.
Also, on the schedule, is the Los Angeles Rams travelling cross country to play the New York Giants on Sunday. This is after playing last Thursday and defeating the Seattle Seahawks. Finally, we look at another London contest as the Jacksonville Jaguars go up against the Miami Dolphins.
The problem inevitably this week was having almost too many good spots to choose from. It is partly why picking early sometimes can be beneficial. Look at last week with the Los Angeles Rams, coming off a loss, as a prime example. They bounced back during the second half against the Seattle Seahawks.
With just 14 games this week, let's dive into some of those Week 6 NFL Picks.
NFL Week 6 Early Picks — Taking What is Given
With what occurred in Week 5, that might dissuade some into taking what is given for Week 6. However, if anything, that makes us more resolute with our picks. Last week saw several outcomes decided by a field goal or less including a New England comeback over the Houston Texans.
Could there be more wild endings in our NFL early picks? Absolutely. It is time to take a look at some of what is lurking on the moneyline. 
Take a look here at some more NFL odds for week number six. With three moneyline picks, our goal at Canada Sports Betting is to also look at one underdog in our mix. Let's dive into that NFL Week 6.
NFL Week 6 Top Pick — Tampa Bay Buccaneers over Philadelphia Eagles
The Tampa Bay Buccaneers routed the Miami Dolphins last week as Tom Brady was able to rest for most of the final quarter. Brady accounted for five touchdowns and 411 yards passing last week in the victory. Tampa Bay goes up against a defence that can be classified as vulnerable over the middle and secondary. That presents matchups Tampa Bay can exploit. It is the main reason why Tampa Bay is our Week 6 Top Pick.
There is some concern this week as Jalen Hurts is a mobile quarterback who can buy time and has a potent arm. See how Matthew Stafford beat Tampa Bay in Week 3. On the other hand, can Hurts keep up the pace against such a prolific Tampa Bay offence?
That might be a problem for Philadelphia, to be honest. The Carolina Panthers mostly held Jalen Hurts in check until some unusual breakdowns sparked an Eagles comeback last week. Tampa Bay's defence plays better downhill than most teams, especially on the road. It is a unit that can battle in close games and generate turnovers as well.
Tampa Bay may get drawn into a bit of a higher-scoring contest and that is fine. Weather conditions will be ideal and no rain is expected. With Antonio Brown and Chris Godwin getting open deep, that could set up the intermediate middle passing game for the Buccaneers too.
In the end, our pick Thursday night is the Tampa Bay Buccaneers defeating the Philadelphia Eagles.
Los Angeles Rams over New York Giants
The Los Angeles Rams travel to Met Life Stadium to face the hurting and slumping New York Giants Sunday afternoon. With New York enduring several key injuries — including the ankle sprain that Saquon Barkley suffered last week, New York may be easy pickings for a Rams team that can air the ball out. With quarterback Daniel Jones in concussion protocol, New York may have to start Mike Glennon this week.
Glennon is serviceable and can make some throws but cannot be expected to keep up with a potent offence. With injuries mounting, New York allowed 44 points to the Dallas Cowboys last week. The offence being in shambles impacted the defence. The same thing could repeat itself Sunday afternoon.
The Los Angeles Rams are our pick here to defeat the New York Giants on Sunday.
And Now the Week 6 NFL Rough Pick…
Canada Sports Betting would be proud as we head across the pond for this Week 6 NFL Rough Pick. The Miami Dolphins have been pretty dreadful. They were blown out by the Buffalo Bills and Tampa Bay Buccaneers already this season. Now, the Jacksonville Jaguars have been able to stay in most games. Trevor Lawrence looked better last week and this London game may just need Jacksonville their first win of the season.
With Miami looking even more horrid of late, taking Jacksonville at 2.70 is a pick worth making on Sunday.
Once again, our best sportsbooks like 10Bet offer some very good numbers this week in the NFL.