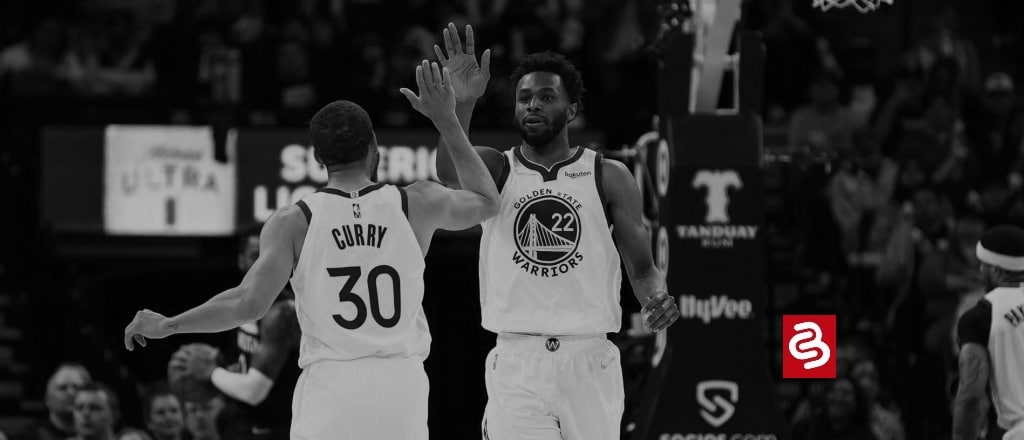 So, again there is just one NBA game this Tuesday to bet on. On the bright side, we did the work, did some research, and selected the NBA Playoff Tuesday Picks for May 24. Yes, they are always free!
Okay, let's look at the moneyline table once more for this Tuesday night's NBA playoff action.
NBA Playoff Tuesday Picks – Warriors On Verge?
The Golden State Warriors are the overwhelming favourite in the Western Conference. So, it's NBA betting odds that indicate that they keep shortening. Truthfully, we're expecting an exciting Tuesday night in our NBA Playoff Tuesday Picks. Why? This is because the style that Golden State is playing continues to frustrate Dallas just enough to keep on winning. Furthermore, Golden State has managed to cover the spread three consecutive games as well.
The frustration from Dallas was crystal clear in Game 3 but give Golden State credit for racking up 14 offensive rebounds. This game gave the Warriors an insurmountable 3-0 lead in the series, but the Mavericks just never got out to that large lead where things could snowball. Golden State kept the game close, made their one bigger run, and then held Dallas off over the final minutes of the fourth quarter.
So, after a big Warriors road win. What happens next? It is now known that Dallas has zero margins for error. The Mavericks have nothing to lose. Their chances of coming back in the series are zero for all intents and purposes. There just seems to be this feeling that Golden State may just finish this series off on Tuesday night. It is how the Warriors are defending that has put the Mavericks in this situation.
Expect another close game on Tuesday night. Golden State is willing to pound the game out and play more physically. After all, the Warriors had the top defensive rating in the NBA (106.9). Those same Warriors, who struggled mightily at times against a Memphis Grizzlies team, adapted a different strategy for the Mavericks. That being said, Dallas did try to come back in Game 3. However, Golden State looks to have the answers to stop the Mavericks' runs. Take the moneyline while one can.
Golden State has Been A Boon For Bettors This Round
Golden State appears to be in a better situation heading into Game 4. With their health pretty much intact, Stephen Curry, Draymond Green, and the company can keep rotating their depth as they continually pound the glass. Dallas's Luka Doncic has been getting his points but defensively has been a liability with the way the Warriors attack the boards on both sides of the glass. That is why we side with the Warriors on Tuesday night as they try to "sweep" a few more NBA Tuesday Playoff Picks.
Can Dallas make a few more three-point shots on Tuesday? Golden State has been a boon for bettors this round because of their defensive abilities. They contest shots and what feels like every shot attempt. If Klay Thompson was not enough, the emergence of Andrew Wiggins and Kevin Looney just makes things that much harder for Dallas. Again, with double-digit rebound margins and Dallas shooting less than 35% from three most nights, Golden State can stay in games.
Golden State Getting Just A Point For Now?
Again, this has not been the easiest of postseasons to gauge from game to game. Boston giving up 6.5 points is not a lot here for Monday night. The Celtics showed several times in this series that they can outscore the Heat at any time. As a matter of fact, Boston has more points in ten of the 12 quarters of this series. Despite that fact, the Celtics are down two games to one currently. It feels unbelievable, and yet here we are. Boston is in must-win mode on Monday night, or their season is in jeopardy.
The cast surrounding Luka Doncic must play better in the crucial moments, etc. It's that simple. If no one scores other than Jalen Brunson, Spencer Dinwiddle, and Doncic, then Dallas is in very deep trouble. The Mavericks managed a meagre 14 points from the rest of their players. This Game 4 has the kind of feel where Dallas must get a better balance, or the same result will happen again.
It is why taking the risk of getting 1.0 points is a solid plan. Again, remember even odds come with the spread. That 1.91 is solid and can be taken with the moneyline to form yet another plus-money parlay. Alas, start with the moneyline, then work to the spread at maybe a half unit on Tuesday night. With the spread so close to even, taking both just seems to make the most sense.
What About The Under
Now, Golden State yielded 100 points in Game 3 and could have allowed even less if they had not let up. Do experts think something close may happen in Game 4? The answer based on how Golden State has played this series is yes. Again, Golden State is showing a killer instinct it did not until very late in the last round against the Memphis Grizzlies
The plan of attack is to go for the under since it is set as high as 215.5 points. There is a fear that the Mavericks could shoot lights out but then would Golden State mail it in? Either way, it's a good number. Also, at Canada Sports Betting, the idea is that this series has few legs left. For this contest, we believe in the under here as one of the NBA Playoff Tuesday picks.
As We Exit The Stage
Do not forget the NHL playoffs are well into the second round! Here are more NHL Playoff online betting sites, like Bet99, below for bettors.