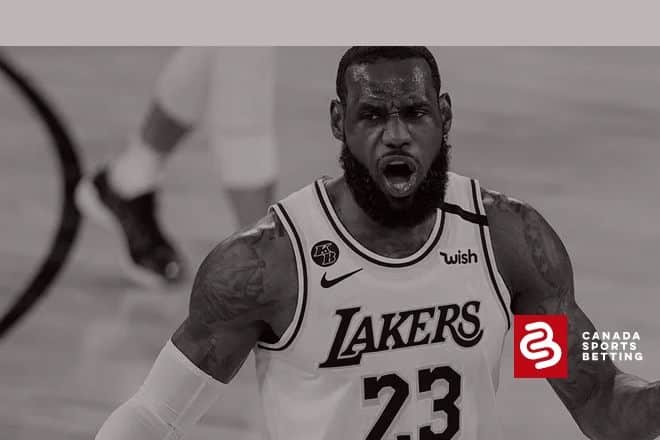 It has been a rough time with COVID but here at CSB, we trudge onward with Tuesday Night NBA Picks for December 21st, 2021. Let's see what is on tap.
Here at Canada Sports Betting, we have tried to weather this latest wave of the COVID outbreak as best as we can. Many apologies as some games have been canceled which is beyond our control sadly. Despite that, the goal is to keep the fans riveted once more. Currently, there are five games on the NBA slate for Tuesday night picks.
Balanced but mostly short to medium slates are what this week has in store from the NBA. The only game that is postponed, as of press time, is the Brooklyn Nets and Washington Wizards game. Now, the NBA is monitoring things strictly so stay tuned bettors as will we.
Tuesday night features the Indiana Pacers and Miami Heat battling it out along with the undermanned New York Knicks up against the Detroit Pistons. Finally, there is LeBron James trying lift the Los Angeles Lakers to victory over the Phoenix Suns.
It shapes up to be a slightly chaotic Tuesday night especially when it comes to the most fortuitous NBA betting odds. 
The Numbers On Tuesday Night NBA Picks
With the uncertainty of health, injuries, and thoughts of Christmas gifts, the Tuesday night NBA picks feature a mix bag of chaos and intrigue. Some numbers arguably are a little unexpected. One of the top games with Indiana and Miami just caught our attention right away.
Let's take a look at those numbers for December 21st, 2021.
Hopefully, there are some excellent NHL betting sites to help spread some wagering around on Tuesday. Better yet, let's pray for some games. 
Tuesday Night Big NBA Pick — Moon Over Miami
The first game that we look at is our Tuesday night "Big NBA" pick. Why? It is because the numbers should never tilt towards even. Yet, they do. When the carrot is dangled like this, placing at least a small wager is almost a must. Some will wonder if the waning full moon over Miami is a reason. That is not, however.
The Miami Heat face the Indiana Pacers on Tuesday night as they open a four-game homestand. This Heat team is one of the better home teams in the East. They have an 8-4 mark at FTX Arena. It is a team despite injuries that has fared pretty well. Their current injury list only features one player under COVID protocols. Imagine having Jimmt Butler, Bam Adebayo, and now PJ Tucker headline their injury list along with several qualty depth players.
On the bright side, Tyler Herro could play on Tuesday. Again, the Indiana Pacera are 3-11 on the road and prone to being blown out. It will be a struggle for Miami with so many players out. Also, Caleb Martin could play as well though he may have to wait a game or two. Either way, Kyle Lowry figures to have some reinforcements sooner or later.
The gamble is to look at that number and roll the dice at home with the Miami Heat. Okay, what are the odds here? They are at 1.90 which is deadpan even. There is even a slight chance this drifts into plus-money territory. Regardless, Miami has just enough depth to fend Indiana off in a very close game. Miami is our NBA pick here.
New York Knicks over Detroit Pistons
Let's ride on some more risky picks on Tuesday night. This one does not look like one on the surface either. The New York Knicks are at home against the lowly Detroit Pistons. Yes, Detroit just ended a double-digit losing streak with a win over the Miami Heat ironically. Could Detroit do the unthinkable and win two games in a row?
With several players out due to COVID protocol, injuries, and the Kemba Walker drama, the Knicks are in some quandry. They had to use a hardship exception just to get Matt Mooney and more depth on the roster. The good news, if there is some, is that even R.J. Barrett is a game-time decision. So is Derrick Rose with a persistent ankle issue.
Again, there is a chance that New York gets enough players back. The other risk is their home record which is below .500 at MSG (5-10). It is a crazy stat but that is the reality. New York has had some spectacularly bad beats for bettors at MSG also.
At some point, the Knicks need to check the egos at the door and win a few games at Madison Square Garden. The Mecca needs a little life injected back into it. New York is a cheap pick at another small wager to take on Tuesday night.
Phoenix Suns Conquer Over LeBron James and Los Angeles?
Our late night pick is another safety valve sort of pick as the Phoenix Suns face LeBron James and the Los Angeles Lakers Tuesday. The idea of picking against James is always a dicey proposition. However, Phoenix is rolling along with three straight wins, winners in eight of ten, and enjoy a league-best 24-5 mark. Also, the Suns are 10-3 on the road.
With those kind of numbers, it is simple to just pick Phoenix on the moneyline and not worry about it.
Plenty of quality online sports betting apps are available for bettors to choose from. Get in the action!