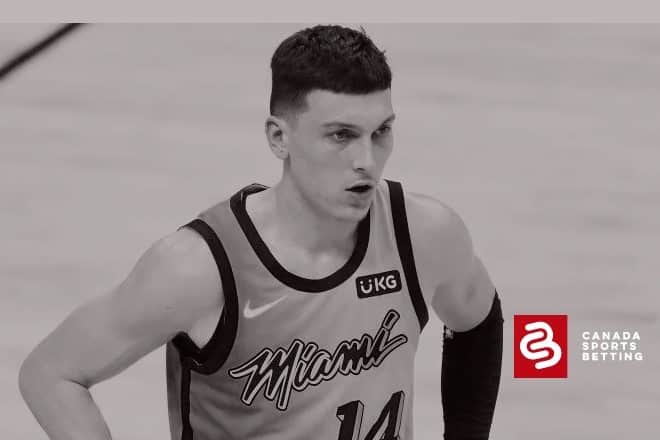 It is indeed true that a Herro has emerged in the props race for the NBA's Sixth Man Award. If his start is any indication, this is Tyler Herro's to lose.
The 2021-22 NBA Props often generate a lot of excitement and this year has seen quite a few players come off the bench and energize their teams. With temperatures dropping inside, the hardcourts are heating up inside as players keep piling up the points and the stats. The NBA action for this season's sixth man award has been something else.
It is time to take a look at this award in a little more detail. After all, this may be one of the few that features an almost lock this early in the season. That is rare. Now, we will never say anything is easy money but this may be the first prop that comes very close. At Canada Sports Betting, we take a deeper look at these numbers.
The finest NBA betting sites located in Canada did not have the Monday numbers quite up at press time. So, instead, we took on some of the best players that do not always start the game. Here is our NBA Props update for this award taken as of November 28th. 
2021-22 NBA Award Props: Tyler Herro Dominates Sixth Man Race
This is still hard to believe in the sense that Miami at one point wanted to trade Tyler Herro. It's crazy to believe. There was no doubt as to his talent but this 2021-22 season has seen the shooting guard put it all together. He has only started four of 18 games so far but the "sixth man" impact of Herro is profound. The guard is averaging 21.8 points a game for the Miami Heat. With his production and two-way play, Miami has established themselves as a contender in the East.
Every year his peripherals have gone up too. His rebounds are up to 5.7 per game and Herro has 3.7 helpers per contest. His overall field shooting is just 45.4% this season but his three-point shooting is a whisker under 40%. That energy and intensity he provides off the bench is a huge bonus for the Heat. It does not hurt that Herro drives very well off both sides of the ball and makes 87.2% of his foul shots. The numbers keep going up as his confidence rises.
At press time, the Heat are 12-7 and just two games out of the Eastern Conference Lead. They will not be an easy team to beat and players like Tyler Herro are a huge reason why. He can play three positions essentially. In a pinch, he can thrive at the 3 and even the point guard position too. There honestly is no player that can do this from the sixth man position.
Some argue that if it was not for Jimmy Butler and Kyle Lowry that Herro would undoubtedly start every game. There is some wiggle room to that debate but there is little dispute that Herro is truly a hero to Miami's offence and defence on a nightly basis. Herro's numbers dropped dramatically from October at 15.00 dow to as low as 1.50 now. His +/- has been very good so far as well.
Tyler Herro Is Our Hero For The NBA Sixth Man Award
One of the biggest reasons Miami could make for some nice betting odds for the NBA Playoffs is Herro himself. Honestly, we picked the Miami guard at around 12.00 or 13.00 but even now making a few extra dollars does not hurt. His isolation game was another clinching reason as well. 
The NBA sixth man award pick from us at Canada Sports Betting is Tyler Herro at 1.50 currently. 
For perspective, Herro is dominating the early part of the award like Shohei Ohtani went nearly wire to wire in the MLB MVP Odds for the American League.
Can Montrezl Harrell Close the Gap in the Sixth Man Race?
Again, these NBA props can always change but Montrezl Harrell was one of the original favourites or near-favourites. Harrell's numbers have stayed right around 13.00 for the past several weeks. Ironically, his play from the "5" (center position) has the Washington Wizards positioned well in the East. He averages nearly 28 minutes of action a night and has made his mark in the sixth man race.
What Harrell does that creates even more of an impact is his ability to get close to the rim. He creates space for himself as an NBA veteran should. However, his finish is uncanny. He shoots nearly 65% from the field and a respectable 78.6% from the line. Harrell's foul shooting has improved every season which means free points for the Wizards' center.
He averages nearly 17 points a night and almost nine rebounds a game which makes him one of the better candidates to attempt to challenge Herro's versatility and explosiveness. His odds make him a near longshot in a race that he is second in. 
A Longer Shot Sixth Man Award Pick Maybe for the road?
This is tough but two recognizable names in the sixth man award race are Carmelo Anthony and Derrick Rose. Both are on the other side of 30. Anthony is 37 and Rose is 33. However, both are still productive. The problem is they are not hybrid productive like Herro or even Harrell and that is why they are a little further down the list.
That is why this may be one of the few awards that do not offer a real long shot. Aside from tossing some dollars on those two, there are sportsbooks that feature even more things NBA to bet on as well.