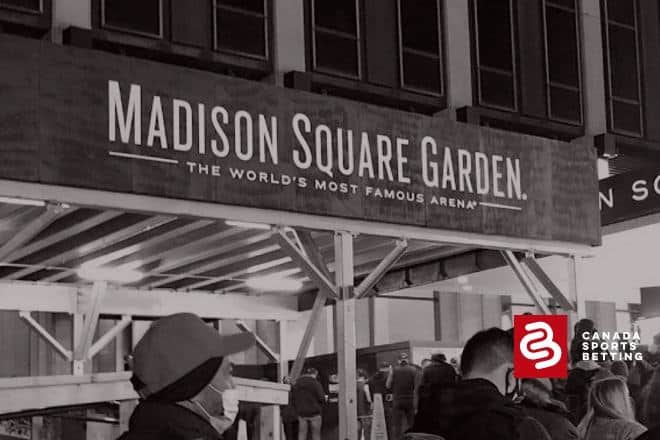 This edition of NBA Tuesday Night Picks gets us ready for some feasting as the New York Knicks entertain the Los Angeles Lakers and more for CanadaSportsBetting.
A four-game slate greets us on Canada Sports Betting as this is another one of those nights with a little more buzz than expected. It is time for a few more NBA picks. After all, maybe there could be some fireworks again like over the weekend.
Tuesday night's slate is headlined by a matchup between the New York Knicks and Los Angeles Lakers. The game comes from the basketball mecca known as Madison Square Garden. When anyone hears New York is playing Los Angeles, they think NBA East Coast versus West Coast immediately. It does not matter who is or is not in the lineup.
The more modest Tuesday night NBA schedule features the Miami Heat on the road in Detroit and a nightcap in Los Angeles as Paul George and the Clippers face Luka Doncic and the Dallas Mavericks. It is nice to be able to take a bit more time and dive into these games.
These NBA nights are much easier on the bankroll typically. It is advisable to bet a bit more sensibly as the holidays approach. With the teams rested, these NBA betting odds should be pretty straightforward.
NBA Tuesday Night By The Numbers
This ia a short slate worth one's attention. This NBA Tuesday night features some easily digestible numbers for the sports bettor. It is more fun that the Los Angeles Lakers and New York Knicks have also are both right around .500. These two teams were considered to at least be playoff locks at the start of the season.
The Lakers may be the more disappointing team here because they were among our favourites when it came to NBA Finals betting odds. Again, New York and Los Angeles have some nice headline pieces but there's always a but in there. 
See below as we take a look at tonight's NBA slate for Tuesday, November 23rd. But first, those numbers…
Tuesday Night NBA Featured Pick — New York Knicks Get Win 10
This battle of .500 teams features the 9-8 New York Knicks against the 9-9 Los Angeles Lakers on Tuesday night from New York City. Now, neither team comes in inspiring a ton of confidence. Yes, both teams have lost six of their previous ten games.
Coming into Tuesday, the Knicks are just 4-5 at home. That sounds bad until one considers the Los Angeles Lakers who had dropped four of five games on the road before winning in Detroit over the weekend. Even that was a win that came at a price.
LeBron James will not play at Madison Square Garden on Tuesday night. He was suspended one game for what was branded a "reckless hit" on Detroit's Isaiah Stewart. Stewart was given a two-game ban for his role in "escalating" the fracas. The bottom line is that the New York Knicks benefit considerably as James has a history of just eviscerating the New York Knicks at Madison Square Garden.
New York is often one of those teams that feed on the emotion more than many others. They have shot poorly from the field this season too often. R.J. Barrett is shooting just under 39% and Julius Randle is shooting just 42.2%. Even Derrick Rose is at 45% overall which is off from last year's 48.7%. There is room thankfully for positive regression.
New York Knicks over Los Angeles Lakers
The New York Knicks remain our favourite over the Los Angeles Lakers on Tuesday night. The Knicks rank among the top five in defensive rating and allow the least points per contest. It boils down to making a few shots and New York is capable of that every so often. Tuesday night represents an opportunity for New York. It is the big stage err show time where the Knicks expect to relish the spotlight tonight.
Picking the New York Knicks on Tuesday night over the Los Angeles Lakers is a good move on a small wager. That 1.66 number may just be a good one to choose. 
Miami Heat over the Detroit Pistons
Like we mentioned above, the Detroit Pistons have an added problem without Isaiah Stewart (suspension). The Miami Heat coming into town becomes an even bigger dilemma. Miami is one of the most balanced teams in the NBA with an offensive rating and defensive rating both in the top five (fourth and fifth respectively). Miami has won four of their last five games and just split a hard-fought home-and-home clash with the Washington Wizards.
Detroit is a team that cannot provide the resistance or balance of a Washington team. They are 4-12 for a reason and rank next to last in the Eastern Conference. Against teams like Cleveland and Brooklyn, Detroit was easily blown out. The Pistons have lost four games by 20 or more points this season. That may not happen Tuesday but it could come close.
All the top NBA betting sites keep this simple too. Our pick here on Tuesday night is Miami Heat on the moneyline over the Detroit Pistons at 1.24. 
Los Angeles Late Night: Los Angles Clippers over Dallas Mavericks
From the new Crypto Center, the Los Angeles late night pick is revisiting a game from over the weekend. The Los Angeles Clippers defeated the Dallas Mavericks by six points on the road. The 11-6 Clippers should be able to notch a win 12 over the Mavericks Tuesday night.
Take the Los Angeles Clippers on the moneyline even with the opening number of 1.44 at home Tuesday.
CSB sportsbooks have some great numbers worth examining further!