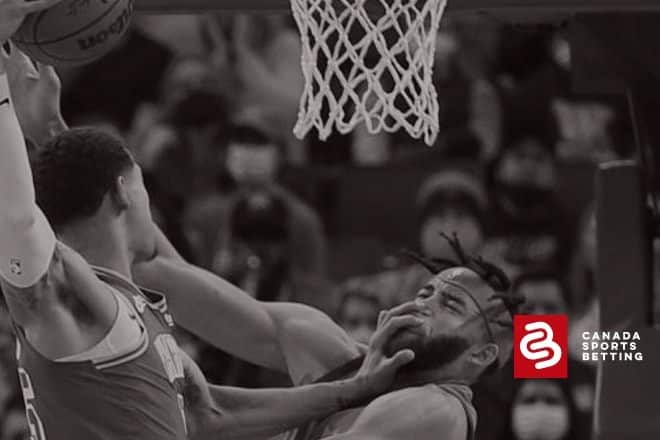 The NBA dunk contest is back. Did it ever leave, you might be thinking? Welp, last year's was a complete letdown amid a scrambled All-Star weekend. But there's a return to normalcy in 2022, thankfully. Allow us to tell you who the best betting pick to win the 2022 Slam Dunk contest will be because there's a nice-sized payoff at the end.
Who Is In the 2022 Slam Dunk Contest?
The days of NBA superstars showing out for the dunk contest are dead and gone. This year is no different and par for the course, the four-player field is full of high-jumping youngsters. Cole Anthony, Jalen Green, Juan Toscano-Anderson, and Obi Toppin are the four names in the 2022 contest. Canada's best sportsbooks have posted betting lines for each to win the contest outright and here they are:
| Player | |
| --- | --- |
| Jalen Green (Rockets) | 2.50 |
| Obi Toppin (Knicks) | 2.75 |
| Cole Anthony (Magic) | 4.25 |
| Juan Toscano-Anderson (Warriors) | 6.00 |
Click here for more Slam Dunk betting odds.
Let's quickly break down how each player fits into this contest:
Jalen Green
Green is the biggest name of the bunch as he was the No. 2 overall pick in what's turning out to be a star-studded 2021 NBA Draft. However, he's not flashing as much as his fellow draftees. His league-worst plus-minus stats paint the portrait of a player that struggles to shoot AND defend. Indeed, Green averages almost the same number of turnovers (2.3) as assists (2.4) per game.
But thankfully for him, none of that matters in a dunk contest. What does matter is athleticism and Green has it in spades. Not only can he jump out of the gym, but he brings the ball down with immense power — a double-whammy visually in a dunk contest. That's the reason why he's the sports betting odds have him as the favourite.
Obi Toppin
Earlier we spoke about that watered-down 2021 Slam Dunk Contest, welp, Toppin participated in it. He finished runner-up last year — though, many believe he was wrongly robbed of the title. We're in that group as the between-the-legs slam from the foul line that Toppin pulled off was a thing of beauty.
The thing about Toppin is he's tall at 6-foot-9 (the tallest of this field). Therefore, his dunks sometimes lack the "sizzle" of a smaller player. It hurt him last year and the same could play out in 2022.
Cole Anthony
Anthony will be busy during All-Star weekend. Before the dunk contest, he'll also partake in the Rising Stars game on Friday night. Anthony is in the middle of a breakout season as he's leading the Magic in scoring, assists and minutes played currently.
Like Toppin, Anthony also has dunk contest experience — but not in the NBA. Anthony competed at the 2019 McDonald's All-American contest, losing out to the eventual winner, the female Francesca Belibi but also won the City of Palms dunk-off in 2018. Anthony is the shortest NBA participant this year at 6-foot-3, but like we said before, that just makes his slams more impressive visually.
Juan Toscano-Anderson
Toscano-Anderson was the most unorthodox choice in the contest, but then again, that's the M.O. of his entire career. The 28-year-old wasn't drafted at all and toiled away in the G-League and Latin American basketball leagues in Mexico and Venezuela before cracking into the NBA with the Warriors. But he's seized the opportunity — and posterized players like JaVale McGee in the process. Like Green, Toscano-Anderson dunks feel and look forceful.
2022 NBA Slam Dunk Contest Betting Pick
Whilst making our 2022 NBA Dunk contest betting pick, we immediately ruled out Toppin and Toscano-Anderson. Toppin likely pulled off his very best dunks he has a year ago, which even then wasn't good enough to win among the judges. It's a stretch that he'll be able to outdo that performance, meaning another loss is on tap. As for Toscano-Anderson, our gut feeling is he's a good in-game dunker — but not a contest dunker. Contests are much more about creativity and personality, which might not be his strong suit.
So that leaves Green and Anthony as possible dunk contest winners. Neither of the two would be bad bets, however, if you could only wager on one, then make it Anthony. Like we said before, he's no stranger to dunking contests. Not only that, but if you've watched him play at all as of late, you know the confidence and flair he routinely plays with. We sense that'll carry over into the dunk contest with some flashy dunks.
How To Bet On 2022 NBA All-Star Events?
The All-Star weekend is the perfect break — not only for the NBA's best but also for bettors. The festivities are a nice change of pace from betting on regular NBA games. To bet on the 2022 NBA All-Star events (any and all of them), check out one of the top-rated NBA betting sites listed below. You'll find industry-leading prices for the entire weekend at any one of them.
There's a lot to wager on this weekend. Here's the full schedule of 2022 All-Star events so you plan your betting strategy right now:
Friday, February 18 — Rising Star Game
Saturday, February 19 — Slam Dunk Contest, Three-Point Shootout, Skills Challenge
Sunday, February 20 — NBA All-Star Game (Team LeBron vs. Team Durant)