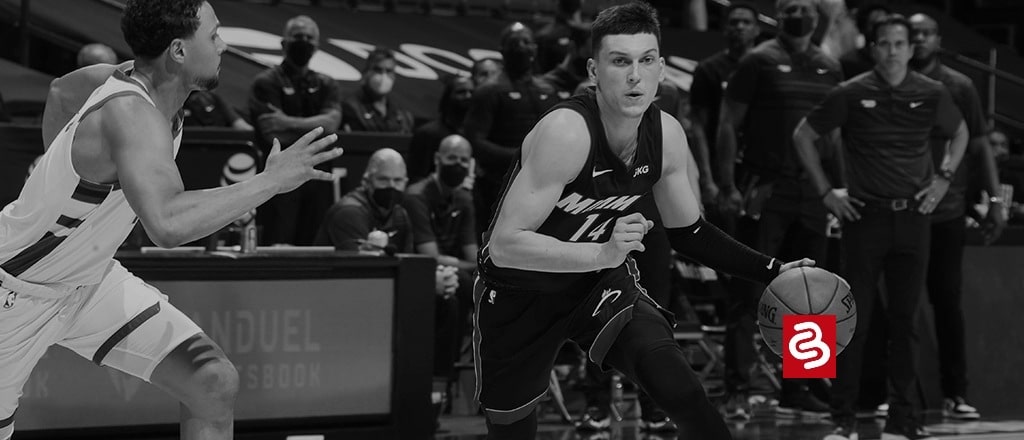 So, if you don't know which of the three NBA games on Tuesday to bet on? Ideally, you should read this because we've done the research and selected the very best NBA bets of April 19. The best part is they're all yours — for free!
First, let's look at the moneyline table for Tuesday night's NBA playoff action.
On The Moneyline: Miami Heat over the Atlanta Hawks
The Miami Heat were the toast of the NBA after a crazy season that started with them as the Eastern Conference's long shots to just make the playoffs (likewise, its NBA betting odds to top the East have shortened too). Honestly, we're riding the Miami wave on Tuesday night against Atlanta. Why? This is because they just did not look to be phased in Game 1 by anything Atlanta tried to do.
That rout came in the form of an easy 24-point opening game triumph. This game allowed Miami to rest its starters. At one point, the Heat were up by 32 late in this tilt. The key in the opening game was that Trae Young was missing shots, then got rattled, then kept misfiring. Eventually, Young will get into a rhythm but that might not be until the Hawks get back to Atlanta for Game 3.
So, Miami was able to use its stifling defense (fourth best in the league) to perfection. They allowed a mere 91 points to the Atlanta Hawks over the weekend. There was an overall trend in the best NBA bets with the under. It seemed teams were more in tune with their defense. Miami was no exception as they forced 18 Atlanta turnovers. The Heat intensity could not be matched by the Hawks as they wilted under the pressure.
Expect Atlanta to come up with a much better effort on Tuesday night. Few believe the Hawks will shoot under 40% again in Game 2. The Heat are the top team in the Eastern Conference for a reason. They may have struggled at times but after a humbling April 8th loss to Atlanta, Miami went back to the defensive drawing board. This will be nowhere near as easy as Game 1 but Miami will win on the moneyline and possibly cover as well on Tuesday.
More Moneyline Action: Minnesota Timberwolves over the Memphis Grizzlies
To no one's surprise, life with expectations has been more difficult for Memphis. The Memphis Grizzlies won 56 games during the NBA season and even went 18-2 at one point without Ja Morant. Morant had 32 points in Game 1 but it seemed no one on the Grizzlies could keep up with his offensive prowess. That should change Tuesday. But rather than jumping on the Memphis bandwagon, we are riding Minnesota once again for one of our best NBA bets on Tuesday.
Why? Because we do see scoring to be almost as prolific as it was on Saturday night. Minnesota had one of the best second-half NBA runs the league has seen in years. Also, Karl-Anthony Towns has a huge advantage in this series and if Memphis does not get frontline help, This could be a very long series for the Grizzlies. Towns went for 29 and 13. Combine that with Anthony Edwards' 36 points and the Timberwolves stole Game 1.
Worse, for Memphis was allowing 130 points at home despite being a seven-point favourite in Game 1. Do pundits expect the Grizzlies to lose by 13 again? No. However, Minnesota won far more 50-50 balls that Memphis could manage. Towns, Edwards, and Malik Beasley all found the hot hand. Do not expect the same thing to happen twice. It is why this game will not go sailing past the over. Honestly, no one would be surprised if the under hits by a whisker here.
The idea for us is to ride the train one more time with the Minnesota Timberwolves. There is a lot to like as Minnesota should be able to cover the seven points. Also, we at Canada Sports Betting give, them a chance at the outright too. Honestly, we do also and are taking a risk with this best NBA pick for Tuesday.
The Easy Moneyline Pick: Phoenix Suns over the New Orleans Pelicans
One needs to be aware of how New Orleans played Game 1. With the spread nearing double-digits, that is a bit of a concern. Phoenix managed to win by 11 after nearly squandering a 23-point lead in the final two quarters. The Suns look to go up two games to none and hopefully Chris Paul gets going a little sooner rather than later. Phoenix is one of the better NBA Playoff Odds choices for a reason.
That's why this game likely comes down to how this best NBA bets goes later as opposed to sooner. Paul is one of those aging players that can turn a contest on a dime. He scored 19 of his 30 points in the fourth quarter of Game 1 just when Phoenix needed him most. Expect Paul to come out firing a bit earlier in Game 2. New Orleans will play this a bit different. Jonas Valanciunas and CJ McCollum combined for 43 points and Larry Nance Jr. knows the Pelicans must not shoot under 25% early.
The smart play is just to run with the Suns in Game 2 to win this game on the moneyline. The spread just seems too high and it really could move up to 10 or even 11 before game time. That is a concern when it comes to Phoenix. That being said, the over is more enticing if it stays between 220 and 222. The Phoenix Suns remain one of our best NBA bets on Tuesday night to go up 2-0 in their series.
Last But Not Least
The NBA playoffs get going now. Go check out one of the top-rated NBA betting sites below.