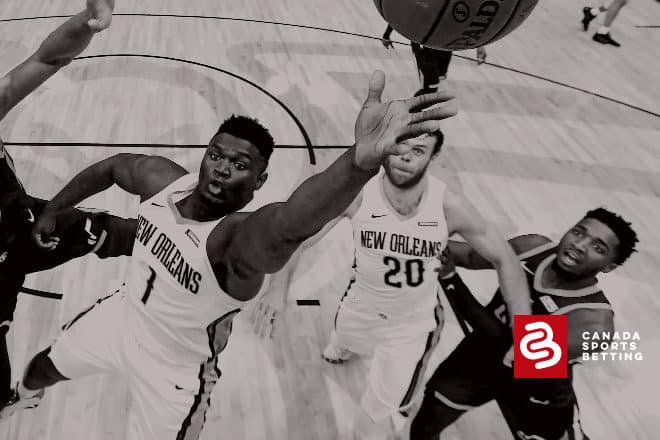 Tonight we take an early look at next week's opening two-game slate on October 19th, We then reveal our NBA Moneyline Picks.
With the 2021-22 NBA season just about upon us, it is time to take a look at some NBA Picks for October 19th. That's right it is opening night on the moneyline.
As we said, the NBA season opens up with two games that have marquis firepower. The opener features the Brooklyn Nets and the defending champion Milwaukee Bucks. Our nightcap is a battle between LeBron James and Stephen Curry as the Los Angeles Lakers and Golden State Warriors face off.
The NBA opening night of the 2021-22 season expects to deliver a lot of entertainment, Here are our picks for CanadaSportsBetting.
2021-22 NBA Opening Night Picks
As per NBA tradition, the week after the NHL season starts is usually about when the NBA season gets underway. At Canada Sports Betting, our magnifying glass focuses on the two-game slate and the moneylines. That is our focus. Our NBA Opening Night Picks will be a staple throughout the 2021-22 season.
Free agency and the pre-season are great and all but there is nothing like when the games count. Our NBA odds are raring to go. There is just a rush when a season starts that cannot be beaten. 
Anyway, here are the moneylines below for Tuesday, October 19th. 
| 2021-22 NBA Opening Night Picks | | | |
| --- | --- | --- | --- |
| Brooklyn Nets | "1 | 80″ | 1.83 |
| Milwaukee Bucks | 2.00 | 2.00 | 2.00 |
| | | | |
| Golden State Warriors | 2.65 | 2.57 | 2.65 |
| Los Angeles Lakers | 1.47 | 1.53 | 1.46 |
Game 1 Opening Night — Brooklyn Nets versus Milwaukee Bucks
As the Brooklyn Nets clash against the Milwaukee Bucks next Tuesday night, the game features some interesting and unexpected wrinkles. For one, this expects to be a very close game. Just look at how even the odds are. Anytime a spread is within two points, the moneyline will be razor tight.
This contest is no exception as the best Brooklyn Nets number is currently 1.83. With a narrow range between 1.78 and 1.83, there is little wiggle room.
Now, the Milwaukee Bucks are almost right at 2.00 across the board. That has barely moved in the last week to ten days. For many, the real question revolves around if Kyrie Irving will play and how long. That will have enough of an impact on this game and our pick for this season's opener.
With the updated news that Irving will not play until he is vaccinated, the clock is ticking. If he does not play, that just means James Harden and Kevin Durant will play more. That may not be a bad thing.
Now, Brooklyn was the second-highest scoring team in the league last season averaging nearly 119 points per contest. Milwaukee topped the league at 122.1 points per game. This game expects to feature a lot of paces and a good deal of offence.
Last year's Game 7 combined for 227 points despite how banged up Brooklyn was so imagine two mostly healthy teams that can score like this facing off on the opening night. The offensive rating for Brooklyn topped the league while Milwaukee was second. Again, the "Greek Freak" against Brooklyn's offensive might is not what this is about.
This game is about making an early statement. The entire Brooklyn team has waited months for this moment.
Brooklyn Nets and Milwaukee Bucks Best Bet
Our pick here is taking the Brooklyn Nets and the moneyline as the Nets' depth even on the road is a little better than Milwaukee. 
As if that was not enough, there is one more game.
NBA Nightcap — Los Angeles Lakers versus Golden State Warriors
The NBA Nightcap features a battle between LeBron James and Stephen Curry. Okay, this is a nice way of saying the Los Angeles Lakers versus the Golden State Warriors. Now, preseason tuneups and the records can get thrown out the window.
Before Los Angeles decided to go out and acquire Russell Westbrook, they were already a good team. Now, they have approached superteam status according to some pundits. Then, there are the Golden State Warriors. With Curry alone, they are formidable. Andrew Wiggins did finally get the COVID-19 vaccination. So, that will not be an issue going forward.
Golden State's depth has to be able to keep up with Los Angeles' brute pace. Can Los Angeles be one of the best three or four offences in the NBA this year? Absolutely. Little is stopping them but themselves. It also does not hurt that the Lakers are at home for this game. That is partly why the numbers are tilting as much as they are.
The ranges are right around 1.5 (1.45 to 1.55). Golden State is only a 2.5 to 4.5 point underdog next Tuesday night. This is expected to be another tight game despite the look of a more decisive Lakers advantage. That is the kind of effect Stephen Curry can have on a game. Los Angeles saw this several times last year.
It is part of why this NBA nightcap figures to be the perfect ending to an opening night of basketball that will be far from dull.
Los Angeles Lakers and Golden State Warriors NBA Pick
This game, even with LeBron James, Anthony Davis, and Russell Westbrook is far from a layup for the Los Angeles Lakers. The amount of depth Los Angeles has is arguably insane. That being said, our NBA pick is with Los Angeles next Tuesday night. 
The best sportsbooks like 10Bet are always worth taking a look at as the NBA season approaches.