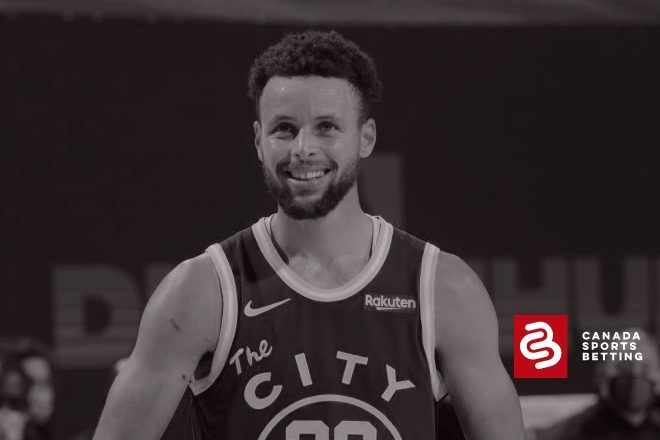 Steph Curry leads the way in the early going once again for the 2021-22 NBA MVP Futures over Kevin Durant and Giannis Antetokuonmpo. The key word is early.
The NBA MVP Futures are getting off to the start most expected and again it is all about Steph Curry and the Golden State Warriors once more. Curry has had some vintage performances to start the season as he looks like the Curry of old. The question remains. Can anyone catch the guard or is the MVP his award to lose once more?
These props have been intriguing so far. It is hard to believe that we are just a few weeks into the season and already some changes have occurred. Some of these have been a bit dramatic but then again, emotion can occasionally play a role when the sheer volume of numbers hits.
Again, there have been some outstanding runs in the first few weeks of the season. JA Morant has made a name for himself from the Atlanta Hawks. Giannis Antetokuonmpo (The Greek Freak) has gotten off to a nice start too. Then, there is Kevin Durant and the Brooklyn Nets. It does feel a little like the same suspects mixed with one or two wrinkles.
2021-22 NBA MVP Props: Setting Up The Table
That's right. These NBA MVP Props have already taken some turns and they are evident below. As we said, the 2021-22 season is only a few weeks old and trends are establishing themselves. After the first few evident choices, some new faces are entering the picture. Do they have what it takes to rise further up the table?
Last month, Luka Doncic and Kevin Durant led the way. Some other sites have the numbers a little more scrambled but with one shift and one or two new faces. Here are the numbers from the table below. 
This is an illustration that even some of the best NBA betting odds can be very touchy in the early going of any NBA season, especially this 2021-22 campaign. 
The New MVP Futures Leader: Stephen Curry
A few weeks into the season, it was clear there had to be a shift in the MVP Futures and it came swiftly. Just a month ago, Stephen Curry's prop ranged from around 8.00 to as high as 10.00. Then, the Golden State Warriors came out and won nine of their first ten games. Curry was a major factor in those wins. Magically, the mountains moved and Curry's odds shortened quickly.
What do those new numbers range at now? Curry's range for the MVP award is from 3.75 to 4.00. That takes a serious amount of line movement early in the season. It is now more common, however. Why? Even oddsmakers live in the moment. This is a "right now" world. Who is that flavor of the day? Never mind the week or month. It is about how Stephen Curry has returned to his throne while wreaking havoc on NBA defenses.
Something to quietly note is how Curry is averaging 20.2 field goals attempted per game. That is tied for the second-most attempts in his career. The guard is taking things more on himself because he can. This means that Curry feels 100%. He is completely over his injuries. It is crystal clear. Now, things are more gravitated to pacing him for the long season.
It is partly why the guard is favored in other NBA props as well like the leading scorer prop. Right now, Curry is playing just 33.6 minutes per game. That could come up along with again those field-goal attempts. He fired up nearly 22 shots per contest last season while scoring 32 points a night to lead the NBA. Can that happen again? The answer is yes. There is a reason why he is the most valuable player in the league and to the Golden State Warriors.
About those NBA MVP Type Performances
Stephen Curry is 33. Right now, he is playing like he is 23 with some of these NBA MVP performances. Three games just stand out. The first was game two against the Los Angeles Clippers. Curry goes off for 45 while making 8 of 13 from downtown. Then, there was the 36 versus the Memphis Grizzlies. Golden State nearly won that game. They were so close.
Finally, there was the Monday night clash with JA Morant of the Atlanta Hawks. It was a primetime MVP-caliber matchup. Morant is now eighth in the props ranging from about 21.97 to 23.00. Well, Curry unloaded 50 points on the Hawks in a 14-point win. It was not just the nine three-pointers and 14 of 28 shooting, this was the season-high 13 trips to the foul line too.
Simply, the guard was on another level Monday night. While it is true, Kevin Durant and Giannis Antetokuompo will challenge in this race along with Morant and maybe a couple of others. There is one more clear reality. Stephen Curry will determine who wins this award. There is a drive and fire in him this season similar to those early championship days. Curry was at 9.00 and is now down to 4.00 and shortening.
One can check out our NBA betting sites for the latest numbers and more. 
Who Is Our 2021-22 NBA MVP Futures Best Bet?
It is crystal clear who our 2021-22 NBA MVP best bet is. What may be scarier is "his best" is yet to come. There are still 72 more games to go in this NBA season.
Our CanadaSportsBetting best bet for MVP this season is Steph Curry of the Golden State Warriors.
As always, one can find some of these great online betting bonus offers and start placing some wagers.