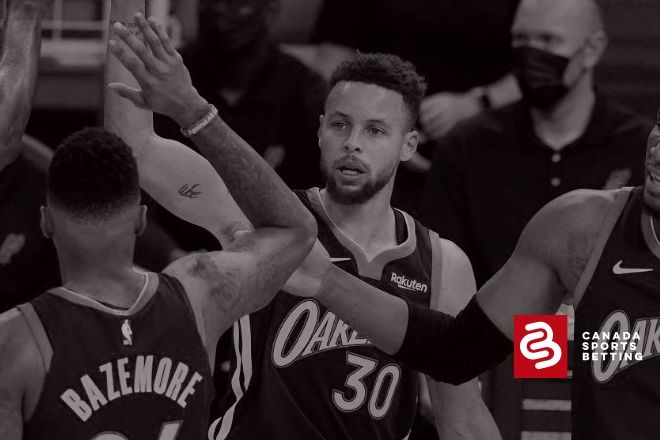 A new week beckons for the NBA as we look at three games. Now, it is time for Monday Night NBA Picks this December 13th, 2021 at Canada Sports Betting.
The goal is to keep things short and sweet for NBA picks to start the week. Monday is a day to get adjusted to the schedule, take a look at trends, and bet a little lighter in spots. The goal is to take a fast look at the Monday Night NBA Picks.
Again, Monday night's early slate is headline by a matchup between the Golden State Warriors and Indiana Pacers. Thie game comes from Indianapolis where Indiana is a respectable 9-6 at home on the season. Do they have what it takes to upend one of the best teams in the NBA in Golden State?
After that, there is a matchup between Milwaukee and Boston. If that was not enough, we take a look at Canada's own Toronto Raptors as they entertain the Sacramento Kings. The goal this Monday is to bet modest and tread carefully. There are some intriguing wagers possible. The best NBA betting odds out there are seemingly reasonable. 
Monday Night NBA Picks By The Numbers
It is fun to look at the early tables on early slates. Numbers that get tabled are out there earlier most Sunday nights than bettors are accustomed to. It is why getting an early preview of Monday Night NBA Picks can be so helpful. The headline game between Golden State and Indiana was one of the first and top games that opened.
Now, let us peak at some of those numbers from Monday, December 13th, 2021. 
Bettors can always look back at previous NBA Free Picks from CSB for a little guidance as well. 
Monday Night Top NBA Pick — Warriors Come Out And Play
it is nice to see some of the numbers for Monday night try and trend closer to even for the Golden State Warriors game in Indiana. The Warriors come out and play and our 9-2 against the Eastern Conference. Furthermore, Stephen Curry and Golden State are a solid 7-3 away from home. For the first time in over a month, the team does not lead the Western Conference anymore.
That honor belongs to the Phoenix Suns — who made last year's NBA Final by the way. This will only further motivate Curry and the Warriors who are very much on a mission. Their loss on Saturday was a wakeup call to the Warriors as Curry and several starters struggled from the floor in Philadelphia.
The Indiana Pacers come in on a bit of a roll with three straight wins. They are trying to get back to level after a very poor start in conference. Indiana is 5-4 against the West. There exist quite a few numbers trending to the Pacers' direction. Also, the Pacers are one of the few teams with a positive point differential despite being four games over .500.
Golden State leads that point differential category at 12.1 points in the positive direction. The Warriors barely allow over 100 points and even in an off night yielded just 102 to the Philadelphia 76ers. Golden State's depth and familiarity factor keep them from being on long losing streaks. They are the best team in the NBA and have not lost two games in a row all season.
Our CSB Pick: Golden State over Indiana
Monday night, we suggest taking the Golden State Warriors over the Indiana Pacers for our CSB pick at 1.70 odds. That is a much nicer number than expected.
Milwaukee Bucks over the Boston Celtics
The Milwaukee Bucks head on the road to face the Boston Celtics on Monday night. This is a big risk because Milwaukee just played on Sunday afternoon in New York. However, in that game, the Bucks flexed their muscle and just bodied the New York Knicks. The game was not close as Milwaukee cruised to a 15 point win at Madison Square Garden.
Milwaukee is one of the hottest teams in the NBA. The defending champions have now won 12 of their last 14 games as they are right near the top of the Eastern Conference due to this latest streak. Giannis Antetokuonmpo nabbed his first triple-double of the season as Milwaukee cruised past a short-handed New York team. Maybe they will just be warmed up to go against the Boston Celtics.
Boston has lost three straight contests to drop back under .500. With the way they have struggled most of the season, facing Milwaukee now could not come at a worse time. With Khris Middleton, the Greek Freak, and an improved defensive depth, the Bucks look poised to take the Eastern Conference lead before Christmas.
Milwaukee gave up 122 points to Boston earlier in the season when they were struggling. Expect them to find revenge on Monday night.
Our Out The Door Pick: Toronto Raptors over Sacramento Kings
The right way go out the door on Monday night for NBA Picks was to look at a Canadian favourite in the Toronto Raptors. There is little doubt that Toronto has struggled this season and is just 5-9 at home. However, Sacramento is having an even tougher time of late. The Kings are one of the worst teams defensively in the league allowing 114 points per contest.
Toronto's offense may break out a bit in this one and ride on to a home victory. The Raptors are our pick.
Bettors have many deposit methods to use on Canadian betting sites. Get there and get in the game!