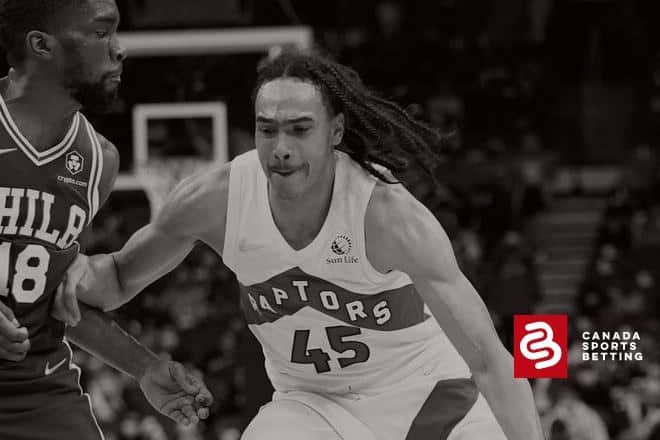 Here at Canada Sports Betting, we take a look at the Wednesday Night NBA slate and give a few of our best bets. Tonight we feature the Toronto Raptors!
The NBA slate this Wednesday night is an interesting one and has a Canadian favourite of ours, along with a little Brooklyn flavour, and a nightcap with the Phoenix Suns.
The early part of the NBA season has given us a few surprises. No one could believe Chicago got off to a 4-0 start or that the Portland Trail Blazers have stumbled as badly as they have. There are always surprises few can see coming. That is what makes the NBA betting landscape fun. Tonight, we have three more NBA picks. The approach was to go with a very, very slight underdog and two favourites.
Let's see how this mid-week slate works out here on Canada Sports Betting.
Wednesday Night by the Numbers
Anyone who is anyone knows that one of the big draws on a Wednesday night NBA schedule is the Brooklyn Nets. Even without Kyrie Irving, Brooklyn is still a threat to win it all. After that, we have the hometown Toronto Raptors in action, and finally, the valley of the sun is represented as the Phoenix Suns end our night.
The numbers are starting to settle down a little throughout the NBA as bettors and bookies alike get an idea of who the hot teams are and which teams are off to slower or faster starts. This slate features some intriguing NBA odds from a betting perspective. Let's get picking!
Wednesday Night CSB Pick Of the Night – Take Toronto
Our first NBA pick on Wednesday night involves looking to Canada — particularly the Toronto Raptors. Toronto is at home and up against a formidable foe in the Indiana Pacers. The Pacers, like the Raptors, are off to a bit of a slow start at 1-3.
Small sample sizes can be dangerous this early in the NBA season. However, Toronto is 0-2 at home to start the year but did show flashes of potential in their recent three-point loss to the Chicago Bulls on Monday night. Toronto is not the same team that defeated the Golden State Warriors to win their lone NBA Championship.
However, they may be better than given credit for. The big problem for the Raptors is Pascal Siakam. He had torn labrum surgery in the offseason and is still several weeks or more away from returning. Siakam could make this team a fringe contender for a playoff spot. That being said, Toronto has some positives including ranking sixth in the NBA in defence and is the top rebounding team in the league.
Toronto just has to clean up better at home and finish games off. They could not get over the hump against Chicago but Indiana is also stumbling out of the starting gate as well. The Pacers play more up-tempo and give up a ton of opportunities defensively. Unlike the Raptors who allow 102 points per game, the Pacers yield 117 a night. It is why the NBA picks may be on to something here.
Toronto Raptors over Indiana Pacers Best Bet
Again, we are emphasizing picking the Toronto Raptors as its defence is a little better intact. Toronto's offence will start to gel bit by bit. They are getting tons of extra chances with their offensive rebounding but shots just are not falling. Indiana has looked unusually disjointed and Toronto may be able to take advantage of that.
Toronto's frontcourt should be enough of an advantage with Fred VanVleet helping OG Anunoby from his guard position on occasion. Yes, Domantas Sabonis and Myles Turner can create havoc in the paint but Toronto gets overlooked often. Again, Toronto nearly pulled off a huge home win against Chicago. The nice thing is our Toronto Raptors pick is now getting 1.99 on Sports Interaction. Bet that while you can. 
Brooklyn Nets over the Miami Heat
The Miami Heat is two offensive threats and a very stout defence. That's it. They have won two of three games in the early going while allowing just 95.7 points per game. They were not so good on the road last year and not surprisingly were bounced early in the first round when their home game failed them. The Brooklyn Nets are off to a slow start at 2-2 without Kyrie Irving but looked better against Washington.
It was that Washington game that pointed to the potential of this Nets team and their depth. It was what most thought could carry them no matter how long Irving was out for. That 14-point home win showed Brooklyn could play some defence. They held down Washington to just 90 points.
If Jimmy Butler and Tyler Herro struggle in any way, Brooklyn can run away with James Harden, Kevin Durant, and their transition offence. Take the Brooklyn Nets on the moneyline to win at home Wednesday.
Our Sunset NBA Pick: Phoenix Suns over Sacramento Kings
Amazingly, the Phoenix Suns are a bit of a risky pick on Wednesday night against the Sacramento Kings. It is hard to believe but the Suns got pasted by Portland of all teams, 134-105. No one saw that coming after Phoenix looked in form against the Los Angeles Lakers. With Chris Paul leading the way, Paul and Devin Booker are too much for Sacramento to contain on this night.
Sacramento gives up 116.7 points per game and Phoenix was scoring near 120 over the second half of last year. This could be a get-well game. Take the Phoenix Suns at home over the Sacramento Kings.
Sports Interaction like the rest of our great sportsbooks has some incredible numbers.