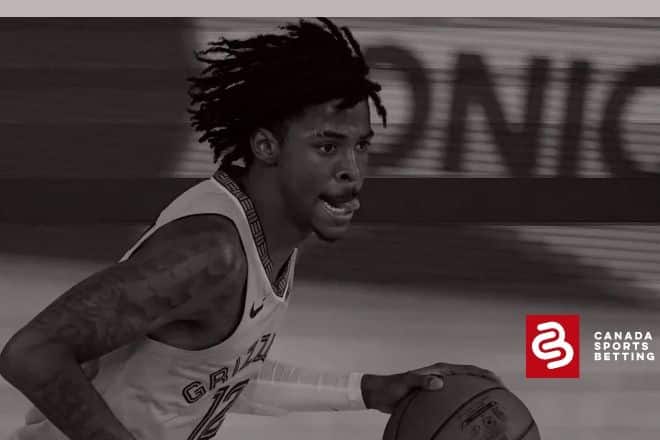 The 2021-22 NBA Futures takes a look at the Southwest Division that is turning into a two horse race. At CSB, we give our pick as Christmas approaches.
It is incredible to think that Christmas is almost here already. With a little over two months into the NBA season, some division races are rapidly taking shape. One of them happens to be the Southwest Division. At press time, the league is right around the 30-game mark. Typically, that is a barometer of sorts. The leader of a division 30 games in has gone on to win their division at least two-thirds of the time.
NBA props and futures often go to the same old ones. Here at Canada Sports Betting, we will explore the lesser known futures too. That is when one looks and sees Southwest Division, most probably go WHAT? This is the beauty of a forever learning process.
2021-22 NBA Futures: Southwest Division Numbers
This was not very difficult at all. Southwest Division numbers for the 2021-22 NBA Futures was an easy find. It is more the idea that the division has spread out the way it has. Now, how do those betting numbers correlate to what we see in the NBA standings?
Let's take a look at the odds table as of December 18th, 2021.
| 2021-22 NBA Futures — Southwest Division Winner | |
| --- | --- |
| Memphis Grizzlies | 1.74 |
| Dallas Mavericks | 2.00 |
| San Antonio Spurs | 121.00 |
| New Orleans Pelicans | 501.00 |
Thanks to these excellent NBA betting sites that have numbers at all like this. Let's take a deeper look at the Southwest Division.
2021-22 NBA Futures: Memphis Grizzlies Lead Way
At the beginning of the 2021-22 NBA season, it was thought that the Dallas Mavericks were ready to rebound and take the Southwest Division by storm. These futures were led by Dallas and Memphis was not even second. They were third actually. It is safe to say that maybe few saw the Memphis Grizzlies coming.
Now. after 20 games, the division was not very good. Memphis was around .500 and Dallas was just over .500. That's it. The rest were already falling off the table. So, what have the Grizzlies done to take a little bit of control of the division? Simply, they keep winning.
Memphis has won nine of ten games and turned their overall point differential from quite negative to +2 points per game. That takes a lot in a short amount of time. Yes, it helps when a team has a historical blowout win of 73 points over Oklahoma City. Their only loss in this span was to the Dallas Mavericks. Memphis is 3-2 in the division with a win over Dallas.
Also, the Memphis Grizzlies have managed to win a couple games without Ja Morant (COVID protocol). Morant leads the Grizzlies averaging 24.1 points per game, 6.8 assists, and 5.6 rebounds per contest. Despite that loss, Memphis has found ways to step up. They are not a fluke either with a 14-6 conference record (fourth best in West). It is easy to see why Memphis has a leg up and a several game bulge. Hence, for the NBA Futures, Memphis is a simple pick.
What is Going on with the Dallas Mavericks?
The Dallas Mavericks were slight favorites at the start of the 2021-22 season to win the Southwest Division. With their slight downturns, the NBA Futures have not taken kindly and have turned them into a marginal underdog. Losing six out of ten games has dropped Dallas back to the .500 mark at press time. A bigger problem has to be Luka Doncic. He will be out longer due to an ankle injury.
Players like Jalen Brunson and Tim Hardaway Jr. have tried to carry the Mavericks. Even Kristaps Porzingis is chipping in at nearly 20 points a game. However, all that is not enough. While Luka Doncic has led the way, his numbers are a bit off (missing more shots than usual). Coach Jason Kidd just has not been able to maximize his depth enough either. Losing Doncic hurts but should not this much.
Fortunately, Dallas has been able to play good enough defense (104.6 points per game allowed) which is sixth in the NBA. Their hope is that they can tread water then try to get hot during the second half of the season. Unfortunately, hope does not always work. Work does work. Is Dallas willing to put in the effort?
The guess is we will find out soon enough.
Can the San Antonio Spurs Mount Some Kind Of Charge?
The 2021-22 NBA Futures for the Southwest Division may not have that unexpected plot twist. It was the San Antonio Spurs who were thought to have a puncher's chance in the division race. Barring a huge second half charge, that seems to be unlikely. San Antonio is a mere 10-17 and are an even more troubling 5-12 in the conference.
Dejounte Murray has been very good but San Antonio lacks that top go-to scorer. They have a nice balance that just is not enough. Then, there is the Spurs' team defense which has spiraled backwards in the first 30 games or so this season. It just seems like a younger Spurs squad cannot carry them. Maybe they can get back to .500 or close but a division title just seems out of reach.
Should one of the many deposit methods for Canadian betting sites be used on the Spurs? Probably not.
Who is Our Canada Sports Betting Pick To Win The Southwest?
Take the young Memphis Grizzlies to win the Southwest Division in the 2021-22 NBA Futures.
The latest sports betting news is waiting for informed wagerers at CSB to help the bettor out with the NBA and much more.