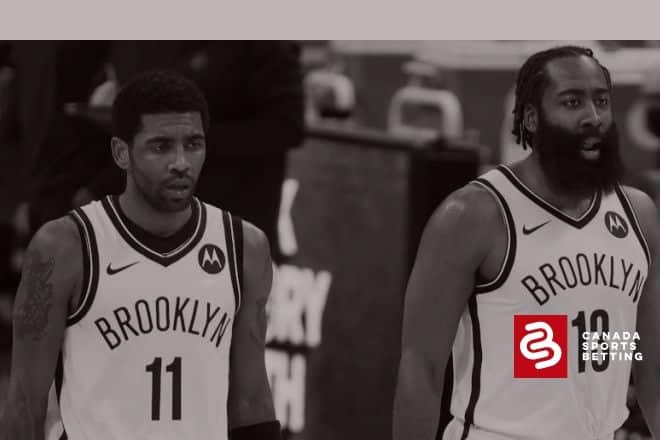 Here at Canada Sports Betting, we take a quick look at a few Friday night NBA games and reveal some of our picks and predictions as the weekend approaches.
We are keeping a simple yet quick focus on three games this Friday night in the NBA. Our picks are all focused on the moneyline.
Friday night's slate is headline by a matchup between the Brooklyn Nets and Atlanta Hawks. This game comes from Atlanta where the Hawks are a more formidable home force. We also look at a matchup between Detroit and New Orleans. After that, there is a look at the Charlotte Hornets entertaining the Sacramento Kings.
The goal of NBA nights like this is to keep the wagering small. Modest odds aplenty are enticing enough. NBA betting odds are fairly sensible.
Numbers For The Friday Night Picks
This slate is just one that keeps bettors focused. As more numbers and odds come out, there will be more options. In some ways, being early narrows things to stay modest. Friday Night Picks are opening odds at this juncture.
What most are forgetting is that a team like Atlanta is dangerous but right around .500 nonetheless. Atlanta and Brooklyn was one of the first picks made available via the best NBA betting sites out there. That should be no surprise.
Here are some of those numbers for the December 10th, 2021 slate.
Friday Night Featured NBA Pick – Brooklyn Gets 10th Road Win
Again, it is a lot of fun to wager a mere unit and toss it on our Friday night featured NBA pick. Now, there are two things to keep in mind. The Atlanta Hawks are right around .500 but they are 8-4 at home with sevral quality wins. That increases the risk in what is basically an even matchup.
On the other hand, the Brooklyn Nets are even better on the road than at home in the early going. Most pundits would probably be surprised to know that Brooklyn is 9-3 away from home on the moneyline. Both teams are 7-3 in their last ten games. The Nets are coming off the sting of a loss that will make them the hungry team going in.
Kevin Durant and James Harden will be the difference makers in this game. They were in the first matchip. between the two teams. The Nets went on to win that game by nine points at home. If one figures that a home team gains about three points, Brooklyn is not surprisingly around even for this tilt in Atlanta.
Atlanta's defensive rating has dropped to 25th while Brooklyn is near the top ten. If the Nets keep the Atlanta runs to a minimum, they will win. If they cannot, Brooklyn might even get blown out. That is the risk. Look at what happens to the Nets in Houston, the Nets lost by ten because they could not hold down those runs. Brooklyn tends to learn its lessons well.
Brooklyn Nets over Atlanta Hawks
The Brooklyn Nets over the Atlanta Hawks is our pick for Friday night. These are the games that the Nets need to win if they want to have true title aspirations. If one cannot win on the road in the playoffs, then playoff success just will not occur. Friday night means a chance err opportunity for Brooklyn to maintain their top spot in the Eastern Conference.
Taking the Brooklyn Nets over the Atlanta Hawks on a simple one unit wager is reasonable enough. At very slightly plus money (2.05 odds), why not take a shot here.
New Orleans Pelicans over the Detroit Pistons
No one likes to pick on the Detroit Pistons but the Pistons are amazingly consistent. They are 2-10 at home and 2-10 on the road. It is much more than a ten game losing streak. Now, the New Orleans Pelicans are hardly any better at 7-20. Detroit has lost a slew of games by 20 or more points this season. Our expectation is that this game will be closer on Friday night.
The Pelicans have lost nine of 12 games at home and two straight games overall. This game is a chance to get well. Could New Orleans lose? Absolutely. That is the risk with the Pelicans. They are capable of losing to anyone — even Detroit. New Orleans does have some quality home wins against teams like Memphis, Washington, and the Los Angeles Clippers.
New Orleans did score 114 against the Denver Nuggets in a loss earlier in the week. First, check to see what excellent online betting bonus offers exist. Then, take the New Orleans Pelicans over the Detroit Pistons on Friday Night.
One For The Road: Charlotte Hornets over the Sacramento Kings
Again, keeping this simple on Friday night with a small one unit wager for our NBA picks. Even though the Sacramento Kings have won three straight games in rather impressive fashion, the Charlotte Hornets are a different team at home with a 7-4 mark. The Kings could be do for a bit of a stinker and the moneyline is almost even here. Coin flips are coin flips and that makes betting a little simpler.
Take the Charlotte Hornets over the Sacramento Kings while the money is very slightly on the plus side Friday.
Always look at CSB sportsbooks for some of the latest numbers.