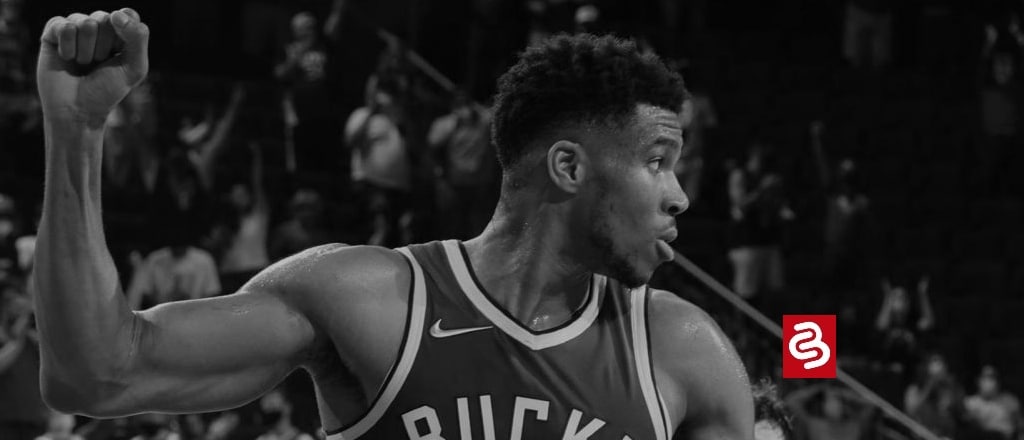 So, there are a couple of NBA games on Wednesday to wager on. Ideally, we did some work on these two potential elimination games and selected the very best Playoff NBA Picks of April 27. Naturally, they are free!
First, let's look at the moneyline table one more time for Wednesday night's NBA playoff action.
Milwaukee Bucks To Eliminate Chicago Wednesday
The Milwaukee Bucks are not the top seed from the Eastern Conference, Now, their NBA betting odds shorten too. Honestly, we're taking Milwaukee with confidence on Wednesday night to eliminate Chicago. Why? Milwaukee fired out in Game 4 and turned the Bulls inside out in every way imaginable. Chicago was never in that game in their own building. Therefore, it is obvious that the best NBA Picks have to include the Milwaukee moneyline in some form.
That rout came in the form of a 24-point Game 4 win. This game gave Milwaukee the chance to rest its starters in the fourth quarter. At one point, the Bucks were up by more than 30 in this contest. The key in Game 4 was that Milwaukee's balance shined through. They had three scorers top 25 points including Jrue Holliday. Even Grayson Allen was on fire as he made 10 of 12 field goals. Chicago had no answers in the second and fourth quarter where the Bulls got outscored by 20 combined.
So, Miami was able to use its stifling defense (fourth best in the league) again to perfection. They allowed just 176 points to Chicago in the two games there. So, a pesky overall trend in the best Playoff NBA picks with the Chicago team under held true. It seemed teams were more in tune with their defense. Milwaukee was excellent as they forced 11 Bulls turnovers and kept Chicago under 39% shooting again. The Bucks behind "The Greek Freak" held Chicago's reserves to a mere 17 points.
Oddly, the Bulls did play the Bucks close as they split the first two games. That seems like a distant memory but Chicago could stay close throughout most of the first half. They key word is could. Chicago shooting 25-35% from distance is a big problem but watching Milwaukee shoot 50% from the field consistently is a bigger problem. Bluntly, Milwaukee keeps draining shots that Chicago bricks.
Can Milwaukee Pop The Under Or Spread in Best NBA Picks?
Honestly, Milwaukee finds themselves in a bit of an unexpected position heading into Game 5. The Milwaukee Bucks won 51 games during the NBA season and were favored to win this series with ease. They nearly stumbled in Game 1, lost in Game 2, and found their stride in Chicago. Now, no one is getting off the Milwaukee Bucks bandwagon especially for Wednesday night.
Why? Because the heart of an NBA champion features a killer instinct. Milwaukee's defense here is just too good for Chicago to penetrate. The train keeps rolling and it does not show signs of stopping. Unfortunately for Chicago, they seem to have few answers which makes the best NBA picks that much easier.
Now, Chicago gave up 119 points and allowed 63 of those in the second half on Monday. So, do analysts think that will happen in Milwaukee? No. However, Milwaukee can just clamp down defensively when it counts. They can hold possessions down and spread out any leads. Also, the 218.0 over/under is something that could face pushback. It feels like the under connects here on Wednesday night.
The idea for us is to take a leap of faith and trust Ja Morant and the Memphis Grizzlies. There is a lot to like as Memphis should be able to cover the six points. Also, at Canada Sports Betting, the idea is that this series ends tonight. For this contest, we do trust the Milwaukee Bucks as one of the best NBA picks for Wednesday and consider their team over with the game under.
Golden State Warriors To Hammer Denver Nuggets
One needs to understand how Golden State played in Games 1 and 2. With the spread leveling around nine points, that is a little win for Golden State. Denver managed to win by just five after nearly blowing a double-digit point lead in the final minutes of Game 4. The Nuggets were lucky to send the series back to Golden State as Nikita Jokic and company did just enough defensively to keep the Warriors at bay. Golden State is still a favourite in the Betting Odds for the NBA Playoffs for a reason.
That's why this game likely comes down to how this best NBA bets goes later as opposed to sooner. Stephen Curry and company are a group to be truly reckoned with at home. Look at how the Warriors' pace simply humbled Denver during the first two games in this series. Now, the second and third quarters were vital at Curry, Poole, Thompson, and Green put a wallop on the Nuggets. When Golden State shoots 50% and nails 15+ three's, they are impossible to beat.
So, the easy play is just to tail Golden State in Game 5 to win this game via the moneyline. The spread is not bad once more either without the home advantage Denver did enjoy. Furthermore, the spread keeps staying under ten. Why? Unfortunately, bettors and bookies want Jokic and Denver to keep this game close. That being said, the spread works here for us. The Golden State Warriors remain one of our best Playoff NBA picks on Wednesday night to end the Denver Nuggets' season.
A Last Word Or Two
Finally, the NBA playoff slates are decreasing as teams get knocked off. Go look at one of the many NBA betting sites below and get some wagers in before Round 1 ends.