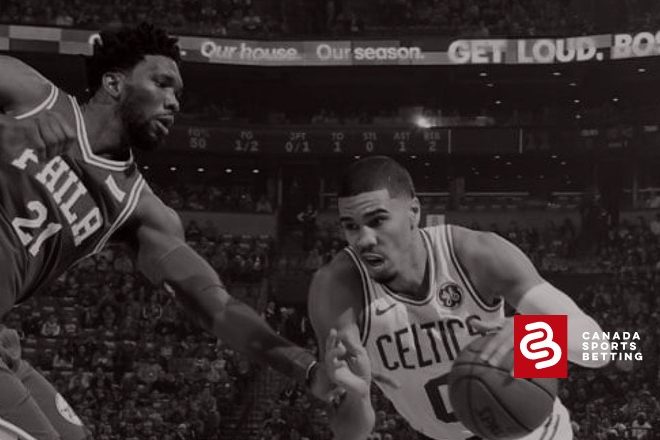 Tuesday night is full of bets with seven different games on the schedule. However, we've scoured Canada's best sportsbooks to hand-pick the very best NBA bets of February 15. We've selected four bets and we're giving them to you for free. Keep reading for a game plan to attack the busy night of betting!
Moneyline: Boston Celtics at Philadelphia 76ers
The 76ers made the splashiest trade of the season, dumping disgruntled Ben Simmons and Seth Curry for James Harden. While Harden has joined the team in practice, he won't make his Sixers debut until after the All-Star break. That's worth mentioning now before we give out our Boston-Philadelphia moneyline pick.
Curry flew under the radar in that trade, but he's not a small loss for the Sixers. This year, he's averaging a career-high 15 points per game. That scoring output, especially from beyond the arc, is a lot to make up for right now while Harden remains out. Curry's absence should give Boston an opening to win on the road.
Even beyond Curry, this Celtics team is playing its best basketball of the entire season. They're on a seven-game win streak behind a killer one-two punch of Jayson Tatum and Jaylen Brown. We're in fact betting the C's to pull out the win against a slightly depleted Sixers side.
Moneyline: Cleveland Cavaliers at Atlanta Hawks
Speaking of trades, the Cavs were also active. They delt Ricky Rubio and future raft compensation for Caris LeVert, a fringe All-Star calibre player. He's played three games and is averaging 14.6 points per game in those contests — which is well under the 18.4 average LeVert had while with the Pacers. He's still getting acclimated to his new team, which should influence the Cleveland-Atlanta moneyline.
You see, we're picking the Hawks to take care of business on their home floor. They're the slight underdogs at popular NBA betting sites, but as we said, the Cavs are adjusting on the fly with its newest acquisition. Naturally, you'll have miscues, which should help the Hawks pull out the victory despite recent struggles on their end.
Over/Under 243 Points: Charlotte Hornets at Minnesota Timberwolves
No, the above headline is NOT a typo. We repeat it's not a typo. The Charlotte-Minnesota matchup really has the over/under set to an eye-popping 243 points — which has to be one of the highest point totals in the past month or so. We're actually a little taken back that it's that high.
Neither defence is very good, but at the same time, it's not like they're worst in the NBA quality either. In the trusty defensive efficiency rating, which measures points allowed per 100 possessions, the Hornets rank seventh-worst, while the Timberwolves are more middle of the pack at 14th.
But here's why oddsmakers are probably so bullish on a high-scoring affair: in the previous matchup between the two this season, Charlotte won 133-115, which equals out to 248 combined points. We don't expect the same scoring output in the rematch since there's more familiarity between the two now. We're hammering the under here!
Against The Spread: Los Angeles Clippers at Phoenix Suns
Playing the NBA's best team record-wise (the Suns at 46-10) is tough enough, but playing them on tired legs is even worse. This Tuesday night matchup is the second night of a back-to-back for the Clippers. Worse, it'll be LA's third game in four nights. This is the big reason we're picking Pheonix to cover the 12-point spread with ease.
But here's another reason for our betting choice: these two teams met about a month ago, shortly after Paul George's injury (which still has him out of action). Also played in Phoenix, the Suns cruised to a 17-point victory that night. We expect them to replicate that performance on Tuesday.
How To Bet On NBA Today?
Agree with our NBA picks? Disagree? Hey, we're fine either way, but if you want to actually back up your opinions, then you'll want to bet on NBA at one of the betting sites listed underneath. You'll find all NBA odds available at these sites, whether that's on Tuesday's matchups, another night, or even futures such as who will win the NBA championship. Beyond the big betting menu, these bets are available at industry-leading prices so you're always maximizing value!