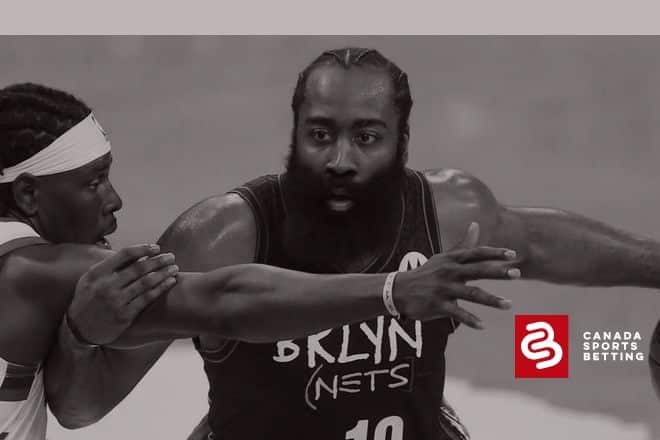 Monday Night NBA Picks headlines three games and gives our best bets on the contests. First up, is a Chicago Bulls and Brooklyn Nets clash for the ages.
The Brooklyn Nets / Chicago Bulls clash headlines a solid Monday Night NBA slate. It is an opportunity to make a couple of quick best bets. Then, the nightcap for Monday Night Picks features Stephen Curry and the Golden State Warriors as they entertain the Atlanta Hawks.
Canada Sports Betting is at it again with another week of NBA picks and much, much more. Monday night is an intriguing slate because of several back-to-back scenarios. Brooklyn comes off of a big 13-point road win over the Toronto Raptors. The question is can Kevin Durant and the Brooklyn Nets raise their game even more in Chicago?
NBA numbers and odds can be fickle this time of year. As November goes on, it does seem like the schedule gets more condensed. The grind becomes harder. Teams have to dig in, play more focused basketball, etc. Though there were quite a few games that caught our eye, we have three in mind including a mystery middle game for NBA bettors.
Let's dive into some of those numbers below in our tabled breakdown.
Monday Night Breaking Down the NBA Numbers
Again, it is so much of a challenge trying to handicap teams on back-to-back scenarios. Why run away from challenges? Teams are human and so are we. This is why looking at the Brooklyn Nets and Golden State Warriors were choices that had to be made. Brooklyn is the road team on the back end of a back-to-back. Golden State is the home team on the back end of the scenario.
Once more, expect the Nets and Warriors to see a good deal of the handle. They are the marquis teams for a reason. Even with those two playing "upstart" teams, the money goes where the money goes. That is how the NBA Numbers break down. The reason why the Nets are the underdog is again playing on the road. Golden State is a home, unrested favourite because it is Golden State.
The NBA odds for tonight's NBA slate are presented below for Monday, November 8th.
CanadaSportsBetting Top NBA Pick — Brooklyn Nets Rise
Again, this is probably the biggest risk of an NBA pick all night, but the Brooklyn Nets are playing better basketball of late. Anytime there is that dreaded back-to-back on a road, the anxiety rises. However, there is value here with Kevin Durant, James Harden, and company on Monday night.
Yes, Brooklyn is playing the 6-3 Chicago Bulls. They are not an easy team to play but Chicago has tailed off in their level of play. Overall, the Bulls have lost consecutive games. Meanwhile, Brooklyn has won five straight contests. It seems like ages since the Nets dropped two of their first three and looked completely lost. Harden and Durant both played 35+ minutes but not that 40-42 minute level some had feared earlier in the season.
Brooklyn has enough depth for that not to happen and will be a huge reason why the Nets will be fresher than expected tonight. It is also why the "Rise Of The Nets" should not be a surprise. if they can shoot around 50% from the field and close to 40% from three-point range, Brooklyn may just win again on Monday.
There is a reason why the NBA futures still lean toward the Brooklyn Nets. They are one of those teams that can play well without a star (Kyrie Irving). Think of the Tampa Bay Lightning in the NHL last year, who won without Nikita Kucherov for the regular season.
Brooklyn can play at a faster pace because of Chicago. Hence…
Brooklyn Nets over Chicago Bulls
The Brooklyn Nets have boosted its record to 3-1 on the road and that Toronto win was a big one. Plus, they get a Chicago team at not their best. It will not be easy but Chicago may not be able to sustain that level that the Nets can bring when they are on.
Brooklyn's depth along with their dynamic duo will be enough to take down the Chicago Bulls on the road Monday night. That 2.10 is a nice number!
Miami Heat over the Denver Nuggets
Lost in the recent winning streaks of the Brooklyn Nets and Philadelphia 76ers is the Miami Heat. Miami has gotten off to a 7-2 start (3-1 on the road). They face a Denver Nuggets team that is currently 5-4 on the season but is 3-1 at home.
That is partly why Miami is a very slight underdog even though, on paper, they have the better roster. Their numbers are something else early on. Miami has an offensive rating that ranks third and a defensive rating that ranks fourth. Their net rating is second and the pace is 28th. Despite that, this is a team that can score over 111 points a night. Jimmy Butler and Tyler Herro are one heck of a 1-2 punch and they showed that over the weekend during a 118-115 win over Utah.
Denver will not be an easy out but the Miami Heat are our pick to win this road tilt over the Denver Nuggets on Monday night.
West Coast Express Home Pick: Golden State Over Atlanta
The West Coast Express steams into the station as the Golden State Warriors entertain the Atlanta Hawks on Monday night. Golden State features a balanced scoring attack and a home crowd that might be a bit much for Atlanta. Atlanta scored 117 in Phoenix on Saturday but may be hard-pressed to do it again.
Our home pick is the Golden State Warriors holding serve over the Atlanta Hawks.
Bet99 is offering some excellent odds for sportsbooks.