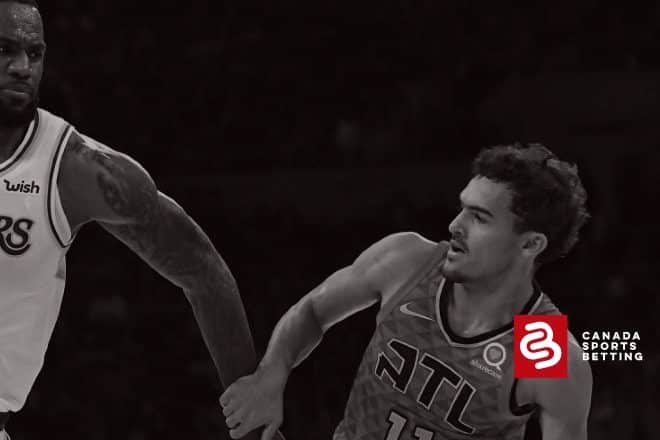 It's the weekend and how about enjoying it with a few wins at the sportsbook? Sound good? Alright, then you need to read this article! We're giving you the best NBA bets to make on January 7 and 8 — expert advice that's free too!
Against The Spread: Atlanta Hawks at Los Angeles Lakers
Neither the Lakers nor the Hawks have been good against-the-spread teams this season. Atalanta is 15-22 ATS, while the Lakers are marginally better at 16-23. Something's got to give in this Friday clash, huh?
And that something is an LA cover. We know the sky appears to be falling at the newly-named Crypto dot Com arena. We know Russell Westbrook is an overpaid turnover machine. But, the Lake Show has quietly won three in a row (all at home) on the back of, who else, LeBron James.
With Anthony Davis hurt, James has slid into the center position as of late. It's worked to perfection as the Lakers have been able to play small-ball effectively, keying its current win streak. Our money says that streak at home reaches four against a consistently inconsistent Hawks team so ride the Lakers' spread!
We're going to be talking about injuries throughout this article so get used to it. Each team will limp into this one with a laundry list of players injured and out — including the likes of Dame Lillard, CJ McCollum, Collin Sexton, Ricky Rubio, Rajon Rondo, and too many more to count. All these injuries are why we're betting the under 216 points.
Even if those players were in the lineup, both teams have very middling offenses anyway. In the points per game statistical category, Portland ranks 13th across the NBA, while Cleveland is 17th. The ongoing injuries will only lessen each's offensive firepower, which means an under is likely.
Against The Spread: Memphis Grizzlies at Los Angeles Clippers
In what could be a double-digit spread, this Clippers-Grizzlies matchup will likely have the most lopsided against-the-spread line of any weekend game among the best Canadian sportsbooks. It's completely warranted too given how opposite the two teams are playing. The Grizzlies have won 7 of its prior 10 games, while the Clippers have dropped eight of the past 10 games.
While an uncanny amount of injuries and COVID infections are hitting NBA teams across the league, the Clippers are one of the hardest hit. Kawhi Leonard hasn't played a minute (and might not this entire season). Paul George will now be out a month. Other contributors like Luke Kennard, Ivica Zubac, Isaiah Hartenstein, and potentially Nicolas Batum and Brandon Boston might not suit up Friday night. Yep, the Clips are a complete mess right now.
With these rash of absences, LA's offense has suffered the most. Over its past 10 games, the LA has scored the third-least amount of points per game league-wide, averaging just 103.4 points per game — 2.1 points less than their season average. Those offensive woes signal more pain is on the horizon for Los Angeles until Paul returns at least.
There's no reason to bet with the Clippers here. Not with that depleted roster. Not against one of the league's hottest teams. Give us the Grizzlies and the points, we're hammering that due to all the circumstances.
Over/Under Points: Miami Heat at Phoenix Suns
Oh, boy, this is a juicy Saturday matchup between two of the best teams in the NBA — and what some would predict as a potential NBA Finals preview. In our opinion, it is and it isn't, which is why we'll be enthralled with the game's over/under whenever it's set by top betting sites for NBA.
Yes, because both are clear-cut standings leaders. With a win last night, the Suns now have the best record in the NBA at 30-8. Meanwhile, the Heat are 24-15, with seven wins in their past 10.
With that said, neither side is at full-strength or even close to. Phoenix will likely be without Deandre Ayton, Jae Crowder, Landry Shamet, JaVale McGee, and Abdel Nade. For Miami, no Jimmy Butler, Bam Adebayo, or Duncan Robinson is expected to suit up. Given all missing star power, we're betting the under.
This is the type of game where both sides just want to finish and rest up afterward. Once the over/under betting line is released, we're slapping the under, no questions asked!
How To Bet On NBA?
Despite all the aforementioned injuries and COVID infections, the NBA keeps rolling on — and so do the betting markets for it. If you want to get in on the fun (and potential profits), then visit one of the bookmakers we've listed underneath. You'll find every NBA bet conceivable at these bookies — spreads, over/unders, props, and basketball futures betting. What are you waiting for? Click below to see what's on the table!