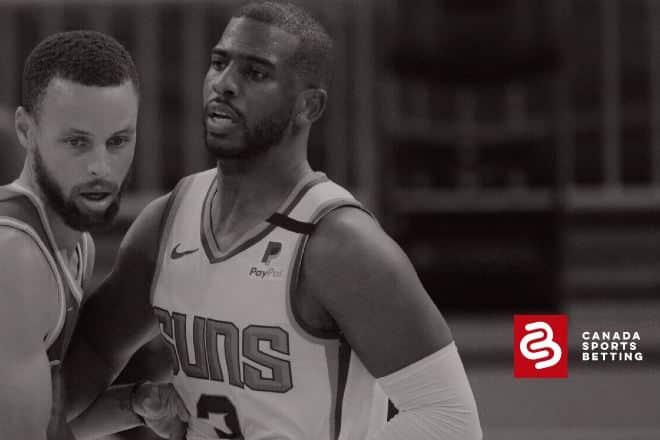 Can you believe it — we're almost halfway through the 2021-22 NBA campaign? It's this time of the year when it might be a smart idea to re-visit those conference championship picks you made before the season. Is it time to pivot or stay the course? You'll find out when we give you our expert NBA 2022 conference futures picks — for both the West and East.
NBA Eastern Conference Winner Betting Picks
Out East, the NBA betting odds to win the conference has not budged from the preseason. The Brooklyn Nets are still highly favored to be the NBA Eastern Conference winner among oddsmakers. Here's how the odds currently shake out:
For each conference, we're going to give you two betting picks to make. One is a less risky choice, but the other is more of a longshot bet since we know there are bettors that tip both lines. Let's begin with the "easy" bet:
Brooklyn Nets
No surprise here, right? There's a reason that Nets have been NBA Finals' favorites at the best Canadian sportsbooks for two years running — they have the most top-heavy roster in the whole league. The question mark all-year-long for Brooklyn, though, was whether Kyrie Irving was going to play or not.
It's starting to seem like he indeed will, which will complete the Nets' "Big Three" that also includes Kevin Durant (an MVP candidate) and James Harden. Irving played his first game of the season this week and he'll likely suit up for the remainder of the team's road games — not home games due to New York City's vaccine mandate.
But we wouldn't be surprised if Irving "takes the jab" in the thick of the postseason. C'mon, what if the Nets reach the Finals. Is Irving just going to willingly be a part-timer and suit up for only road games? He's as mercurial of a player as there is in the NBA, but we think he'd come back full time, playing "savior" in the franchise's pursuit of its first NBA title ring. A bet on the Nets isn't even worth thinking twice about honestly.
Chicago Bulls
The team currently atop the Eastern Conference standings isn't the Nets or the reigning champion Bucks. No, it's the Bulls — and despite this 25-10 record, Chicago's odds at winning the East are only 10.50. That Bulls betting line is way, way undervalued if you ask us.
Sure, Chicago is led by a player and coach — DeMar DeRozan and Billy Donovan — that have long-standing reputations for "choking" come NBA playoff time. But hey, that's why we said our second betting pick would be a longshot. The Bulls aren't the best bet to make out East, but they are the "best bang for your buck" at these steep odds. This team is still gelling, and if they're already this good, there's a chance they can peak at the end of the season once they're more in sync.
We'll do the same with our Western Conference winner pick as East — two separate wagers. You can either bet on both teams, one of the two, or none. But here's who we're backing and why:
Golden State Warriors
At a 29-8 mark, the Warriors are tied with the Suns for the NBA's best record. While strong arguments can be made why both teams warrant a bet here, we'll tell you why we like Golden State more than Phoenix right now: the return of Klay Thompson. He hasn't played in an NBA contest in nearly 1,000 days, so there are lingering doubts whether Klay is still the Klay of old — but we're banking he is (somewhat).
Rust should be expected and it'll take time for him to return to tip-top shape. But here's the thing, Klay's offensive role has long been to catch-and-shoot. Remember the 60-point game with only 11 dribbles? That's a perfect role if you're going to be coming back from an ACL AND Achilles' injury like he is since his mobility likely won't be the same off the bat.
Thompson doesn't need to play like the superstar version of himself from two years ago to improve this Golden State team, which is a scary thought. We think Klay's return will put them over the top of the Suns — and anyone else out West for that matter. The Dubs is a no-brainer bet.
Los Angeles Clippers
The theme of this entire article has been players returning to action and that's also the case with the Clippers. There's a glimmer of hope Kawhi Leonard will make a triumphant return to Los Angeles this season. He too is recovering from an ACL injury, sustained late in the playoffs a year ago. If he does return, it's worth a prayer bet on the Clippers.
Admittedly, Leonard's return is not guaranteed — unlike Thompson and Irving. Regardless, the Clippers fall into our low-risk, high-reward category in case Leonard has a superhero-like recovery, which isn't impossible. If you're going to bet on LA here, just make sure it's a small wager given the risks of Leonard not returning.
How To Bet On NBA Futures?
If you want to bet on more NBA futures, hit one of the Canadian bookmakers listed below. We've featured the best ones in the underneath table, along with in-depth site reviews and details on current bonus offers available to new players.