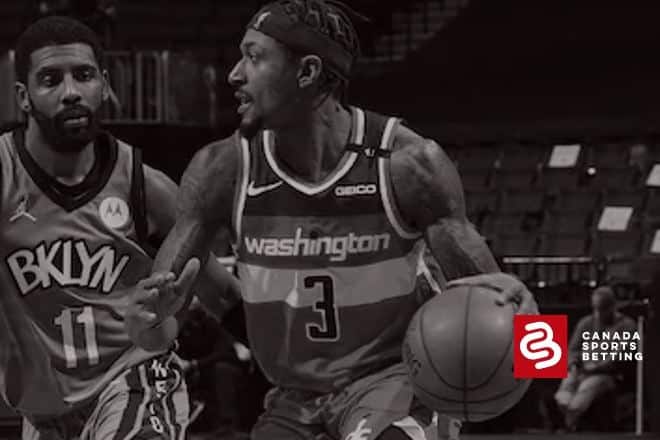 Need winning advice for NBA betting on Wednesday? Look no further cause we've got the best NBA bets for January 19 right here. We've done the research on all the action taking place this day and hand-picked four wagers. Read on for expert advice!
Against The Spread: Brooklyn Nets at Washington Wizards
It's tough to put a finger on the Nets right now. They just lost Kevin Durant — a top NBA MVP candidate at the most-used NBA betting sites — for four-to-six weeks due to an injury. But they still have two superstar talents, albeit one is only available part-time (Kyrie Irving). Still, we're fading Brooklyn against Washington on the spread line. 
We believe the Nets will figure out how to make up for Durant's absence, but it's going to take time. In its first game post-KD injury, the Nets lost by seven points to the injury-depleted Cavs. In that game, head coach Steve Kerr was tinkering with his lineup, leaning on a three-guard set more times than not. It was obvious the team was missing Durant's size to defend and hit the boards.
With the Nets in experiment mode still, the Wizards will prevail on their home floor. Washington, to their credit, is as healthy as they've been all season. Players like Brad Beal, Thomas Bryant, and Rui Hachimura are back in the rotation and that'll also aid them to defeat the Nets talent-laden squad.
Over/Under 215 Points: Portland Trail Blazers at Miami Heat
The big storyline of this matchup is a slight return of health for both sides. For Portland, CJ McCollum is finally back in the mix and then Jimmy Butler and Bam Adebayo have returned to Miami. While each team is almost as healthy as they've been all season, we're still predicting the under of 215 points to hit.
Here's why: those aforementioned players are shaking off the rust of being out weeks at a time. In the case of McCollum, his minutes are still being restricted. But we neglected to mention that Kyle Lowry — the point man that makes the Heat's offence go — will be out due to personal reasons. Therefore, these teams aren't quite 100 percent, which should slow down the scoring pace on Wednesday.
Against The Spread: Houston Rockets at Utah Jazz
By most measures, the Jazz are one of the NBA's best, most-balanced teams. At 114.9 points per game, they average the most league-wide. Defensively, they're anchored by three-time Defensive Player of the Year, Rudy Gobert. Behind this balance, Utah is 29-15. Yet despite that, we're picking the double-digit underdog on the road.
Before you call us crazy, hear us out: the Jazz have made the best Canadian sportsbooks a lot — and we mean a lot — of money lately. That's because Utah has covered the spread a mere three times in the past ten games. And you know casual bettors, they tend to bet alongside good teams like Utah.
At 12 points, the Rockets are the biggest 'dogs of the night. But this team has won two of the last three and is playing with some swagger as of late. They won't win, but they'll make this matchup respectable at the very least.
Moneyline: Detroit Pistons at Sacramento Kings
Alright, we'll admit it: our degenerate tendencies have gotten the better of us. We felt like gambling on a low-risk, high-reward bet on the night and this Detroit-Sacramento moneyline caught our attention the most.
Pistons, like the aforementioned Rockets, have been awful most of the year but are catching fire. In their past nine games, Detroit has claimed five victories (for reference, they won only five games in its first 33 games). This young team is improving and they get a matchup against the "Kings of letdowns", the actual Kings. Seriously, Sacramento should win this game, but in true form, they'll overlook their opponent and fall on their home floor.
How To Bet On NBA?
Ten games dot the schedule on Wednesday and you can bet on all the NBA matchups at one of the Canadian bookies below. The listed sites offer industry-leading basketball betting odds, whether that's traditional wagers (spread, over/unders, moneylines) or non-traditional bets like props or futures. Check 'em out to lock in your bets for not only Wednesday's night of action but the rest of the NBA season!