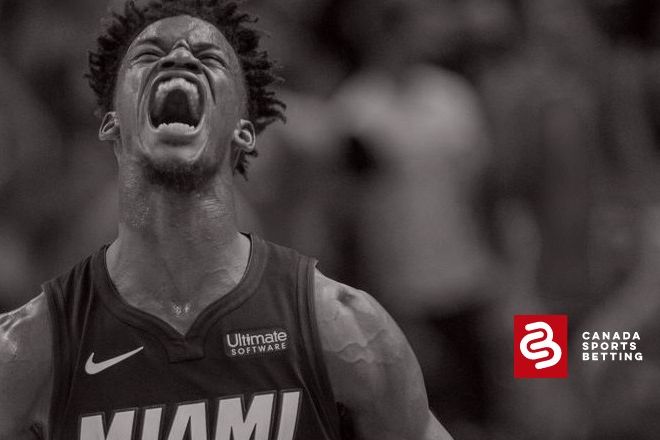 Half of the league is in action on Wednesday night, giving you eight unique basketball games to bet on. That's a lot to choose from, but we've hand-picked the very best NBA bets for January 12, 2022. Give this a read if you need betting advice for the busy night of hoops!
Two teams that have advanced to the Eastern Conference Finals each of the past two years do battle in a marquee game that'll likely get a fair share of betting action at the best Canada sportsbooks. Before deciding what's the best Miami-Atlanta spread pick is, the lingering question is this: will Jimmy Butler suit up for the Heat?
The Heat's franchise centrepiece is close to returning from an ankle injury. As of this writing, he's listed as "questionable" to play. Butler has uncharacteristically missed 17 games this season due to injury and COVID. And despite that, Miami is 25-15 and holds the third seed in the Eastern Conference — up 7.5 games on Atlanta as a comparison.
The Heat is coming off perhaps its most impressive win this season yet. On the road, they blew out the NBA's best team record-wise in Phoenix 123-100. An onslaught of three-pointers — 22 in total, a franchise record, overwhelmed the reigning Western Conference champs. After that type of "heat check" performance (pun intended), you know Miami will be confident entering this matchup.
With Butler or without, we don't think the Heat should be underdogs in this one. The Hawks are too inconsistent for our liking, which means we're taking the underdogs!
Moneyline: Dallas Mavericks at New York Knicks
Alright, we'll be upfront and say it: this Mavericks-Knicks moneyline makes no sense to us. How is Dallas barely favoured to win (the spread is only 1.5 points)? They are as hot as any NBA team right now, having won six in a row, and get a matchup against the 11th-seeded Knicks. Yep, we're hammering the Mavs' moneyline — and we mean hammering it.
This game was supposed to be Kristaps Porzingis' homecoming but he's in the COVID protocol and out. Instead, we expect it to be a Dallas special: the Luka Doncic show. Playing at the famed Madison Square Garden, don't be surprised if Luka goes off, carrying the Mavs to victory in the process.
Moneyline: Brooklyn Nets at Chicago Bulls
How's this for a "routine" Wednesday night game? The top two teams in the Eastern Conference are featured in this clash — with only 2.5 games separating them in the standings (the Bulls have the edge). Given that, it's no surprise that the Nets-Bulls moneyline is virtually dead-even.
These two teams have met twice already, both of which were won by Chicago. But this time it's different. Why? Welp, Kyrie Irving will be on the floor this time around. Irving has rejoined the Brooklyn roster on away games, which this one falls under. With a fresh body (compared to the rest of the league), we believe Irving carries the Nets to a big road victory.
Against The Spread: Los Angeles Lakers at Sacramento Kings
For the fourth and final time this season, the Lakers and Kings face-off. As you can see above, the LA-Sacramento NBA game's betting odds are close when it comes to the spread. But should it be? Sure, these two teams played a triple-overtime game earlier this year (won by Sacramento), but LA won the next matchups rather easily (by 25 points followed by eight). 
Given how the Kings are playing as of late — and heck, all-season long — we can't recommend betting them. Since December 19 (almost a month now), Sacramento is 4-9, including five defeats in a row. The Kings' defence is as putrid as it gets.
On the flip side, the Lakers have gotten things back on track since the new year started. Yes, they did lose to the Grizzlies last time out, but they're 4-1 since the calendar turned to 2022. We're riding that momentum and betting on LA to cover the spread here. 
How To Bet On NBA Games?
Want to heed our advice above? Or heck, want to fade it? Welp, you can do either or at one of the betting sites listed below. These bookies have all the bets on NBA games you're looking for — whether it's Wednesday night or another in the 2021-22 season. Spreads, moneylines, over/unders, props, long-term futures bets, you name it and the bets likely carried at these bookmakers!