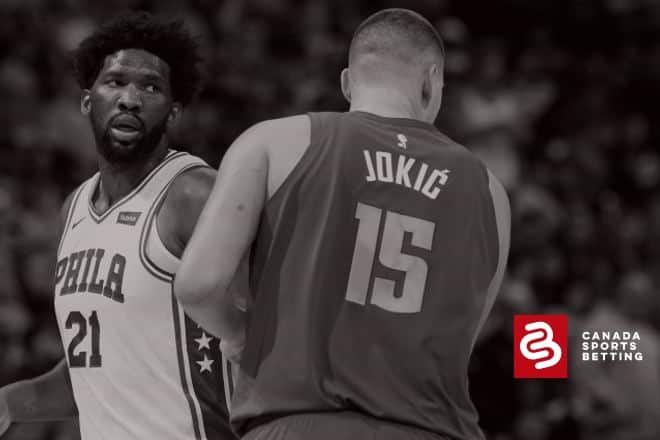 All it took was one month for the NBA MVP race to be completely flipped on its head. Now might be time to re-think who to bet on to win 2022 NBA MVP and we'll help you do just that in this article. Read on for up-to-date advice on how to bet the MVP award!
But first thing is first, let's see how the best Canadian sportsbooks are even pegging the odds. These betting lines change regularly (based on recent games), but as of this publish date, these players are currently most favored to win the MVP vote:
Embiid Storms To NBA MVP Betting Favorite
At the start of the month, the leading MVP candidate at popular NBA betting sites was Steph Curry followed closely by his ex-teammate, Kevin Durant. But after a wild and wacky January, Joel Embiid has become the new leading NBA MVP candidate. All it took to achieve that flip was an injury and two completely-opposite streaks of play.
The injury was to Durant. After averaging the most minutes played per game of his career since 2013, Durant sprained his MCL in mid-January. The timetable for his return was announced as four-to-six weeks. But given his injury history, we'd expect a slow burn before Durant is playing 38 minutes per game (as he was pre-injury), which details his MVP chances.
As for Curry, well, his MVP downfall has been more bizarre. He is currently amid the worst shooting stretch of his ENTIRE career. Yes, even the most gifted shooter this league has ever seen can fall into a cold streak. January marked the least efficient month of Curry's career (based on a minimum of 100 field goals). His month-long three-point percentage was below 30 percent and only in one game in January did Curry shoot over 50 percent from three-point range. More on him soon.
While Durant and Curry have faded, Embiid has leapfrogged the list of MVP candidates. Embiid has dominated for two weeks running now. His average stat-line during this stretch: 35.6 points per game, 11.6 boards, and 4.4 assists. As his own teammate, Danny Green, recently said, Embiid is "Shaq with footwork and touch." If that's even remotely accurate, it's a recipe for pure domination.
Though another player is also ascending up the MVP ladder and that's Nikola Jokic, the reigning MVP in his own right. Like Embiid, he's also had a two-week tear in which he's "quietly" averaged a triple-double — 29.3 points a game, 13.1 boards, and 10.6 assists. Here's another quiet but true factoid about the Joker: on four different games this year, Jokic tallied 20 points and 20 rebounds. The rest of the league COMBINED has done the same a mere eight times this season.
2022 NBA MVP Betting Pick
Before we give you our 2022 NBA MVP betting pick, we're going to tell you who we're not betting on to win — and that's the aforementioned MVP risers, Embiid and Jokic. That's not to take away from each's individual greatness, but there are other variables at play that we sense will derail their MVP chances by the time the season ends.
Embiid isn't durable enough to win MVP, plain and simple. He's never played more than 64 games in a single season, which raises the question: can a player that's only available to his team for three-quarters of the season be worthy of being most valuable? Our gut says no, and while Embiid has been mostly healthy this year, history tells us that won't hold up. If he does miss a stretch of games, his MVP chances will plummet too, which is a risk we're not taking given his injury history.
As for Jokic, it's hard to win back-to-back MVP titles. To do so, you really — and we mean really — have to improve your stats and team success from one year to the next. As of right now, that hasn't happened. Both are practically level, which doesn't bode well for the Joker.
So if not Embiid or Jokic, then who's the best bet to win MVP this year? That would be Curry. Look, he's going to snap out of that slump sooner rather than later. As a bettor reading this, you know cold streaks happen — but they never last. When he does, watch out for him and this Golden State team.
You see, the last reason we're vouching for a bet on Curry over Embiid and Jokic is this factor: team success. While the Warriors have the second-best record in the entire league, the Sixers and Nuggets are both holding sixth seeds in their respective conferences. Historically speaking, that's not going to cut it for an MVP winner. Therefore, use this opportunity to take Curry's fallen MVP odds because he'll be back in MVP form very soon.
How To Bet On NBA MVP?
Whether you agree or disagree with our Curry pick, you can "put your money where your mouth is" by betting on the NBA MVP at one of the bookmakers listed below. While you're there, reap a big-money bonus offer for free play. Each site underneath has a bonus available, which could score you hundreds of dollars in free play before you even finalize an NBA MVP bet. Look below for more details.