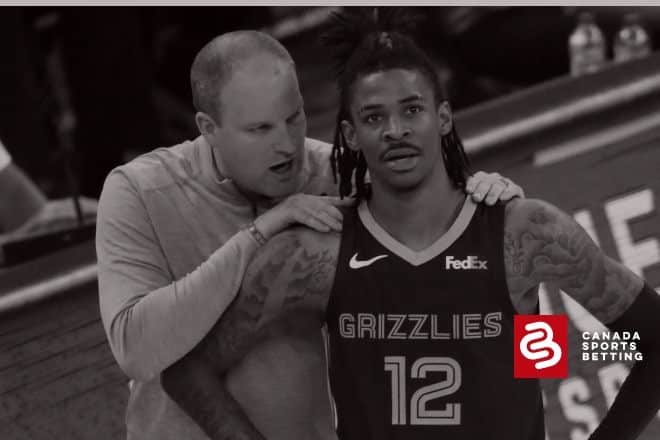 Sometimes the biggest challenge is the NBA Props that are the most rare. It is time to take a look at the "Most Improved Player" prop in the NBA so far.
It was not enough to take a look at some NBA props and futures most would stay away from. Now, here at Canada Sports Betting, we are going to dig even deeper. This time, we are focusing on the NBA's Most Improved Player. Next week, there are a couple of surprises that we get to sink our teeth into.
Again, some of these odds can feature a couple of longer shots. Let's take a closer look at a prop again most will not touch with a twenty foot pole.
Numbers For Most improved Player This 2021-22 NBA Season
This again was an easier find though than most would expect. Numbers for the "Most Improved Player" were not difficult to find at all. This is also not one of those repeat awards so any reputation bias often goes out the window. One thing is certain. The 2021-22 NBA Season has not been dull for surprises.
Here are the updated odds for this prop as of December 14th, 2021.
So, Canadian NBA betting sites often have some of these lesser road traveled props. Again, this is where it gets fun. Therefore, let's get dangerous.
2021-22 NBA Props: Miles Bridges Is Leading WHAT?
Again, this seems hard to believe but when looking at the 2021-22 NBA Props, we stumbled onto Miles Bridges. The Charlotte forward was a nice. solid player already. Then, in the offseason, the seas parted, and the starting reins were turned over to Bridges. What is great about him is that he truly can play either at the 3 or the 4. It is that versatility which has Bridges leading the Most Improved Player prop.
The even nicer thing for the forward is that he can play as many minutes as he can muster. This year, he is up to 37 minutes a night and the player does not look the least bit fatigued. He can carry Charlotte on his back at times. This is all while averaging 20.3 points per contest. The last two seasons he split between the forward positions and averaged around 13 points per game at 30 minutes per night.
The nice part in 2021-22 is that Bridges is at the power forward position. His guide says 225 pounds and we chuckle a bit because he bulked up closer to 240 pounds. That matters little. What matters is his ability to make shots, box out, and log a ton of minutes. He does not get in a ton of foul trouble either (2.8 fouls per game). That helps him play longer and of course accrue more numbers.
A power forward that can block a couple a shots a night, dish out 3.5 assists per game, and even get 7-8 rebounds a night? That's a recipe to win an award right there. He may not be our pick necessarily but Bridges is the current favourite.
So, There is The Upswing Of JA Morant
And, this is where the Most Improved Player prop gets a major jolt of debate thrown in. JA Morant is just 22 years old and has played big minutes in the NBA already for the Memphis Grizzlies. Now while most players rightfully improved and it is because of more minutes via opportunity, Morant has upped his overall game. The upswing is more points, steals, and rebounds even with playing time being right around the same.
Again, Morant has gradually improved his perimeter shooting. Now, 35.6% from three-point range does not sound great but his rookie year saw him shoot around 30%. His field goal attempts are now 19 up from just under 16. Basically, Morant is being more and more assertive and basically maximizing his minutes. He is not going to see 35+ minutes a night so the Atlanta point guard needs to make the time count.
The idea is Morant should start to see a bump in assists. He was averaging nearly eight assists a game in his eight starts. That is a trend which should continue. Morant even has been sighted in some other props like MVP and even the leading scorer prop.
So far, the most improved player in our eyes is indeed JA Morant.
Are There Any Other Longer Shots Out There?
There are so many ways to take advantage of the best betting bonus offers out there. Pairing these up with some longer shots never hurts to try and make a little more for your wagering dollar. For "Most Improved Player", LaMelo Ball has name recognition but had legitimately made some great strides. Tyler Herro carries so much intrigue in this category even though he is all over the "sixth man award" prop.
Herro is one to watch along with Ball. Herro also is right around 20.00 as well. A small wager never hurts there. Elsewhere, Anthony Edwards had some buzz early but his peripheral numbers and shooting percentage did slide back some dropping him in the latest runs. Jordan Poole, with the help of Stephen Curry, could be one other to watch. Poole has earned his starting spot in Golden State and should keep it for the rest of the season.
Who Is The CSB Pick For Most Improved Player?
JA Morant is our CSB pick for most improved player this 2021-22 NBA season.
With so many great sports mobile betting apps, what are you waiting for? Get in on the action now!