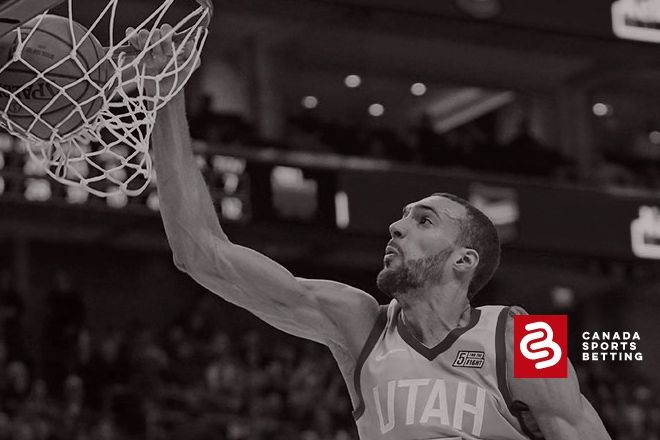 It is time to see who leads the way early on as we update the NBA Prop for Best Rebounder and see who is trending up or trending down this 2021-22 NBA season.
Before the season starts, at Canada Sports Betting, we took a look at some NBA Props most would steer clear from. Specialized NBA categories often need their love too. After all, there is money to be made here. Let's have some fun and dig into these odds once again. Then, we will pick our NBA Best Rebounder once more.
Best Rebounder Updated Numbers For The 2021-22 Season
The NBA Prop for best rebounder has lived up to the hype so far this 2021-22 season. It has surprised us in some ways and not in others. Keep in mind, Rudy Gobert of the Utah Jazz has won the crown two years ago and this year was somewhat thought to be different. As is often the case, the numbers often tell another story.
Here is the table below. Numbers are taken as of December 11th, 2021.
| 2021-22 NBA Props — NBA Leading Rebounder | |
| --- | --- |
| Rudy Gobert | 2.04 |
| Clint Capela | 3.25 |
| Jonas Valanciunas | 8.00 |
| Domantas Sabonis | 9.00 |
| Giannis Antetokounmpo | 10.00 |
| Nikola Jokic | 13.00 |
| Anthony Davis | 14.00 |
| Nikola Vucevic | 20.00 |
Canada's best NBA betting odds are updated all the time. It is even harder to believe that the new year is less than three weeks away. There are always some unexpected trends and there are two players in the rebounding mix that normally figure prominently in other categories as well. As always, there are the usual suspects. Speaking of one…

2021-22 NBA Props: Rudy Gobert Leading Rebounder Again?
Rudy Gobert leads the NBA Props for leading rebounder at this juncture of the year for the third season in a row. The previous two seasons saw him take the lead about a quarter of the way in and then run off with the title. Could it happen yet again?
Gobert has proven many wrongs already. The one concern we had going into the season was his ability to stay even with offensive rebounds per game. Naturally, we did hint that as numbers stabilized due to COVID that Gobert would improve even more in defensive rebounding. So far, it has been the case. Gobert is averaging 11.6 rebounds a game on the defensive half of the court alone.
Meanwhile, the Utah forward has managed to average 3.1 offensive rebounds a game. That ranks a respectable ninth in the league. Combine the two and it is not a surprise why the odds have shortened again for the talented and versatile player.
There is only one player in the league, maybe two, that can come close to Gobert's ability to rebound defensively. One is Giannis Antetokuonmpo (The Greek Freak) and the other is Nikola Jokic? We will get to Jokic later. Again, there are always a few wrinkles at times. However, right now, they are all chasing the favourite that is Rudy Gobert once more.
What Happened to Clint Capela?
Now, there is a question worth asking. Here is the funny part. Clint Capela is performing exactly the way he expected to on the offensive end of the ball. He is creating havoc, having fun, scoring a few more points, etc. Capela is even averaging 4.1 offensive rebounds per game. The dropoff has come on the defensive side.
It does seem some Atlanta players are vulturing some minutes and rebounding away from Capela on the defensive half of the court. The projected number for Capela was around 10.5-11.0 rebounds per game at the start of the season. His current number is at 8.7 rebounds per game. That is a little underwhelming and below expectations.
If Capela was right around his pre-season projections, he would be neck and neck with Gobert right now. Admittedly, the Utah forward is on some run of rebounding. Also, the Atlanta Hawks center is only playing right at 30 minutes a night. Gobert is at nearly 32 currently. Could load management later in the season come into play? That might benefit Capela. Then again, it may not be enough.
The feeling is that Clint Capela should be able to eat into the current margin of 1.9 rebounds per night. His defensive rebounds should inch upward so do not count the Atlanta "center of attention" out just yet.
Can Nikola Jokic Stay In This Best Rebounder Race?
Kind of like Anthony Davis, Nikola Jokic is not quite one of those players one expects to be in a leading rebounder race. Yet, here we are. Jokic is the only player besides Rudy Gobert that has double-digit defensive rebounds per contest. I wager even the best Canadian NBA betting sites could not have seen this one coming.
The other thing is this. How much more could his odds shorten between say now and say February or so? Also, can Jokic keep rebounding like this? He is just 26 years old so maybe a bump was coming. However, he was right around 10.5-11 rebounds a night. No one saw anything in the 13-14 range like this. Also, he has played just 20 games. Can the pace continue?
It is why, for now, most peg Jokic near the top-five in the race. His number is sixth currently ranging from 12.00 to 13.00. The likelihood is that does indeed shorten. It may very well be his overall all-around game that keeps him in this race a bit longer than anyone could have predicted.
Right now, this is having the look of maybe a three-horse contest. Can Jonas Valuancianus or Domantas Sabonis jump into this? Absolutely. Is it likely? No.
2021-22 NBA Props: Leading Rebounder Pick
It is hard to go against Rudy Gobert now. Our feeling is he holds off Clint Capela and wins the best rebounder race yet again.
Do not forget to check out more of our free picks this week.