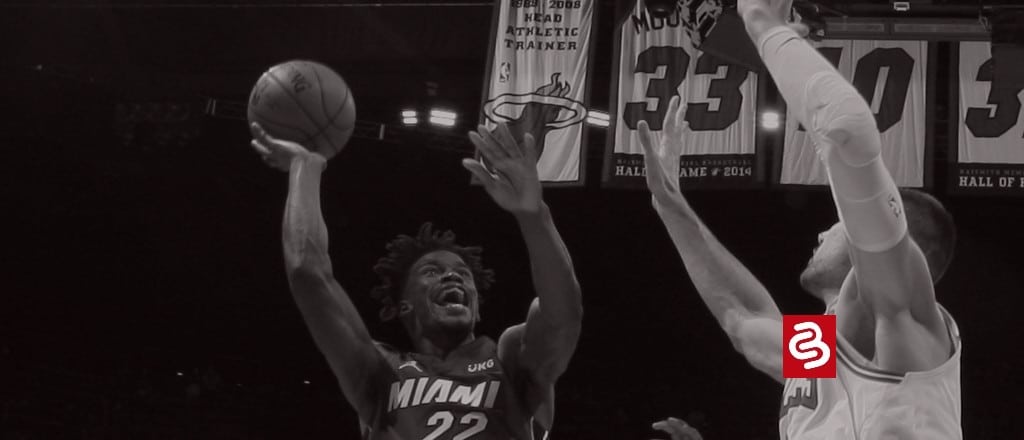 The most bet-on game at online betting sites for NBA on Monday might be this one. This juicy matchup pits the top two Eastern Conference teams against one another. Currently, the Heat (40-21) hold a one-game lead over the Bulls (39-22) for the number-one seed. With this pivotal matchup, we're drawn to the Miami-Chicago spread over anything else.
We're going to be completely upfront and say the Heat will win and cover the spread. They've owned the Bulls in two previous games this season. First, they went into Chicago in November and gutted out a three-point win. That was followed by a lopsided 26-point win during December on Miami's home floor, where Monday's game takes place again.
Of course, we have to mention DeMar DeRozan's current hot streak. He's had eight straight games with at least 35 points on 50 percent shooting — an NBA record and something not even Michael Jordan could do. But this is where his "heat check" runs out, coincidentally against a team named the Heat. We expect Jimmy Butler (an ex-Bull) to keep DeRozan in check defensively and snap his historic streak, which opens the door for a comfortable Miami win.
Over/Under 229.5 Points: Indiana Pacers at Orlando Magic
Earlier this month, the two teams met — only it was in Indianapolis, not Orlando like Monday's game. Back on that February 3 game, points flew off the scoreboard as the Magic gutted out a 119-118 victory. That result might suggest why the Indiana-Orlando over/under is 228.5 points — the third-highest of Monday night. But a lot has changed in the three weeks since that game was played.
Mostly, Pacers have gone into full rebuild mode. Gone are one-time stars like Caris LeVert and Domontas Sabonis. In is future star Tyrese Haliburton, who has flashed plenty in his short stint with the Pacers. The 21-year-old has scored at least 20 points in four of six games — a big jump from his season average which hovers around 14 per game. Unfortunately, Indiana has struggled to defend since the trade. The Pacers are allowing 118.5 points per game with Haliburton in the lineup.
Speaking of defence, that's always an issue for the 14-win Magic, who are dead last in the Eastern Conference. Nothing is seemingly going right in Orlando, which are praying for the lottery balls to pop in their favour yet another year. Despite the roster turnover on Indiana's side, we expect this game to follow the trend from the early February matchup and score well into over territory.
Against The Spread: Minnesota Timberwolves at Cleveland Cavaliers
You saw the spread above, Canada's best online sportsbooks have this game as a virtual toss-up. As they should because this matchup pits two ascending playoff teams against one another. However, our sense is the location of this game is what'll decide whether the Cavs or Timberwolves cover the spread.
It's in Cleveland, where, get this, the Cavs have won eight in a row inside. In fact, the Cavaliers are one of the best teams playing at home with a 19-9 record. That should help them take care of business — as they did in their previous regular-season meeting vs. Minnesota which ended in a 123-106 victory for Cleveland.
Against The Spread: Toronto Raptors at Brooklyn Nets
Are we the only ones worried the Nets are in danger of missing the playoffs? Ben Simmons is still missing in action. Kyrie Irving still can't play in home games — even after the city of New York changed its vaccine mandate (but not for the private sector which Irving falls under). And Durant, well, he's still hobbled and will continue to be upon his return from injury, which is expected next week. We're fading Brooklyn's spread with all three "big three" out on Monday.
And yes, we know the Raptors aren't exactly playing well themselves — they've lost three of their last four games by 20 points or more. Toronto's defence has let it down in those games, but we're not optimistic the Nets have the offensive firepower to exploit that leaky Raptors defence. Past-their-prime bigs like LaMarcus Aldridge and Andre Drummond just don't scare us, which is why we're taking Toronto to cover.
How To Bet On NBA Today?
There are seven different NBA games to bet on today. Seven! While we think the four bets mentioned above are the best "bang for your buck", you're free to wager on the others. To get a complete list of NBA bets for Monday, check out one of the Canadian bookies listed below. You will find any and all NBA betting odds for the day at these bookmakers. The same goes for any other day, from now until the NBA Finals!