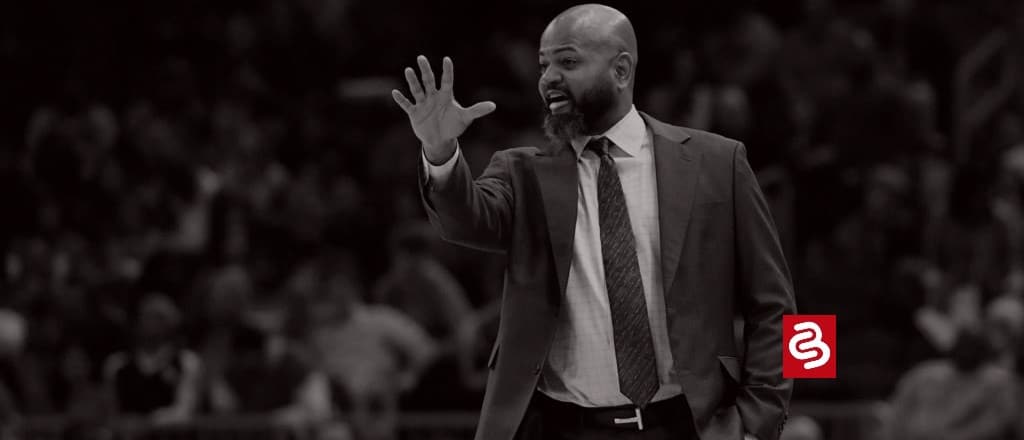 Canada's best sportsbooks have odds to win the award available for all 30 NBA coaches. But realistically speaking, there are only five that are true contenders. We've listed those coaches below along with their current odds at winning:
Betting Prediction For 2022 NBA Coach Of The Year
It's turning into a two-horse race between Monty Williams (Phoenix) and J.B. Bickerstaff (Cleveland) in this award category. Both coaches have about 20 regular-season games left to separate themselves in the eyes of the award voters AND bettors. When making our betting prediction for the 2022 coach award, those remaining games weighed extra heavy. Here's what we think betting-wise:
Williams Faces An Uphill Battle Without Paul
After three-fourths of the season, Williams is a deserving betting favorite in this category. Phoenix is the best team in the entire league with a 48-10 record, which is six games better than Golden State. According to the best NBA betting sites, the Suns are tied for the best odds at winning the Finals (along with the Warriors and Nets). Williams has somehow strengthened a team that's fresh from a trip to those same NBA Finals when in many instances, that only creates complacency, not gradual improvement.
But right when Williams was in the driver's seat to be named Coach of the Year, Phoenix's most important player, Chris Paul, suffered an injury to his thumb that will force the point guard out of action for six to eight weeks. Paul is indeed the engine that makes this Suns team go, especially on the offensive end. His 14.9 points per game don't jump out of the page, but his play-making abilities are still second to none league-wide.
So far this season, the 36-year-old Paul is averaging 10.7 assists per game — that's the most in his career since 2014. In fact, it's not far off from his career high of 11.6 assists per game during the 2007-08 campaign. With Paul on the floor, the Suns' offensive rating is 115.9. Without him? It dips all the way to 104.9. That's an 11-point difference that we sense will be severely missed by Phoenix in the final stretch of the year and possibly the start of the playoffs (which is in seven weeks, right around when Paul is expected to be back).
Williams is thin at point guard without Paul. Backups Cameron Payne, Elfrid Payton, and Aaron Holiday are all so-so players. Sure, Devin Booker can play facilitator, but that'll only lessen his impact from shooting — which is his true strength.
How the Suns fare without Paul will make or break Williams' Coach of the Year chances. If they continue to win and hold off the Warriors for the West's top seed, then Williams has this award in the bag. But if they struggle? All bets are off (literally). We happen to fall into the latter camp, which is why we're skipping a wager on Williams.
Bickerstaff Has Opportunity To Pull Off Upset
Often at times, a prerequisite to winning Coach of the Year is surprise — at exceeded expectations mostly. It happened last year with Tom Thibodeau (who barely beat out the aforementioned Williams for the award) and this season, there's no bigger surprise than the Bickerstaff-led Cavs. At the All-Star break, Cleveland is third in the Eastern Conference standings with a 35-23 mark, which is better than NBA title favorites like Milwaukee and Brooklyn.
Unlike say the Suns, the Cavs are winning with developing pieces — not superstar talent. In year three, Darius Garland has become an offensive threat with 20 points per game. Evan Mobley has virtually locked up Rookie of the Year with dominant two-way play. And furthermore, Cleveland has continued to win despite season-ending injuries to Collin Sexton and Ricky Rubio (who they've since traded away). When young players blossom in front of our very eyes, coaches often earned the credit, which certainly fares well for Bickerstaff here.
Cleveland needs a strong finish to the season of Bickerstaff is to win the award (though, sluggish play by Phoenix certainly helps too). That's doable for a Cavs organization that's showed it's in win-now mode when it acquired Caris LeVert before the trade deadline. He's what the team sorely needed — a scoring threat that can get to the hoop. As the season wears on and LeVert grows more comfortable on this team, we sense Cleveland will continue their winning ways.
So yes, we're indeed betting Bickerstaff here. The Cavs are on the ascent and he's a big reason why. Bet on Bickerstaff because Cleveland will end the season on a higher note than Phoenix, which will be the difference-maker among award voters
How To Bet On NBA Player Props?
Coach of the Year isn't the only NBA player prop available for betting. No, there's also the MVP, Defensive Player of the Year, and more there for the taking. To lay action on these bets (which should pay out around May), then visit one of the Canadian betting sites underneath. They'll have up-to-date lines for these bets.
But you know what else these bookmakers have? Killer bonus offers for new players. These offers pay out hundreds of dollars in free play. All you need to do to earn the free money is create an account and top it off with money. If free money sounds like something up your alley, then visit one of the bookmakers below!