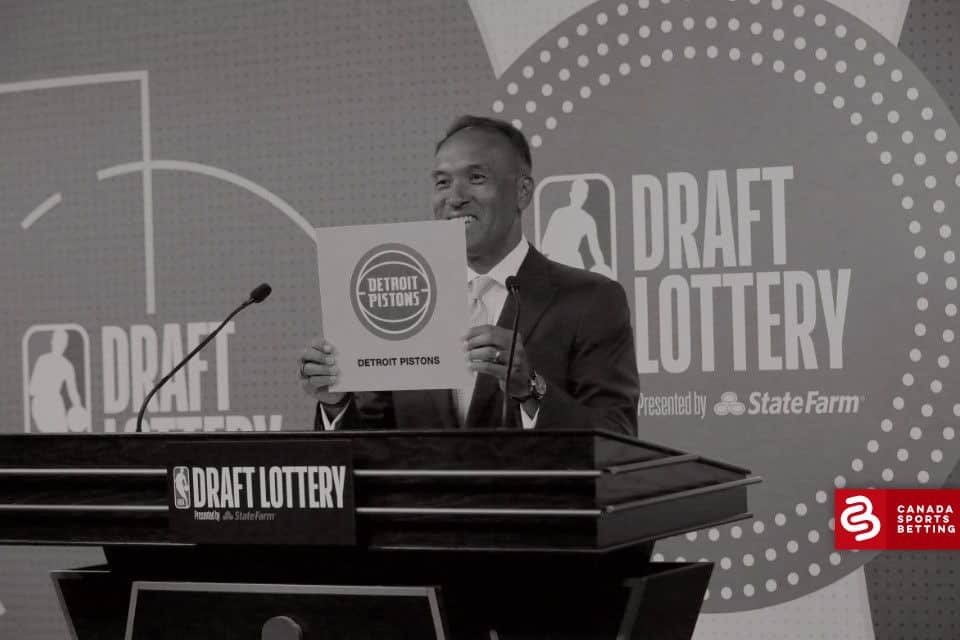 Let's have a look at the 2021 NBA Draft betting predictions.
2021 NBA Draft Predictions
Who will go first in the 2021 NBA Draft? What about second, third or fourth overall? Which players will be selected in the top 10? What will the exact order of the top three players chosen be? These are among NBA Draft props offered to bettors from the top online sports betting sites. There are also draft matchups, where bettors must choose which of two players listed will be selected first.
Cade Cunningham is the overwhelming 1.01 favourite to be selected first overall in the 2021 NBA Draft
Will Corey Kispert be picked in the top 10 on draft night?
These are just two from among a litany of NBA Draft props that are being offered at online sports betting sites
It seems to be a virtual lock that Oklahoma State Cowboys guard Cade Cunningham will be the first player chosen in the NBA Draft. It's such a certainty that the majority of NBA betting sites have already taken down wagering on who will go No. 1 overall.
Among those still offering odds in this betting market, Cunningham is listed at odds of 1.01 to be chosen by the Detroit Pistons, who hold the first overall pick in the draft. Jalen Green from the NBA G League Ignite is the second betting choice at a distant 16.00.
That's not surprising. After all, what's not to like about the 6-foot-8 Cunningham? He's built like a small forward but is smart, slick and savvy enough to play the guard position? Cunningham presents matchup problems for guards. Defensively, he isn't afraid to use his size to guard wingmen and point forwards.
While it might be hard to find odds on this prop, the good news is that like scoring in a basketball game, there is no shortage of prop offerings on the 2021 NBA Draft. Certainly, bettors won't run out of options of where to distribute their wagering across the draft board.
The NBA Draft is slated for Thursday, July 29.
Name That Number
First overall isn't the only number open to NBA bettors for NBA Draft prop wagering. There are also props speculating on which player is most likely to be selected second, third, fourth or fifth.
Green is the heavy favourite to go at No. 2. His betting line is 1.50. USC's Evan Mobley is next at 3.10. Mobley is the 1.60 chalk at No. 3, with Green (2.80) and Gonzaga's Jalen Suggs (4.00) next in this betting market.
Suggs is the 1.62 choice to go at fourth overall. Mobley is at 3.00, followed by Jonathan Kuminga (3.80), Green's teammate on the G League Ignite.
Fifth overall could be the best bet to find some value in this prop. Most top NBA mock drafts view the top four picks going Cunningham-Green-Mobley-Suggs. After that, there's less certainty. Florida State's Scottie Barnes (1.45) is favoured in this list over Kuminga (2.45). However, Kuminga's draft stock seems to be falling as the draft nears over concerns about his offensive efficiency.
As Easy As 1-2-3
Another prop offer is an exact match on the order of the first three picks of the draft. The 1.83 favourite is Cunningham-Green-Mobley in that order. Flip the order of the 2-3 players in that bet and that's the second betting choice at 3.35.
A bit more value is available by playing Cunningham-Green-Suggs at 4.25.
Either/Or
One-on-one matchups are a big part of basketball. An NBA Draft prop pits two players against each other. Bettors wager on which of the two will be the first to come off the board on draft night.
For example, Gonzaga's Corey Kispert makes up 50 percent of four of these wagers and is the underdog in all four of them – against Jalen Johnson, Alperen Sengun, Moses Moody and Kai Jones.
A Perfect 10
Another wager provides a list of 19 draft-eligible players with odds on if they will be among the first 10 picks of the NBA Draft.
There are some good prices to be had with this wager. Odds of 2.55 on Moody to be a top-10 selection are worth a play. A betting line of 4.00 on Kispert is also worthy of consideration.
Where to Bet On 2021 NBA Draft Props?
There are a number of leading online betting sites that will provide bettors with the chance to place a wager on NBA Draft props for the 2021 draft. The best bet you can make is to shop around in advance and seek out the right deal before joining one of these sportsbooks. Check out Sports Interaction and Bet99 as examples.
The signup bonus offers that are in place at all of these recommended sites will prove advantageous to the bettor. And since you'll get a good deal wherever you go, why not check out several sites and find the ideal fit for your needs?
Do you want a risk-free first bet as a signup bonus? Perhaps you find a no-deposit bonus to be enticing. Or maybe you simply like the feel of cold, hard cash in your account and you want to go for a matching first deposit bonus. Whatever option you choose, you're already a winner.
Remember that new players and returning customers are eligible for better bonuses when they deposit using Bitcoin. As well, take advantage of the betting advice offered at these sites to help newcomers acclimatize to sports betting.
See below the top sportsbooks where you can wager online and choose the right one for you: