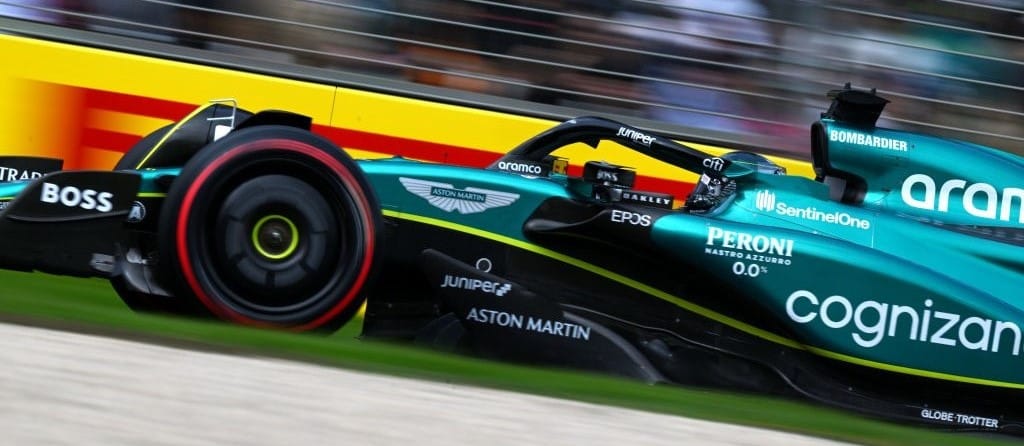 The Canadian Grand Prix is the next leg of the 2023 F1 racing circuit and it's taking place at the famed Circuit Gilles Villeneuve on Notre Dame Island in Montreal, Quebec, over the weekend of June 16-18.
One of the most popular F1 races in the world, the first Canadian Grand Prix was held in 1961, joining the Formula One World Championship in 1967. First held at Mosport Park in Ontario, the event alternated locations with Circuit Mont-Tremblant in Quebec until finding its permanent home in Montreal in 1978.
Fittingly, that first race in Montreal was won by Gilles Villeneuve on the very track that would eventually be named after him in 1982. Since then, the race has only grown in importance and prestige. Some notable historical results at the track include 2005, the most-watched Formula One race of that season, and the 2011 Grand Prix which became the longest Formula One race ever. The 2007 race was the site of then-rookie Lewis Hamilton's first-ever win. He went on to dominate the circuit, tying the legend Michael Schumacher for most victories at that track all time with seven each.
Max Verstappen to defend Canadian Grand Prix title in 2023

-303
Bet Now!
This will be only the second time the Canadian Grand Prix is being held since Hamilton's last win in 2019 as it was suspended in 2020 and 2021 due to the COVID-19 pandemic. Last year saw Max Verstappen earn the sixth of his 15 F1 wins of the season and he comes in as the usual heavy favourite this year at -303 odds. He's followed by Sergio Perez (+450), Lewis Hamilton (+1100), Fernando Alonso (+1200), and George Russell (+2200). Charles LeClerc (+4000) and Carlos Sainz (+4000), both of Ferrari, round out the top drivers after which there's a huge discrepancy in odds.
The Montreal track is a fan favourite. Firstly, it's a fast track. The long straights and tight curves and turns on the track allow drivers to overtake and pass rival cars. Another important aspect to note is that the walls are closed which means mistakes, like making a turn exerting a little too much pressure, are often punished harshly. The track has seen many infamous crashes over the years. Drivers need to be very careful, but the most skilled of them will know how to make the track's advantages work to their favour.
Speaking of fast, here's a comparison to provide perspective. The Monaco Grand Prix, two races ago, had a fastest lap speed of 158.79 km/h. Last year's Canadian Grand Prix had a fastest lap speed of 207.25 km/h. That's quite a stark difference! This does mean that viewers should expect more pit spots during this race with most teams likely needing to stop twice which really brings team strategy into play. It will be interesting to see which teams gain an advantage in this regard.
How Lance Stroll is making Canada proud
Being the biggest race in Canada, all eyes will be on Canada's favourite (and only) son in Formula One, Lance Stroll. Here's a look at his chances on his home country's largest stage followed by a look into the race favourites and some smart wagers to consider.
Stroll is Canada's lone representative driving in the Canadian Grand Prix and is surely up for the challenges facing him this weekend. Stroll enjoyed a few top-10 finishes last year with Aston Martin, finishing a respectable 15th out of 22 in the Drivers Championship. He's off to a tough start this year, though, after sustaining some injuries while training that caused him to miss pre-season testing, but Stroll has come on strong recently with some of the best racing of his career.
In his seven races so far this season, Stroll has four top-10 finishes including his first top-5 finish since 2020, placing fourth at the Australian Grand Prix. Stroll ranks eighth in the current Drivers Championship despite having been forced to retire mechanically at the Brazilian Grand Prix and Monaco. If he can continue to improve, his outlook has never been brighter. In 2017, Stroll became the first Canadian Formula One driver in 20 years since Jacques Villeneuve, son of circuit namesake Gilles.
He understands what it would mean for him to win this race on his home turf. At +30000 odds, he's not a bad choice as a dark horse pick to win considering the payout. But with finishes of sixth, seventh, fourth, and sixth in four of the five races he was able to finish, look to take advantage of Stroll at +150 to finish top 6 in the race.
Lance Stroll Top-6 Finish

+150
Bet Now!
Max Verstappen and Sergio Perez have dominated
Every race this season has been won by one of the teammate duo of Verstappen and Perez. This means Red Bull Racing has dominated the 2023 season so far. It's no wonder these two drivers are the only ones with odds shorter than +1,000. There's even a considerable difference between Verstappen and Perez. This may be due to the fact that Verstappen has won the last three races and five of the seven ran this year.
So on the one hand, betting Verstappen is likely to result in winning your bet, but the return on investment will be relatively paltry. But math is always a very helpful skill to have when it comes to navigating the vagaries of sports betting. Verstappen's current odds mean that if you placed a $100 successful wager on him to win, you would net a return of $33 plus what you originally bet. If we just go by the results from the 2023 racing season, Verstappen looks to have a very good chance of winning this race.
Sergio Perez, and his +450 odds, now happens to be the overwhelming favourite to be the only other driver that may likely win the race. One might consider then placing a smaller wager on Perez to basically hedge their bet on Verstappen. If this season's trends continue, surely one of those wagers would be a winner. In the end, however, hedging bets with these two drivers would only provide a small return. Even then, there would be a risk if neither won. The value just isn't there.
The best props found for these two drivers value-wise is probably Fastest Lap where Verstappen (+100) has done it three times this year while Perez (+400) has accomplished it once. For those deadset on betting on one of these drivers, this is where there is the most value to place their wagers.
Sergio Perez to win 2023 Canadian Grand Prix

+450
Bet Now!
Three bets with good value
While left to ponder if it's even worth it to win so little betting on the Red Bull drivers, there is no need to fret. There are still some good plays for this race that provide pretty good value. With Verstappen and Red Bull dominating, this is the time to look at the different bets offered to take advantage of optimal values. This is best done with a sportsbook that offers a good variety of betting markets and props like bet365.
Here are three bets currently offered at the sportsbook that provide the kind of value smart bettors are looking at for the upcoming Canadian Grand Prix:
Fastest Lap – Lewis Hamilton and George Russell (both +800). While Red Bull has four of the fastest laps so far this season, Mercedes has two of the other three (Alfa Romeo has the last). Hamilton and Russell have each gotten it once and both have decent shots at it again. Fernando Alonso (+800) is another fine and viable choice here.
Both Cars Finish Top 6 – Team Aston Martin (+162). Aston Martin should do well at the Canadian Grand Prix with the layout of the track and their drivers' strengths. In addition to that, Alonso already has six top-6 finishes while his teammate, the aforementioned Stroll, has three and seems to be on the rise.
Podium/Top 2 Finish – Lewis Hamilton at +110 for a Podium Finish (finishing the race in the top 3) and +175 for a Top 2 Finish. Hamilton has finished on the podium twice so far this year including the last race and has dominated this track in the past. There's maybe even a sense Hamilton wants to prove himself again against Red Bull and Verstappen. Watch for fireworks to fly in this year's edition of the Canadian Grand Prix.