NetBet is a premium online wagering website that specialises in sports betting as its primary focus. A veteran gambling provider, NetBet was established in 2001 and they have been based in Malta since 2006. Operated by Cosmo Gaming Company Ltd. NetBet holds a globally recognized European gambling license that helps ensure fair play. Here is our expert NetBet review.
Cash Out Your Bet Option is Available
Exciting Las Vegas Style Casino Action
Post Early Opening Odds in Sportsbook
Some Flash Pages Have Slow Responses



Sports Interaction Bonus
CLAIM YOUR BONUS – Interact with Canada's favourite online sportsbook! Join today to collect a substantial deposit-matching bonus!
TAKE ME TO Sports Interaction!
NetBet Canada Sports Betting
Operating in countries around the world, including the United Kingdom, France, and Canada, NetBet online is a full service provider of a wide range of sports betting options. They also offer LIVE and standard casino games, as well as virtual sports, lottery and poker action. Cutting edge software, furnished by industry leaders like NetEnt, IGT and Microgaming, helps deliver an exciting wagering experience. Quick registration, coupled with secure banking, is available 24/7 to all Canadian 'Cappers.
NetBet Bottom Line Recommendation
Standing out in a crowded market, no matter the business, is not easy. That is true in the online betting business as the Internet is overflowing with choices. It's challenging to pick winning sports wagers; finding reputable bookmakers should not be an issue. Here at Canada Sports Betting, our expert crew has been reviewing wagering sites for years. Based on their variety of sports and a vast mix of standard, prop and futures betting options, we are pleased to add NetBet to our recommended list. Take advantage of simple signup, plus secure banking options, and start building your bankroll today!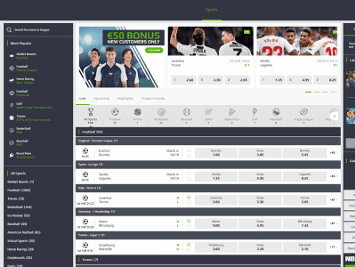 NetBet Sportsbook FAQ
How to cash out at NetBet Sport?
You can cash out at NetBet Sport if you have an active single or accumulator bet in play.
Simply click on My Bets to find out if your open bets are available for cash out, and select your desired wager. You will be able to see how much you'll win if you cash out at that particular moment, and you can also choose to cash out a portion of your original stake and let the rest ride.
Cash out lets you withdraw early, allowing for full flexibility.
Why can't I deposit?
You may not be able to deposit at NetBet Sport if your credit or debit card is no longer in date or has been blocked by the associated credit provider.
Also, you may not be able to deposit funds into your account if you haven't met the identification requirements necessary to confirm your identity.
Bettors must be over 18 years of age and be located in the sportsbook's country to be eligible to bet.
Check out all the available deposit methods in this page.
Why can't I withdraw?
You may not be able to withdraw at NetBet Sport for a number of reasons.
If your wager is still marked as 'in play' or 'pending', it means that the bet has not yet processed, so you will need to be patient and wait for the bet to clear.
If you are having issues withdrawing funds that have cleared, check out the NetBet Sport help centre, or refer to your credit provider to find out if there is an issue with your payment method.
Why is my bonus not working?
Your NetBet Sport bonus can only be used once per user, so first check if you have already signed up and used the bonus already.
Also, check if your bonus is still valid – it may be out of date or only apply to a certain sport.
If problems persist, go to the NetBet Sport help centre and live chat with a customer service associate.
Why can't I login to my account?
You may not be able to login to your NetBet Sport account if you are not located within the boundaries of Canada – Sportsbooks do not allow betting to take place outside the country in which they are authorised to operate in.
If you are located in Canada, check that you don't have a VPN in use, as this may be broadcasting your location as if you weren't in Canada.
If none of these apply to you, you may have forgotten your username or password, or the site could be down for maintenance.
How to start playing at NetBet Sport in Canada?
You can start playing at NetBet Sport in Canada by visiting their website and heading straight to the sign up page by clicking on 'Register'.
You will simply need to enter a valid email address and create a password, before entering your name, a valid Canadian address and phone number to finalise your account.
On the last page, you can enter any bonus codes that you may wish to input. Once you're signed up, you're ready to start betting, and you can choose from hundreds of different events to place a wager on.
Is it legal to play at NetBet Sport in Canada?
NetBet Sport is legal to play in Canada.
Online sports betting in Canada is legal as long as you reside in the country and are placing your bet from within Canada.
You also need to be at least 18 years of age to place a bet on an online sportsbook in Canada.
Does NetBet Sport accept Bitcoin in Canada?
Yes, NetBet Sport accepts Bitcoin in Canada via Neteller.
Neteller is an online money management company that allows for online payments, and Bitcoin is one of the methods available for use.
You will need to sign up to Neteller to use Bitcoin with NetBet Sport.
Does NetBet Sport accept Paypal in Canada?
No, Netbet Sport does not accept Paypal in Canada as a method of payment for deposits and withdrawals.
There are several payment alternatives though, and they include Visa/Mastercard debit and credit cards and eWallets such as Skrill, InstaDebit and ecoPayz.
Check out the full list of payment methods in the Netbet Sport help centre.
You can check here all the sportsbooks which accept Paypal.
Does NetBet Sport offer bonuses in Canada?
Yes, NetBet Sport offers bonuses in Canada.
The most common bonus at NetBet Sport is the signup bonus, which is comparable with all the leading online sportsbooks.
New customers will receive a $50 bonus on completion of registration, and this can be redeemed on both desktop and mobile NetBet Sport websites.
How to find bonus in Canada?
The sign-up bonus of is currently of $50. You can find the terms and conditions on its eligibility by clicking here. 
The sign-up bonus of $50 will be redeemed as soon as you complete your registration, and will be available for immediate betting.
Who can play at NetBet Sport?
Anyone can play at Netbet Sport as long as they are over 18 years old and residing in Canada.
You will also need an active email address and phone number, plus a method of transferring payment to the NetBet Sport website.
If you meet this basic criteria, you're ready to start betting with NetBet Sport.
What can I bet on at NetBet Sport?
You can bet on almost any sport at NetBet Sport. From basketball to soccer, baseball to hockey, Net Bet Sport covers a variety of sports from Canada and across the globe.
There are a range of different betting options available for each sport, including outright markets, match props and handicap betting, plus you can also bet live and cash out whenever you need to.
Why can't I bet?
There are a number of reasons why you might not be able to bet at NetBet Sport.
First, check whether you are signed in to your account – you won't be able to place a bet without having an active betting account that you're signed in to.
Next, check whether you meet the criteria to bet – remember that you need to be accessing the NetBet Sport site from within Canada, and will have issues if you are using a VPN that broadcasts your location as being outside of Canada's boundaries.
Have I self excluded at NetBet Sport?
You may have self excluded at NetBet Sport, and this is a possible reason why you are unable to place a bet.
All online sports betting websites let users set limits and take breaks from betting to ensure they are compliant with responsible gambling guidelines. The easiest way to find out if you have been self excluded at NetBet Sport is to visit the NetBet Sport customer help centre.
Who owns NetBet?
Netbet Sport is owned and operated by NetBet Enterprises Limited.
This organisation is also home to a gaming website that concentrates on casino style betting.
This company has been serving the online betting community since 2001.
Why is NetBet Sport down?
NetBet Sport may be down due to scheduled maintenance.
Websites often perform such maintenance to ensure that they continue to serve the needs of their consumers, and online sports betting websites constantly need to ensure their information is both up to date and also within regulatory requirements.
---