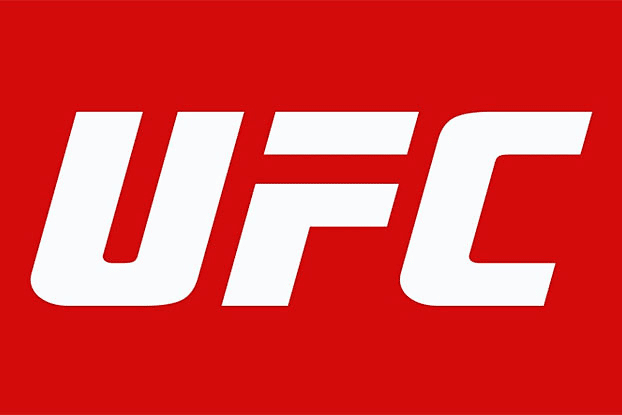 The UFC in 2020 has seen 38 major events in 5 countries across the globe, with a whole host of exciting new stars, as well as the fading light of former greats as they retire from professional fighting. This year has been in the shadow of the pandemic, but things look optimistic for 2021.
We'll run through the very best highlights of UFC in 2020 and look to the most anticipated UFC fights in 2021.
Top-5 Fights
Best New Fighters
Most Shocking Suspensions
Retirements
Comeback of the Year
2021 – Most Anticipated Fights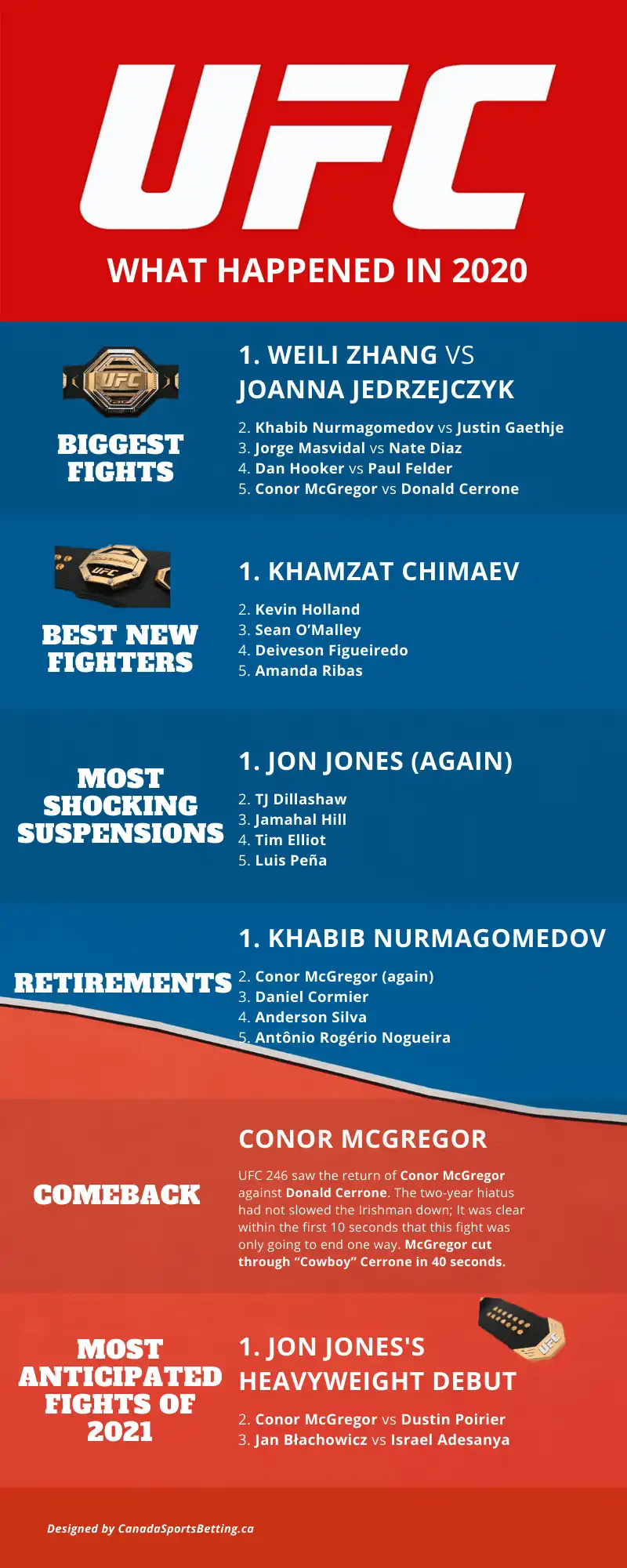 Top-5 Fights
The biggest fight of the year in my opinion was Weili Zhang vs Joanna Jedrzejczyk.
1. Weili Zhang vs Joanna Jedrzejczyk
For most people this is the clear fight of the year, Weili and Jedrzejczyk at UFC 248 was a spectacle that MMA fans won't quickly forget. It was a brutal back-and-forth bout, which left the Polish fighter with a massive hematoma on her forehead, as both fighters swung for the fences for 25 minutes. While Weili won, it was only by a narrow margin. Some may argue that the fight would have been better if the fighters moved more defensively and looked for angles rather than just going at one another.
2. Khabib Nurmagomedov vs Justin Gaethje
UFC 254's main card event between the formidable Khabib and the American challenger Gaethje. The fight was hyped up a lot, with many expecting Gaethje to pose a new challenge to the unbeaten Russian. While there were a few early scares, Khabib quickly adapted the fighting style we're so used to seeing him dismantle opponents with. The fight was over at the start of the second round, taking Khabib's record to 29-0.
3. Jorge Masvidal vs Nate Diaz
Nate Diaz is a hidden gem in the UFC roster. Often overlooked by new fans, but those that know the sport well will recognize the Diaz brothers as superstars within the sport. Nate's trash-talking inside the ring, coupled with his relentless fighting style makes him the fans' choice fighter. Jorge Masvidal had built up a solid reputation for KO'ing Ben Askren inside 7 seconds and taking a few other fights in convincing fashion. On the night, it was the "East-coast gangster" Masvidal that won the fight and with ease.
4. Dan Hooker vs Paul Felder
We have to track back to the start of the year when Dan Hooker fought Paul Felder at a Fight Night event in February. While it wasn't a major UFC event, this was one of the fights everyone was talking about for some time after. Both men slugged it out for 5 rounds, with Hooker eventually taking the win via decision. There is no love lost between these two and we expect to see a rematch of this fight sometime in the not so distant future.
5. Conor McGregor vs Donald Cerrone
The fight was an important one for more reasons than simply being a great matchup. Cerrone, like Conor, has an excellent striking and can pick anyone apart; see the combination Cerrone put on Rick Story some years back. Conor returning was obviously also a big factor with regard to the hype surrounding the fight. Once the fight began it was clear this was going to be a one-man show, as Conor reminded everyone why he's more than just a money guy.
Best New Fighters
I picked Khamzat Chimaev as the best new fighter of UFC in 2020.
1. Khamzat Chimaev
This is one of two fighters that has really lit up the UFC in 2020. Fighting out of Stockholm, Sweden, Chimaev has shown his ruthless nature inside the octagon on 3 occasions in 2020. His MMA record stands at 9-0 overall. He's won all of his fights inside the first two rounds, generally just outclassing his opponents. There is one other fighter in the UFC doing the same thing, but maybe better.
2. Kevin Holland
Kevin Holland is the man of the moment. Coming fresh off a win against Jacare Souza at UFC 256, which is the fifth fight he's won this year, Holland is looking in unbeatable form. He's shown he has a full range of striking and showed Jacare that he earned his black belt in Jiu-Jitsu. His attitude is much like our previous fighter Chimaev; willing to take fighters at very short notice and has no problem fighting pretty much anyone. Many are calling for Dana to create a Chimaev vs Holland for 2021.
3. Sean O'Malley
"Sugar" Sean O'Malley has the kind of personality that MMA fans can easily get behind. He has an elite range of striking and has a sense of confidence in the ring we rarely see from such a young fighter. Sean started the year off with 2 solid wins but then lost out dramatically in the first round to Marlon "Chito" Vera. The loss seems to have been taken pretty hard by O'Malley, who has yet to schedule his next bout.
4. Deiveson Figueiredo
At 32 years old, Figueiredo isn't new to the fight scene. But 2020 has certainly been his year, picking up three wins and a draw in his last fight to retain his Flyweight title. The fight between Brandon Moreno and the champ at UFC 256 was certainly one of the contenders for the fight of the year, as both fighters were just swinging gloves down at times. The Flyweight division has a number of potential title challengers, so we look forward to seeing more of the Brazilian next year.
5. Amanda Ribas
Amanda Ribas fights out of Varginha, Brazil and has made her mark as a Flyweight in 2020. She's fought twice, beating both Randa Markos and the American Paige VanZant. She possesses lethal striking and is very useful fighting off of her back, as we saw with her armbar submission of VanZant in her last fight. Expect to see a lot more of this talented young fighter next year.
Most Shocking Suspensions
Jon Jones's suspension was the most shocking one in 2020.
1. Jon Jones (again)
Jon Jones's UFC career has been littered with issues, stretching from doping accusations to hit-and-runs on civilians – Jon Jones is never far from the spotlight. His battle with various doping agencies regarding tests, or a lack of tests, has forced him to step away from the fighting game for years at a time in the past. He was caught out once again this year, but it wasn't anything too major. We're likely to see him once again in 2021.
2. TJ Dillashaw
The TJ Dillashaw vs Cody Garbrandt episode seemed to go on for a long time, with TJ winning the all-important fights. However, those wins and TJ's rise to success have been shrouded by the revelation that he was taking PEDs. While TJ remains defiant, claiming the drugs weren't taken with the intention of improving performance, it makes little difference as TJ won't return until Spring 2021.
3. Jamahal Hill
Jamahal Hill fights for Black Lion Jiu-Jitsu, fighting out of Grand Rapids, Michigan. He was pulled up earlier in the year on Marijuana offences, something we've seen the Diaz brothers Nick and Nate have problems with in the past. To be honest, we've seen it countless times over the years. It's something fighters like to do and there seems very little reason to stop them.
4. Tim Elliot
Elliot was caught out around the same time as Hill, similarly for Marijuana usage. While many within the sport continue to campaign to curb the punishments handed out by the Nevada Athletic Commission, it seems to be continuing. The argument Elliot had was that the use of this "drug" certainly doesn't manifest any benefits to the fighters.
5. Luis Peña
The third fighter involved in the same scandal is Tim Elliot, another proponent of marijuana usage among MMA fighters. Peña, alongside Elliot and Hill, was originally given a 6-month suspension, which was then cut to 4.5 months after the case was brought to light and many within the sport felt the punishment to be totally unjustified.
Retirements
Khabib Nurmagomedov tops the list of UFC fighters who retired in 2020.
1. Khabib Nurmagomedov
Something many saw coming, while others expected Khabib's undefeated run to continue on for many more years. It was certainly the right time. Gaethje posed a real threat to the champion and he dismantled him within two rounds. There have been few fighters with such an aggressive, all-encompassing style as Khabib. Will he return? Who knows. But, for now, he retires as one of the greatest of all time.
2. Conor McGregor
Nobody ever really knows what a McGregor retirement really means. Is he angling for a new contract? Does he want to go and box again? These are questions fight fans need to ask themselves. Having already agreed to fight Dustin Poirier at UFC 257, it was clear the Notorious was only ever looking to land a bigger fight contract. We look forward to his return to the octagon in January.
3. Daniel Cormier
DC has slowly maneuvered his career in the direction of punditry and commentary for the UFC, which is a smart move as he's well respected and has a wealth of knowledge about the sport. It was sad to see him walk away with some things left unfinished, but it's important to recognize when the road comes to an end and DC will have our respect for that.
4. Anderson Silva
One of the greats of all time. In the eyes of many UFC fans, Anderson "The Spider" Silva will be the greatest to ever grace the sport. He brought about a new era of fighting, with reigning UFC Champion Israel Adesanya paying tribute to Silva, even when he was fighting him within the ring. That fight felt like a passing of the guard and now as we see Silva step away from professional fighting, maybe that was just what it was.
5. Antônio Rogério Nogueira
Truly a Brazilian MMA legend, Nogueria ends his career with an MMA record of 23-9. He has been competing since his debut back in 2001. He fought his last fight on Yas Island back in July, when he lost out to another old school legend Mauricio "Shogun" Rua. A well-respected fighter and one that has had a great influence on the sport.
Comeback of the year
Conor McGregor's comeback from retirement against The Cowboy was the biggest comeback of 2020.
UFC 246 saw the return of Conor McGregor, after taking a hiatus for two years, at the start of 2020. Donald Cerrone is an experienced fighter, but possesses excellent striking and was quite capable of causing Conor trouble. However, it was clear within the first 10 seconds that this fight was only going to end one way. Conor possesses electric striking and it was on full display in January, cutting through "Cowboy" Cerrone in 40 seconds and ending the fight.
2021 – Most anticipated Fights
Jon Jones will make his heavyweight debut in 2021.
1. Jon Jones vs ???
Jon Jones moving to heavyweight is as exciting as it's about to get for 2021. Dana White has confirmed that Jones's next bout will be a heavyweight title shot. It's Ohio man Stipe Miocic, who holds the title at present. However, the challenger Francis Ngannou could step into the octagon to face the champion before Jones gets his chance. Either way, both heavyweights pose a real threat to Jones and we'd be content to see either bout.
2. Conor McGregor vs Dustin Poirier
UFC 257 will see the return of the "Notorious" to the ring for the first time since his latest version of retirement. This is the second time these two will meet in the Octagon, with Conor winning inside the first round way back in 2016 when the Irishman was still establishing himself as the superstar we see today. Conor was lethal against Cerrone in his last and Poirier has grown up a lot since these two fought last. Expect this one to be fireworks.
McGregor vs Poirier fight picks can be found here.
3. Jan Błachowicz vs Israel Adesanya
This is the biggest surprise for us. It would appear that middleweight champion Israel Adesanya is going after light-heavyweight champion Jan Blachowicz. Israel has arguably the most elite striking in the UFC right now, which would make this one of the easiest double-title shots in UFC history. While Blachowicz possesses lethal knockout power and is a unit compared to the frame of the Nigerian if he works the space and keeps active on his feet, he can pick apart the Pole.
Related Content