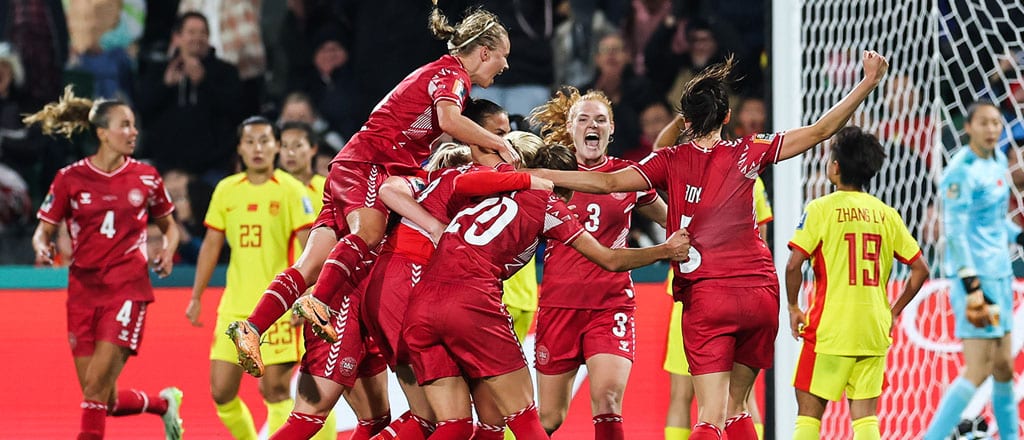 The 2023 Women's World Cup is underway! Hosted in Australia and New Zealand, the tournament features 32 of the best footballing nations in the world seeking glory. For every match day, Canada Sports Betting will break down the matches ahead, providing the key odds and storylines you need to make a play, courtesy of our friends at bet365.
Due to the unique schedule of the tournament, we'll be looking one day forward at a time. Today we'll be covering July 28th's fixtures. These include:
England vs. Denmark, 4:30 a.m. ET
China vs. Haiti, 7:00 a.m. ET
While you wait for the next match day, also consider checking out our Group Previews:
Group A – Group B – Group C – Group D – Group E – Group F – Group G – Group H
4:30 a.m. Matchup: England vs. Denmark
England Win in Full Time
-200
Denmark Win in Full Time
+650
Draw After Full Time
+280
Over/Under
2.5 goals (over +125, under -163)
Time/Date
Friday, July 28, 4:30 a.m. ET
TV
Broadcast: TSN
Stream: TSN GO App
Odds courtesy of bet365.
Our first matchup of the morning will likely determine the winner of the group, or at least give a bit more clarity. England and Denmark were projected to finish one and two in this stage, and the two sides each built up a head start with wins on their first match day. For the Lionesses, it was a 1-0 win over Haiti where England controlled the ball but were ultimately unable to score un open play, though Georgia Stanway's penalty created the needed separation. For the Danes, it was a similar but even closer result, with a 1-0 win eked out over China thanks to an 89th-minute goal from Amile Vangsgaard, but combined with equal footing with shots on target (2-2) and just a 56% edge in possession.
Both of these teams have so much more upside than this, and will look to assert it against each other. In each case, a win would be huge, because neither wants to spend the third match having to worry about a goal-differential tiebreaker, a scenario which a draw would create. I would expect this to be a relatively low-scoring affair, with both teams desperately avoiding making a mistake that would cost them the top spot, making the total goals under of -154 very intriguing.
England's depth makes them the favourites to ultimately come out ahead, and it wouldn't surprise me if the goals that do happen in this game come from them opening it up – a Half Time / Full Time split of Draw-England at +275 could pay dividends.
As far as individual goalscorers go, the shortest odds available are overwhelmingly leaned towards England, with Alessia Russo and Rachel Daly both standing at +400 to score first/last, and +140 to score any time. Russo is currently bet boosted to +450 to score first. Stanway, who was the hero against Haiti, sits at +700 to score first/last again, and +260 anytime. Denmark's top bet lies on the feet of Signe Bruun, who is +1000 to score first/last and +375 anytime, while Vangsgaard sits at +1800 first/last and +700 anytime to repeat.
7:00 a.m. Matchup: China vs. Haiti
China Win In Full Time
-150
Haiti Win in Full Time
+425
Draw After Full Time
+275
Over/Under
2.5 goals (over +125, under -163)
Time/Date
Friday, July 28, 7:00 a.m. ET
TV
Broadcast: TSN
Stream: TSN GO App
Odds courtesy of bet365.
Later on in the morning, we get a matchup of two teams just trying to keep themselves in the conversation, hoping to squeak out a win here followed by slowing down their third opponent. A lot of the level of enthusiasm will likely be dictated by the result of the first game. Should England win, Haiti will have a distant opportunity to catch up to Denmark. Should the Danes win, it'll be China with the Lionesses in their sights. If it's a draw, well, the start of chaos begins.
Both teams, as mentioned before, are coming off 1-0 losses to the pre-tournament favourites of the group, which are both better results than projected of them, but only moral victories as narrow defeat gives you nothing on the points end. Both showed they could hold the fort in a game that necessitates defence, but now it's up to them to show they can finish a couple plays of their own.
So who will be the player who breaks the ice in this game, if anyone? Bet365's odds have Haiti's Lara-Sofia Larco as the most likely goal scorer, with the market offering her at +210 for the first/last goal and -150 for an anytime goal. For China, Shanshan Wang sits at the shortest odds at +450 for first/last and +160 for an anytime goal. Shuang Wang narrowly trails, at +550 to to score first/last and +200 anytime. There is also a bet boost for Linyan Zhang to score first available – that's at +650, up from +600.
An interesting prop to take if you think China wins this in commanding fashion has Shanshan Wang to score, more than two total goals, and a China win. That's boosted from +320 to +350.