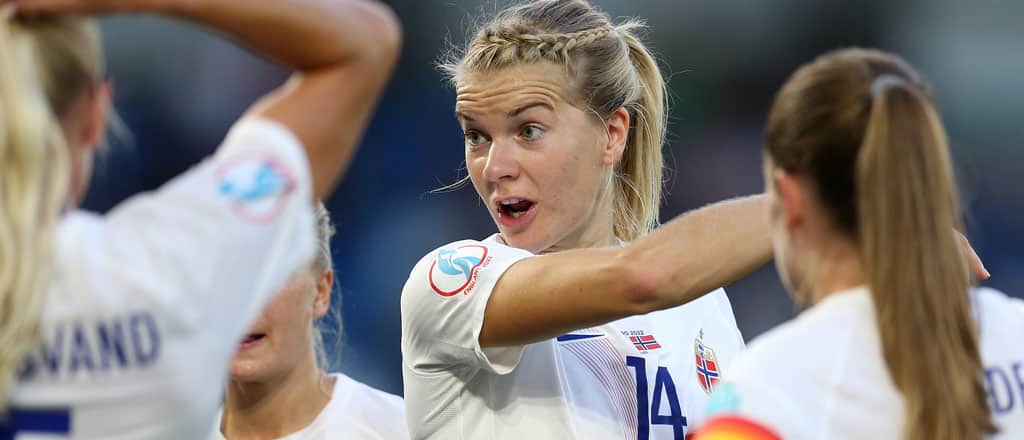 The 2023 FIFA Women's World Cup in Australia and New Zealand is just days away, and we're coming at you with previews of every group in the tournament, featuring odds from our friends at bet365. In anticipation of that opening match and each to follow, Canada Sports Betting will continue to spotlight each match day's fixtures with daily previews!
In this preview, we'll be focusing on Group A.
Group A Team Previews
Norway
Norway's history at the the top tournaments is a little bit spotty, though they hope to return to something resembling their glory days in this tournament. Runners-up in the inaugural 1991 World Cup and champions in 1995, they've not returned to the final, nor the semi-finals since 2007. Each tournament since not escaping the group stage in 2011 has gone better for them, though, as they went to the Round of 16 in 2015 and the quarters in 2019. They come into this tournament in somewhat rough form, going winless in their last four games – a loss to Denmark and draw with France in the Tournoi de France in February, followed by a loss to Spain and a draw with Sweden in April friendlies.
Coach Hege Riise, who was part of that golden era team that won in 1995 and arguably the best player in the world at the time, has the group playing a style that her players describe as "annoying to play against," and hopes that their relentlessness makes them winners in this group and a potential spoiler once the knockouts begin.
Players to Watch: Caroline Graham Hansen and Ada Hegerberg
Norway's game is led by a dynamic duo up front.
Known for her quick feet and even quicker mind, the 28-year-old Hansen has been a member of the national team for 14 years, and the senior squad for 12, debuting at just 16 years old. To go with her boundless club trophy case at Barcelona, Hansen has been a key component to the national team for years, taking on a more prominent attacking role in the 2019 World Cup, where she picked up her first goal on the big stage. In 97 senior appearances, Hansen has potted 44 goals.
As for Hegerberg, she returns to the national team after missing the 2019 World Cup, as part of a 2017 decision to walk away from international play until the Norwegian federation put more of an investment into the women's side. She felt comfortable with returning in 2022, ending her five-year hiatus, and has filled the net to the tune of five goals in 10 games in the leadup to the tournament. She'll play the primary striker role.
New Zealand
The Ferns have a decent bit of pressure on them going into this year's World Cup. Not because they're a team with huge expectations on an annual basis – the 22nd-ranked team according to FIFA isn't going to be demanded of to go the distance, especially when they've never escaped the group stage or even won a WWC game – but as co-hosts, you definitely don't want to look out of place on your own pitch.
The problem? Things haven't looked good for the team at all in recent months. While they did beat Vietnam in a friendly last week, it marked their first win since September, a stretch where they lost eight other games and lost two. January-February was a particularly rough patch for them, as they went 0-5 against the United States, Portugal, and Argentina, all at home, to a combined score of 17-0 for their opponents. At least they're coming in with some semblance of recent success, though a loss on Friday to Italy has eradicated some of that.
Player to Watch: CJ Bott
The 28-year-old left back is New Zealand's best player and steadying force, and being without her for much of the run-up to the tournament is probably a big part of why they went on the slump they were on. A member of Leicester City in club play, Bott has missed much of the past year with several nagging injuries. Coincidentally, injury is what caused her to leave the 2019 World Cup early, fracturing her wrist after taking a cross to the arm against Canada.
Switzerland
The Swiss return to the tournament for just the second time in their history, missing in 2019 but getting a second lease on life this year. Their 2015 appearance in Canada is one of the more incredible statlines in international sport history, as they put up a record of one win and two losses in groups, finished third in their group, but their goal differential of +7, the second-highest in the tournament, helped them to advance to the knockout stages. How does that happen? Well, they beat Ecuador 10-1, knowing that every goal could matter in the end. It didn't do much for them as Canada eliminated them in the Round of 16, but it still gave them a pretty unique distinction.
This time around, their run of form really depends on whether you're a glass half-full, or half-empty kind of person. The half- full look would point out that they've only lost twice in their 10 games played since Euro 2022, across qualifiers and friendlies. The half-empty approach would note that they're winless in their last seven, dating back to October, as five of their last six games have been draws. Maybe a little too on the nose for a "neutral country," no? Nevertheless, they have an opportunity to hit the ground running against the Philippines.
Player to Watch: Lia Walti
There are bigger names on the Swiss roster, like Ramona Bachmann and Alisha Lehmann, but their key cog is their captain in Lia Walti. Walti, who can play both midfielder and centre-back, has played in 98 career games for the senior club to go with her last five seasons at Arsenal, where she is also captain. Her first national team appearance came in 2011 and she's gained the trust and respect of those around her through her leadership and cerebral play.
Philippines
Last up we have the Philippines, who's national team has been skyrocketing up the FIFA World Rankings in the past couple of years, moving from 74th in the world in 2018, to 64th in 2021 to 46th as of mid-May. Their recent runs have the team making a lot of noise in the region, heading all the way to the semi-finals of the 2022 AFC Asian Cup. Not an overly offensive nation just yet, the the Philippines play a more defensive, structured game that tends to lift up the floor of less technically gifted clubs, but with buy-in and hard work, they've executed it quite well in recent times.
This affords them their first appearance in the World Cup, where they seem themselves as extreme longshots to succeed. A defensive style is only as good as what it can withstand, and there are a lot of questions as to whether or not they'll be able to keep up with global gamebreakers. Nevertheless, with five wins in their last six qualifier and tournament games, they'll be feeling pretty good about themselves, so we'll see what they can do with a new set of opponents.
Player to Watch: Sarina Bolden
The 27-year-old Bolden, who was actually born in Santa Clara, California, and largely developed her game through the American system, has familiarity with the host region through playing for the Western Sydney Wanderers as her club team over the past year. Bolden began representing the Philippines internationally in 2018 and her penalty shootout goal against Chinese Taipei in the 2022 AFC Asian Cup was the tally that clinched their first ever World Cup appearance.
Group A Winner Odds
Thanks in large part to that 1-2 punch of Hansen and Hegerberg, the Norwegians are heavy favourites to come out ahead in this group. From there, the odds for qualification are pretty much a dead heat between New Zealand and Switzerland, with their game against each other likely to have the biggest implications of any single match in the stage. For the Philippines, any tie or draw in this first appearance is a success; they'll obviously be hoping to shock the world, but experience is first and foremost.
Group A World Cup Winner Odds
Group A is pretty unlikely to draw the winner of this tournament, all things considered. With no teams in the top 10 of the World Rankings (Norway the closest at 12), and just two in the Top 25 (Switzerland at 20), there's not a lot of optimism the tournament winner will prevail from this group. But hey, stranger things have happened!