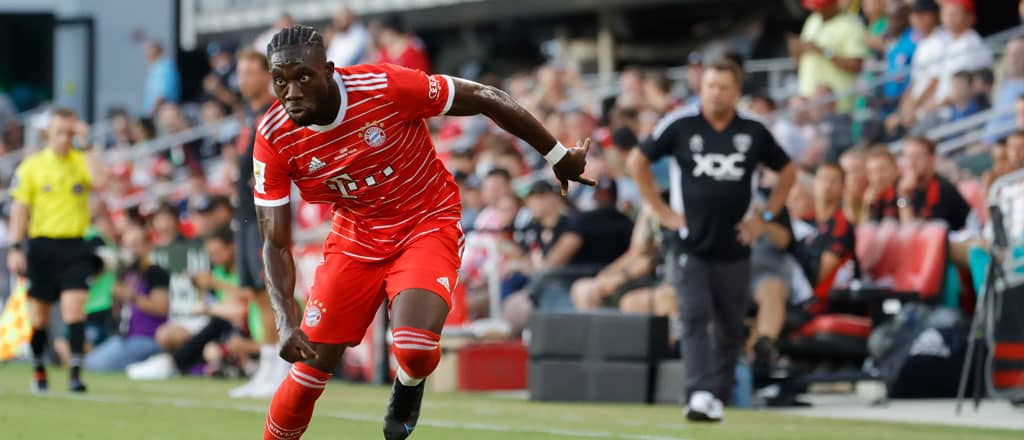 With files from Angelo Zarra
Two years ago, if somebody mentioned the Canadian Men's National Team would become one of the best storylines in soccer in 2022, you would probably get laughed at. But here we are, and Canada is riding a wave that they've certainly earned for themselves. While no one expected it initially, it was no fluke that Canada not only qualified for the World Cup for the first time since 1986 (and second time ever), and that they managed to finish atop the CONCACAF qualifying table ahead of the usual favourites in Mexico and the United States. Yes, for the first time in over a generation, Canadians can not only attend the World Cup, but they can cheer on their own team on the Men's side!
Nobody could have predicted just how fast this Canadian program would develop towards their goal of becoming competitive as part of being a co-host for the 2026 FIFA World Cup. Having a global superstar like Alphonso Davies, who plays for German powerhouse Bayern Munich, certainly has been a big part of the Canadian men's soccer culture and talent shift from laughing stock to legitimate soccer nation. But while Davies is the face of the program and well on his way to being the best Men's player Canada Soccer has ever developed, several other members of this squad have emerged as key pieces for the Red & White, helping them become a CONCACAF powerhouse while also having great club campaigns around the world.
Obviously, though, it would be disrespectful to not start with Davies. Playing in his fifth season in Bayern, Davies is having another world-class campaign with the German giants. While he's currently sidelined with a head injury suffered on October 7th against Borussia Dortmund, Davies has logged serious minutes to start the year. Through eight Bundesliga games and three UEFA Champions League appearances, the speedy left back has racked up 895 minutes played, continuing to dazzle with his pace and activation up the left side, which matches well with John Herdman's high-press system instituted with Canada.
Beyond Davies, it's hard to argue that Jonathan David isn't the next-most important piece in this squad. David has been enjoying an incredibly successful start to this season with French Ligue 1's Lille. Through eleven games, David has scored nine goals, tying Brazilian superstar Neymar Jr atop the league leaderboard, and ahead of other PSG giants Kylian Mbappe and Lionel Messi. He's proven himself to not be a one-hit wonder, becoming one of the most feared strikers in France, as he's just one goal away from hitting double-digits for the third consecutive years. David has brought more to Lille besides just scoring goals, contributing in other areas on the pitch with strong link-up play and high pressing, giving opposing back ends nightmares with his elite pace.
Tajon Buchanan is another rising star within the Canadian program, who recently moved from Major League Soccer's Columbus Crew to Belgium's Club Brugge, where he's having a fine season. The 23-year-old is slowly finding his game and adapting to life in a new country. The midfielder has already begun to grow into a bigger rule with his club, playing 163 minutes in two Champions League games, including a draw against Atletico Madrid. In league play, a quad injury held him out to start the year and has limited him to 65 minutes of action, but one can expect him to see more time on the pitch in the near future, which will help get him in form in time for World Cup action.
Ismael Kone is not a name that casual fans of the sport will know just yet, but he remains an important piece of the National team moving forward and it's only a matter of time before he starts to pick up recognition. His stock is on the rise thanks to his stock is on the rise thanks to his solid play with CF Montreal, who are Canada's top hope in the 2022 MLS Playoffs. In his first full season with Montreal, the 20-year-old put up a pair of goals and adding four assists, which is a very respectable sta tline for his age and position. The midfield possesses a calming nature to his game, rarely panicking or turning over the ball when pressured. Kone displayed his soccer IQ brilliantly this year, finding open men in the final third of the pitch – the stats back that up with an 89% pass accuracy on the season. Depending on how the playoffs go with Montreal, we could see him get a serious look for big minutes in Qatar.
FC Porto took a chance on Stephen Eustaquio on loan last season, and he did enough to impress the brass and fully sign on with the Portuguese giants. With each week, Eustaquio has earned more and more plaything time, making the most of his opportunity with steady play and showing his reliability in midfield. Through eight appearances in league play (five of which were starts), he's been able to pick up a goal and four assists. The 25-year-old has also shined brightly on Europe's big stage, earning four Champions League appearances in the Starting 11.
Of the five players we've touched on, four of them are playing significant minutes on prominent European teams, playing a role for them both domestically and in continental play – the exact types of touches that Canadian men's soccer fans have hoped for their young players to receive for generations. This sort of big game experience is what's needed for the Canadian Men's National team to have success in Qatar, particularly when two world class sides in Belgium and Croatia have you on their schedule. For much of the rest of the roster, the biggest games came through post-qualifying friendlies.
Canada handled hosts Qatar quite easily in a 2-0 victory, but while Davies and David seemed comfortable against a top opponent in 14th-ranked Uruguay, the loss against them showed that there is still a gap between our boys and the top countries in the world. Thankfully, with this being their first trip to the World Cup in 36 years, expectations for Canada aren't too out of control. Hopes are high, but pressure is low as this is a new experience for the entire squad. Most importantly, it's about taking the experience in and learning what it means to play on the world's biggest stage. For Croatia and Belgium, who are the headliners on the Team Canada soccer schedule, there is more pressure on them to make it out of the group, with wins over Canada and Morocco being seen as musts. For us, it's hard not to get caught up in the buzz and hope of making it into the knockouts, but in reality, the bar for success at this point is even higher than the rise up the CONCACAF ranks.
Since Canada failed to register a goal in their 1986 appearance, finally opening our national account would be a win in its own right. Getting a win against Morocco will also be a huge milestone. Canada will have it's hands full and its expectations low against Croatia and Belgium, but they have a fighting chance to nab a point or three if they catch either of those teams coasting. This could lead to disaster for their opponents, as Canada's men's roster has a tendency to press high and counter attack regardless of the opponent and score situation. We'll dive deeper into Canada's hopes here at Canada Sports Betting as we get closer to the tournament's kickoff, but for now, there's room for some cautious optimism, especially with so many core pieces building up form in club play.