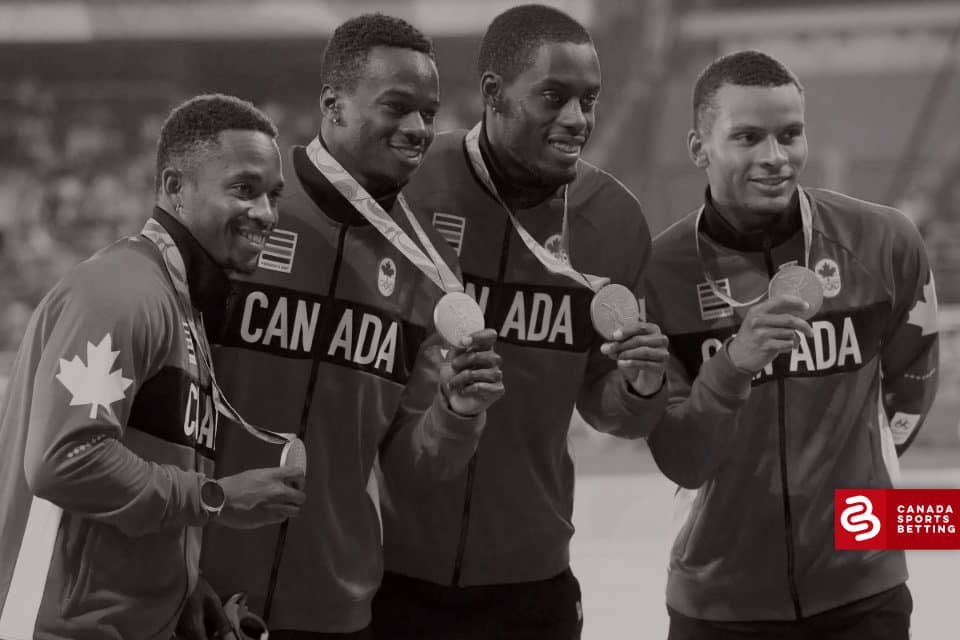 The total of gold medals won by Canada at the upcoming Tokyo Summer Olympic Games has been set at 4.5. Online sportsbooks are favouring the under as the play to make and history suggests that is the logical path to follow. Canadians brought home four gold medals from the 2016 Rio de Janeiro Summer Olympiad. The last time Canada won more than four gold medals was at Barcelona in 1992.
Canada's Olympic Gold Medals Totals
The projected total of gold medals won by Canada at the Tokyo Summer Olympic Games is 4.5
Canadians brought home four gold medals from the 2016 Rio de Janeiro Summer Olympiad
All of the best bets and top picks for wagering on Canada at the Tokyo Olympics are presented in the ensuing story
There were record-setting performances turned in by Canadians at the Rio De Janeiro Summer Olympics in 2016. Swimmer Penny Oleksiak's four medals in the pool set a new standard for medals won by a Canadian at one Summer Olympiad. Both Canada's gold-medal (four) and overall medal (22) haul were the best performances since a similar total was earned in both categories at the 1996 Atlanta Summer Olympics.
Experts are projecting more of the same this summer in Tokyo. Data analytics site Gracenotes is predicting that Canada will bring home a total of 25 medals from Japan. If so, that would be Canada's best-ever number from a non-boycott Olympiad. Gracenotes is also counting Canada for six gold medals in Tokyo. That would be the most Canada's produced since a gold-medal haul of seven at Barcelona in 1992.
The Tokyo Summer Games, delayed one year by the COVID-19 pandemic, are slated for Friday, July 23 through Sunday, August 8. If you're new to betting on the Olympic Games, or a newbie at sports betting in general, take the time to acclimatize yourself by perusing our handy sports betting guides section.
Projecting Canada's Medal Haul
The 25 medals projected by Gracenotes appear to be an optimistic number. Online betting site Sports Interaction has set the total bar for Canadian medals won at 21.5 The under is the 1.73 betting line favourite on this prop wager. Take the over and bettors can access odds of 2.00.
ComeOn Sports is providing a betting line on Canada winning the most medals of any country at the Olympics. Were Canada to achieve this very unlikely accomplishment, it would pay out at odds of 501.00.
Women's Basketball In Medal Hunt
Sports Interaction is favouring Canada to win its group in opening-round play of the Olympic women's basketball tournament. The Canadians are given odds of 2.47, ahead of both World No. 3 Spain (2.65) and Serbia (3.25).
ComeOn isn't as sold on the Canadian team. This sportsbook lists Canada as the third betting choice at 3.20 to win Group A, behind both the Spaniards (2.25) and the Serbs (2.90). ComeOn does give Canada odds of 1.02 to advance to the knockout stage. This betting site also projects the Canadians at odds of 3.40 to win a medal and with a betting line of 6.00 to reach the gold medal game.
Spotlight On Canadian Judokas
Canada has never won an Olympic gold medal in judo, but that could all change in Japan, the birthplace of the sport.
In men's competition, ComeOn lists Antoine Valois-Fortier as the seventh betting choice in the men's half-middleweight division. He won a bronze medal for Canada in this weight class at the 2012 London Summer Games.
Other Canadian Medal Contenders To Consider
In the pool, both Oleksiak in the women's 100-metre freestyle (8.00) and Kylie Masse in the women's 100-metre backstroke (4.00) are the third betting choices to win the gold medal.
On the track, Andre DeGrasse is the second betting choice in the men's 200 metres (5.00) and the fourth pick to win the 100 metres (11.00).
The women's beach volleyball tandem of Sarah Pavan and Melissa Humana-Paredes are second in odds to win gold at 6.50. There's a prop on them to finish in the medals at odds of 2.375.
Both the Canadian women's softball team (third choice 13.00 odds) and women's rugby sevens side (fourth choice, 12.00 odds) are also worthy of consideration for a wager.
Where to Bet On Canada At The Tokyo Summer Olympics?
There are a number of leading online betting sites that will provide bettors with the chance to place a wager on Canada at the Tokyo Summer Olympic Games. The best bet you can make is to shop around in advance and seek out the right deal before joining one of these sportsbooks. Check out ComeOn and Sports Interaction as examples.
The signup bonus offers that are in place at all of these recommended sites will prove advantageous to the bettor. And since you'll get a good deal wherever you go, why not check out several sites and find the ideal fit for your needs?
Do you want a risk-free first bet as a signup bonus? Perhaps you find a no-deposit bonus to be enticing. Or maybe you simply like the feel of cold, hard cash in your account and you want to go for a matching first deposit bonus. Whatever option you choose, you're already a winner.
Remember that new players and returning customers are eligible for better bonuses when they deposit using Bitcoin. As well, take advantage of the betting advice offered at these sites to help newcomers acclimatize to sports betting.
PowerPlay Promotion
PowerPlay has an excellent promotion for bettors interested in the Olympics. They are giving away a $5 free bet and 10 free spins every single time Canada wins a medal. See terms and conditions for full details.
Use PowerPlay's promo link to sign-up right now.
See below the top sportsbooks where you can wager online and choose the right one for you: