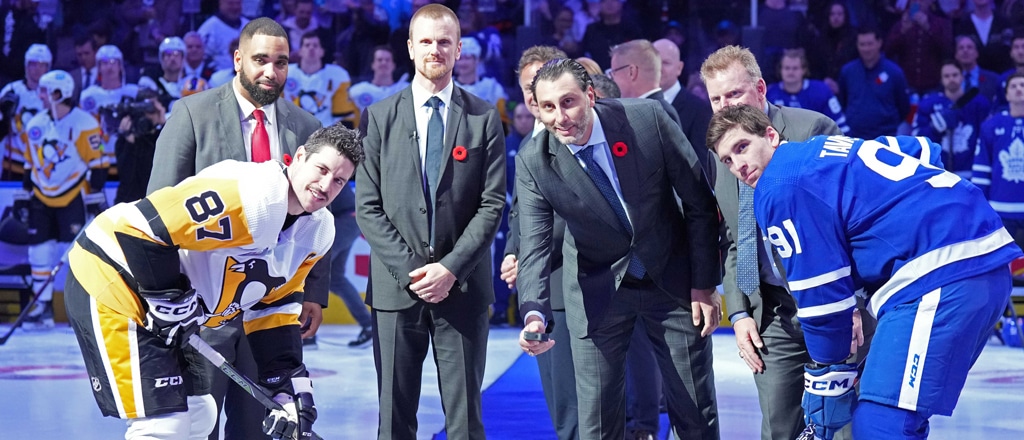 Welcome back to Coast to Coast, a look at Canada's National Hockey League teams as they enter the weekend schedule – particularly those featured on Hockey Night in Canada. This week, we've got six of the seven Canadian teams participating, with most of them hosting their games. It's been a busy week across the board, even for some of the teams not participating on the weekend, so let's look back and look ahead!
7:00 p.m ET HNIC Headliner: Buffalo Sabres @ Toronto Maple Leafs
Before we get to performance on the ice, I just want to say that the tributes that the Maple Leafs did to honour Borje Salming, who was in town for the Hall of Fame festivities and also to get a showering of support as he battles ALS, were a really nice touch. He received a standing ovation before Friday night's game, and in his more dedicated ceremony on Saturday, received a long tribute from the Leafs organization and the crowd. Sheldon Keefe's decision to purposefully dress an all-Swedish starting lineup up front, on defence, and in goal was a super nice touch as well, and while the Leafs wouldn't walk away with a win on the first night, they had an inspiring effort against the Canucks, coming back from 2-0 to win 3-2.
Since that night, the story has been Matt Murray, who returned from the abductor injury he suffered on opening night. The results thus far have been pretty good – in his first game back in Pittsburgh since leaving the team, Murray stopped 35 of 37 shots en route to a Toronto revenge game against its previous Friday night opponents, and yesterday, he stopped 30 of 33 shots in an overtime loss to New Jersey, and arguably looked his best yet. This is a promising sign for a team which needs him to be good whilst healthy. Him and Ilya Samsonov have so far given the Leafs that, though availability really will be the best ability for them moving forward.
It's likely that we'll see him back in goal on Saturday, as he and the Buds go up against the Buffalo Sabres. The Sabres are in a pretty peculiar spot right now, first showing signs of a team ready to make a leap back into relevance after years of false starts, but now in the midst of a seven-game losing streak where they've been outscored by at least two goals in every game. Tage Thompson and Rasmus Dahlin continue their red-hot starts to the year, but beneath that, it's been pretty slim pickings for the team. Buffalo's special teams have struggled under the hood and its penalty kill has been even worse than the underlyings in terms of raw percentages, and goaltending remains an issue with Eric Comrie out and Craig Anderson only able to do so much at 41 years old. Nevertheless, Buffalo has historically always played up to games against the Leafs, and Toronto are noted slump-busters for the opposition, so I wouldn't rule anything out.
10:00 p.m. ET HNIC Headliner: Vegas Golden Knights @ Edmonton Oilers
The Edmonton Oilers have had a pretty up and down week, getting steamrolled by the Carolina Hurricanes last Saturday, responding with a solid win against the Florida Panthers on Monday, and putting up a tough loss to their 2022 first-round opponent, the Los Angeles Kings, on Wednesday. While the storyline from that last game should've been their sweet Reverse Retro jerseys being brought into action, a lot of the fallout from this one centred around Kings defenceman Alex Edler's knee on Connor McDavid early in the second period.
Edler avoided supplementary punishment for the hit, despite the similarity to a similar collision with then-Maple Leafs winger Zach Hyman in 2021. Hyman, who now plays on McDavid's line in Edmonton, noted the similarities. "It looked awful, eerily similar," Hyman said. "Like, the exact same spot, similar play. It irks you. And he had to do it on Connor." Edler likely avoided much punishment due to the fact that McDavid wasn't seriously hurt on the play – the Hyman knee cost him two games when it became clear that it would cost his opponent two months – sparking very valid criticism towards whether or not that should be how we rule on these things. Personally, even as someone who appreciated Edler when he was a mainstay on the Vancouver Canucks, you don't want to see bad, dangerous habits be rewarded, or at least go unpunished, particularly when they put your star players at risk.
Either way, the Oilers will have to have a short memory as they have an even tougher opponent on Saturday in the Vegas Golden Knights. Vegas has promptly shut down concerns about their missing the playoffs last year, and catapulted into the highest seed in the Western Conference, starting the year 14-4-0. Edmonton's home ice advantage isn't something that appears to be at play here either, as the Oilers are 4-6 at home and the Golden Knights are 8-1 on the road. Most fun here is the fact that we get to have a new form of the Connor McDavid vs. Jack Eichel, as the latter is finding success in his new home after a somewhat slow start to his Vegas career last season.
Afternoon Matchup (1:00 p.m. ET): New Jersey Devils @ Ottawa Senators
Are things starting to come around a bit for the Ottawa Senators? Maybe – the team has points in three of its last four games, after dropping six consecutive in regulation. They even won two of those! Alas, the team still sits at a disappointing 6-9-1 with a log of questions about which direction the team is going in this year. To make matters worse, they've now got an afternoon matchup against the New Jersey Devils to deal with on Saturday. The Devils are the hottest team in hockey right now, winning 11 in a row en route to the league's second-best record thus far.
The good news for the Sens is that they've faced the Devils recently, and that's where this somewhat-turnaround actually started. In that game on Nov. 10, Ottawa did eventually lose to New Jersey, but dragged the game into overtime after coming from behind twice. In that game, Shane Pinto picked up two of Ottawa's three tallies, though Nico Hischier's identical effort is what set the Devils apart. Ottawa will likely use that effort as a good sign that it's capable of revenge tomorrow, though when looking at the shot count that leaned 41-28 in favour of New Jersey, and looking at where the teams generally stand, you imagine they'll still be the favourites.
Lastly, a hearty congratulations is in order to longtime Senators captain Daniel Alfredsson for making it to the Hockey Hall of Fame. Alfie was officially inducted on Monday, further cementing himself as the organization's top historical representative.
Afternoon Matchup (4:00 p.m. ET): Calgary Flames @ Florida Panthers
This is going to be a game that tugs at a lot of heartstrings, as the players involved in perhaps the summer's biggest trade will go head to head for the first time in opposite uniforms. Jonathan Huberdeau and MacKenzie Weegar will be taking on the Panthers in Florida for the first time as Calgary Flames, and Matthew Tkachuk will be taking on the Flames for the first time as a Panther, though in his case, he'll be hosting rather than visiting.
Of the group, the one enjoying the most success is probably Tkachuk, with 22 points in 15 games to start his year, easily maintaining the standard he's set for himself in recent seasons. For the Calgary duo, it hasn't been as great of a start. Huberdeau has just eight points in 13 games, while Weegar has just four in 16. Huberdeau has picked up points in each of his last three games, though, so maybe there's hope yet for him to turn it back around. Neither team is really at the standard they'd hoped to set for themselves this year, with Calgary currently sitting at 7-7-2 while Florida sits at 9-7-1. Both envision themselves as contenders but have been far from it to start the year – maybe drawing first blood in what will be an interesting pseudo rivalry over the next few years will create some momentum for one of them.
Evening Matchup (7:00 p.m. ET): Pittsburgh Penguins @ Winnipeg Jets
There's been a lot of worry about Kyle Connor from Winnipeg Jets fans and fantasy hockey types alike over the past few weeks. Connor, who scored a career-high 47 goals in 2021/22 and is usually a lock for at least 30, appeared to be going through the worst slump of his NHL career, only finding the net twice in his first 14 games, on 48 shots. Sure, it stood to reason that the 25-year-old wasn't going to suddenly be a 4% shooter forever, but no one seemed to know when the reversal was actually coming.
Evidentially, it was Thursday night. Wearing the reverse retro sweaters that played homage to the 1990s era of Winnipeg Jets 1.0, Connor picked up his third, fourth, and fifth goals of the year to drag the Jets across the finish line against the Anaheim Ducks. When I say drag, I mean drag – all of Winnipeg's goals were Connor's. His first tied the game in the middle of the second period, his second gave them the lead with under six minutes to go in the third, and after the Ducks responded with an equalizer not even 30 seconds later, he simply went back and repeated his heroics again, this time giving the Jets a lead they'd keep with 54 seconds remaining. It's a welcome occurrence for a team that's picking up wins, but is greatly lacking offensive firepower right now. Until Connor's hat trick, Winnipeg had just two players with five or more goals – by comparison, its Saturday night opponents have five of those in Sidney Crosby, Evgeni Malkin, Jake Guentzel, Rickard Rakell, and Brock McGinn.
Pittsburgh, which is having a bit of an up and down season, now has points in four of its last five games (3-1-1) after losing seven in a row in late October and early November. In this streak, the Penguins have scored four or more goals in all but one game (their lone regulation loss, to Toronto). As always, a high-end performance for Connor Hellebuyck is going to be key to Winnipeg finding success on Saturday.
Evening Matchup (7:00 p.m. ET): Philadelphia Flyers @ Montreal Canadiens
We may as well make the Flyers an honourary Canadian team, because this is the third consecutive week that they've played a matchup against one of the seven northern opponents on Saturday night. Fear not, though, as this is their last appearance until mid-February. Regardless, or focus remains on the Montreal Canadiens, who continue to edge us as they figure out whether or not this is a tank year, or a sneaky good year. The 8-8-1 Habs keep bouncing back from streak to streak, opening the season with a victory over Toronto, followed by two losses, two wins, two more losses, two more wins, three losses, three wins, and now two more losses.
Do they start a new streak against Philly? Nick Suzuki is certainly hoping so, doing his best to turn the ship around with eight goals and 14 points in his last nine games. Kirby Dach has also been surprisingly effective, with 12 points in that same stretch, putting him halfway to his career high in points. The biggest question heading in will likely be who starts this game between the pipes – Sam Montembeault has had a shockingly good start, but five goals against him in a loss to Columbus on Thursday may pivot the pipes back to Jake Allen.
Sunday, Sunday, Sunday
There are only two games on the schedule for the NHL on Sunday, and neither of them feature Canadian teams. You can watch the Florida Panthers and Columbus Blue Jackets at 6:00 p.m. ET, the Pittsburgh Penguins and Chicago Blackhawks at 7:00 p.m. ET, or you can instead check in on some NFL action or even the beginning of the 2022 FIFA World Cup!
Where to Watch HNIC Games
Want to tune into these games? Of course you do, that's why you're here. Worry not, we're here to help!
For your headline games, your best bet continues to be the fine people at the Canadian Broadcasting Corporation, also known as the CBC. Your antenna gets them, even the most basic of cable packages get them, and best of all, those who stream their games will still get them for free on the CBC website.
For the other matchups, you'll find the Senators on TSN or RDS in the Ottawa region, the Flames on Sportsnet in English or TVA Sports in French, the Canadiens on City TV, Sportsnet East, and TVA, and the Jets on Sportsnet 360 or Sportsnet West.
Saturday Night NHL Lines
Lots of action is available on all of these games come the weekend. Our friends at NorthStar Bets already have the main lines up – check them out below! You'll also find all sorts of spreads and props available when you click through.
If you're looking for another book to bet at, we've also got you covered – check out our Best NHL Betting Sites guide for more info!