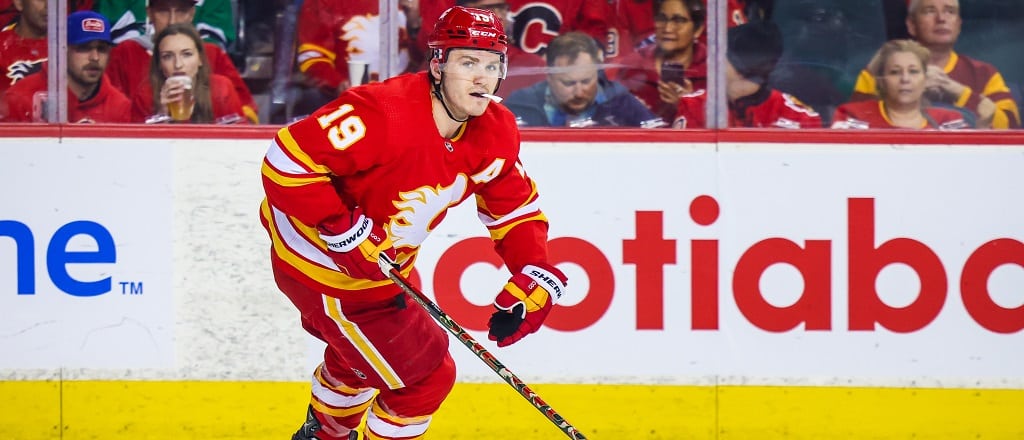 Late on Friday night, the hockey world was shocked by one of the biggest trades in the Salary Cap era. One of the pieces, 24-year-old left winger Matthew Tkachuk, was not an overly shocking name to see. Reports had flown around throughout the week prior that the Scottsdale-born talent was looking to move on from the Calgary Flames, and with a qualifying offer of $9 million sitting on the table, the clock was ticking for both sides. His team, already reeling from the free agency loss of Johnny Gaudreau to the Columbus Blue Jackets, didn't want to be put in a position where Tkachuk could accept that offer and walk himself straight to free agency, while Tkachuk preferred to be in a position to use his career-best year to his advantage in signing a long-term deal – just not in Calgary.
It was the rest that threw people off. First, was the destination. Many expected Tkachuk to head to the St. Louis Blues, a team his dad played for and a city he spent most of his childhood. That didn't come to be, for reasons we'll address in a little bit. The Florida Panthers ended up being the landing spot, and while they weren't a complete shocker, they certainly weren't the favourites. Then, when the return came out, a sport was collectively blown away. The Panthers sent back Jonathan Huberdeau, MacKenzie Weegar, Cole Schwindt and a first round pick to be delivered in either 2025 or 2026 (depending on Florida's position in the former year), in excite for Tkachuk and a fourth round pick (to be delivered the same year as Florida sends their first).
Instantly, we all took notice. How could you not? Trades where multiple star players move across each other's lines are exceedingly rare in the NHL, and in particular, no one thought that Huberdeau was even on the trade block. After all, he just finished a season where he was tied for third in points, still had a year left on an exceptionally thrifty contract, and was long thought to be a Panther for life candidate. But here we are, watching him jump from red to… a slightly different shade of red. There's a lot going on here, so let's break it down a little.
Calgary's Surprising Haul
When it became a certainty that Tkachuk was on the move, we heard from Detroit Hockey Now's Kevin Allen that the asking price for him would be a top forward, a premium prospect, and a first round pick. In other words, the leaked asking price for every high-end NHL player on the trade block ever.
To me, though, that didn't make a ton of sense. Firstly, finding teams that have all three of those pieces to move – short term, medium term, and long term – is exceedingly rare, especially in teams looking to get over the hump. Secondly, for that reason, it didn't really seem to fit in with that Calgary has. This was a team that just won their division, had good coaching, has an effective blueline, and has a "Group of 7" consistently top-end goalie in Jacob Markstrom. Their window is closing, particularly with Gaudreau and Tkachuk departing, but it's not at a stage where you can really afford to fan out the timeline. You either put yourself in a position to take one more swing with what you got, or you start to sell off pieces and get a rebuild going.
If you want to give yourself options, in my eyes, the best way to do that is to leverage Tkachuk into multiple short-term bets, which you'll know the future of in a matter of months. Ones that keep the team at a competitive level, but ones that can be pivoted to trade assets at the deadline if things aren't going well. On Wednesday, I suggested that this would be the kind of route the Flames should explore. I just… got the wrong team, floating Chicago as a potential option with Jonathan Toews and Patrick Kane, assuming 50% salary retention on both.
Look, we can't get them all right, and in fairness to me, I didn't think Huberdeau was a guy who could be on the move. But Calgary clearly had the same idea here, taking the meat of their assets in about $9 million worth of high-end talent in him and MacKenzie Weegar. Weegar plays second fiddle in this conversation, but has really come into his own from a guy beloved by the analytics community to one who is universally liked. He hits, he blocks shots, he's put up 80 points in his last 134 games (a pace of 49 per 82 games), and he's received Norris trophy votes, because yes, this play-driver is a defenceman, joining an already deep Calgary blue line. Beyond those two, Schwindt isn't the most highly touted prospect but is still another lottery ticket to add to the inventory, and a first round pick a few years down the line lets them decide whether to use it as rental fodder or as part of an eventual rebuild.
The biggest question for Calgary is going to come with what comes next for the contracts of their two new stars. Needless to say, it's not going to be easy to keep both players at values that make sense. Should conversations start now, Huberdeau could easily ask for something similar to what was offered to Gaudreau before his departure – reported to be 8 years at $10.5 million – based on his own similar production this year. Weegar is harder to gauge due to a divide between his perceived value and his data-driven value, but one would imagine that the ticket would be quite a bit higher than his current $3.25 million price tag.
Now, these aren't the biggest issues in the world for Calgary at the moment, as they already had cap space earmarked for Gaudreau and Tkachuk, and their other expiring contracts heading into next year are mostly ones they'd be okay with shedding and/or bringing back at lower tags. The issue comes more in the fact that they're now looking at a duo who are still unsure of where they want to be (particularly Huberdeau, who was supposedly blindsided by the trade), and are slightly older. There is more risk carried in both the contracts that they could earn, and if you're willing to pay them, still some risk in convincing them to stick around to begin with.
I also worry a bit about what Calgary's "line" for keeping them should there be a lack of interest in staying would be. If they know pretty early that these are full-year rentals, I would think that there needs to be a decision made in advance regarding whether it's worth going for it with them, or getting started on a rebuild. My concern with the Flames is that they're built in a very high-floor sense; elite goaltending and strong coaching systems should keep them at least in the mediocrity bubble, even if it turns out they miss the scoring that comes from having two superstar forwards instead of one. If the Flames project to be a true 100-point team come the deadline – playoff-worthy but not serious contenders – and they've got no traction on extensions, do they have the guts to move on?
Moments like that, should they come to pass, will define this trade from Calgary's end. There are pathways to big wins – reasonable extensions, flipping them for large futures hauls near the deadline, or winning it all (don't say the K word, though). But routes such as overpayment to save face or holding on to likely departures to chase the middle could eliminate the benefits earned from a surprisingly excellent Day 1 haul.
Florida Goes Long
So, we've asserted above that the Flames get an A+ for their Trade Day result, with any change down the line coming from their own secondary decision making. Does that mean that the Panthers get an F to counter-balance it? Not exactly. I think they did quite well here too.
Matthew Tkachuk, while maybe a little oversold by Florida GM Barry Zito who called him a "generational talent", is one of the best young wingers in the NHL today. What makes him so valuable is the scope of what he can bring to a team. This is a player who can score buckets of goals (averaging 33 per 82 GP over the last four years) while also setting up his linemates (48 assists per 82). He throws the body around, he has a quick stick, he has defensive acumen, and he's one of the single biggest pests in the game, allowing him to draw buckets of penalties against the opposition. He takes a few himself, but typically not at the same pace.
Whether or not Tkachuk is likely to repeat his 104-point season is a whole different question, given that he finished at a 4% higher rate than he had in his career prior, and his linemates also had significantly above average finishing luck at a whopping 12.5% at 5v5 and 14% overall – numbers that aren't likely to replicate themselves. This season also comes at about the age that most see their peak years, which might mean that this is about the zenith for him. But the beauty of a player like him is that he impacts the game in just so many ways, that if one goes cold, others will take their place.
This, of course, is what the Panthers are betting on, both from a general hockey standpoint and a slightly reactionary one. It's pretty safe to assume that part of the reason to shift over from Huberdeau to Tkachuk, besides the four-year gap in age, is that Florida is unhappy with bowing out to Tampa Bay in each of the last two seasons, especially the four-game sweep in Round 2 this year. Normally, I'd say that teams shouldn't chase the toughness mirage after an embarrassing loss, but in this case, the Panthers are at least getting an equivalent, if not better talent. This isn't, say, Toronto signing David Clarkson in 2013. It's locking in to one of the most versatile superstars in the league at a reasonable age window.
The cost, all things considered, wasn't light to do so, but it also wasn't massive. Weegar had been in trade speculation for weeks prior to this deal, and he's a difficult player to measure trade value for – most of the teams who would be into a player of his skillset (Carolina, Colorado, Toronto, etc) already have similar players in their depth charts. There was some smoke linking him to Ottawa, but it never appeared to turn into fire. As we stressed on the other end, Schwindt is an extra lottery ticket, but not one with huge probability to burn you, and with lottery protection, the first round pick is more than nothing, but also not likely to be a huge loss.
What you're essentially paying for here is a minor upgrade, but a lot more security. That security was quickly shown through an eight-year contract extension, which due to rules about eighth-year rights, was technically signed by the Flames and then moved to the Panthers. The structure of payment is where the Panthers do take on some risk. Tkachuk will largely be paid in signing bonuses, with $1 million coming in base salary and $8.5 million coming in a lump sum. That structure isn't super uncommon at the superstar level – Connor McDavid, Artemi Panarin, Auston Matthews, John Tavares, Mitch Marner, Steven Stamkos, Mika Zibanejad, Sebastian Aho, and even Tkachuk's teammate Aleksander Barkov all have similar structures in their deals, with others having certain years that split similarly. It doesn't curtail the Cap Hit – Tkachuk still comes in at $9.5M, but it's preferable for the players for several reasons, mostly involving shrewd accounting.
The big one that can make a difference to teams, though, is that it makes these deals very difficult to buy out if they go south. A typical NHL buyout pays a player one-third of their salary over double the years, with the penalty half of that to the team if the player is under the age of 26. This only applies to base salary, however. Signing bonuses are to be paid at their full amount, significantly limiting what can be saved. If the Panthers were to buy out Tkachuk today in an unprecedented change of mind, the penalty over the next 16 years would be $70.67 million, to $12.7 million if it were all base salary. They would save $1.4 million this way in the additional years, but they'd also save next to nothing in the years they're employing him for, having $8.67 million in dead cap rather than $1.59 million.
Obviously, the Panthers won't be immediately buying him out, and given the window of Age 25 to Age 32 that the contract spans for, it's unlikely that they'll have to at all. But we've seen injuries slow down players before, especially physical ones, and if this were to happen in this case, it's harder to pitch someone in their Late 20s on an long-term IR retirement than it is to do the same for someone in their late 30s. It's a low risk, but it's a risk nonetheless. All the same, for the player and the age window they got, it's one I would likely take in their position.
St. Louis Gets Too Cute
Weirdly enough, the biggest losers in this trade might be a team that wasn't actually involved in the final transaction. As mentioned in our opening paragraph, when the news dropped that Tkachuk was on the block, it seemed all but certain that the Blues would be the destination. In fact, St. Louis reporter Andy Strickland, who is known to be close to the Tkachuk camp, even guaranteed it on a radio segment. Tkachuk himself said that he could've seen himself there, according to JP Rutherford of The Athletic. "Just being the hometown team and a team that I wore the jersey for when I was younger, they have a really good team and it's a great place to play, so obviously there was some interest from me there," Tkachuk said. "Could I have pictured myself there? Yes."
So what went wrong? Well, according to Rutherford, the offer made to the Flames included Vladimir Tarasenko, Marco Scandella, and "a high draft pick". To put it bluntly, that's a pretty insulting offer if I'm coming in from the perspective of Calgary. Tarasenko, while a good player coming off of a resurgent year, is over a year older than Huberdeau, produced 30 points fewer, and importantly here – has been on the trade block for over a year now. Yes, scoring his most goals since 2017 and being healthy for the first time since St. Louis' Stanley Cup run in 2019 was a plus, but this is still a player who's contract they looked to offload last summer and haven't had a ton of traction on even with his resurgence. Scandella, to put it lightly, is a sub-replacement level talent that has had a negative impact on shot differential in all but two years out of twelve in his career, and he doesn't make up for it with production. He still has two years left on his contract at $3.25 million, making him dead weight fiscally. He's also not getting any younger as he enters his age 32 season.
Even if that pick were a first rounder, the package still feels like a spare parts collage that you would send to a team to make space to then make a Tkachuk trade, not the actual trade itself. Maybe Tarasenko and a 1st looks more appealing with a positive-value player – many had Jordan Kyrou in mind when speculation began, but not when the second player is literally your worst roster player, on a bad contract.
Simply put, this was a team that was far too confident that they'd be able to waltz in and take the player they wanted. The offer was completely unserious, even in a league where teams acquiring superstars tend to have more leverage than the teams moving them. Tkachuk could've had his homecoming as a foundational piece for St. Louis' long-term future, but instead, they watch him take his talents closer to South Beach while having to figure out what to do next with the two players offered.
Summing It Up
At the end of the day, I think this is one of the best "good for both sides" blockbusters we've seen in recent NHL history. Calgary saves face with a brand-name return that affords them immense flexibility, though they should be cautious not to mess it up by either paying a premium on extensions out of desperations, or not parachuting out at the deadline if extensions look unlikely and they don't look like slam dunk contenders. Florida gets a locked-in young superstar that makes them at least as good while only offering pieces they didn't expect to have in this year's lineup as the sweeteners beyond the core swap, though word of not really working with Huberdeau, their all-time leading scorer, on extension before blindsiding him does look a little bad, and the structure of the Tkachuk contract runs a small chance of being troublesome.
Overall, both teams achieve a lot of what they wanted to achieve on the day of the deal, and the long-term outcomes will be defined by independent decision making. Both teams remain contenders, with Florida now ranked by bet365 as +900 to win the Stanley Cup (3rd), while Calgary sits at +1800 (8th). Every player gets to go to a team that would love to have them long-term, and the party that looks the worst is the one who just didn't bother to make a good offer, and can now be made fun of in perpetuity no matter what happens. Between the on-ice, off-ice, and discourse, it's rare to get a better hockey trade than that.