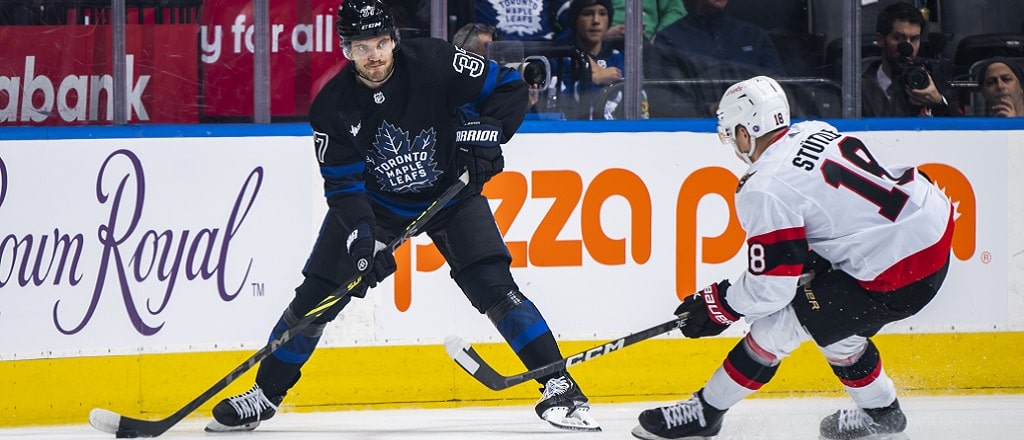 It's a heavy weekend for Canadian National Hockey League action, as all seven teams face off on Saturday night, spread across six games. Needless to say, you'll have no trouble finding your fix of northern hockey action. Let's take a lap around the country and break all the festivities down, shall we?
7:00 p.m ET HNIC Headliner: Maple Leafs vs. Senators
The Leafs and Senators re-convene for their third "Battle of Ontario" of the season, and their first in Ottawa. So far, the season series has been split, with Toronto winning the first matchup on Oct. 15, while Ottawa handily took their Jan. 27 matchup shown above. That win was the second in a 13-4-1 tear for the Senators which restored playoff hopes in the nation's capital, though to say it hasn't gone great since is an understatement. In the past eight days, the Senators have dropped four in a row in regulation, effectively crushing most of the progress they made in the month prior. On the plus side, the sale of the team sounds like it's going well, potentially even reaching the billion dollar range.
On the Maple Leafs' end, their momentum will rely a fair bit on how they fare against the Carolina Hurricanes on Friday. The team has struggled to find a groove since the runup to the trade deadline, though they are still winning the majority of their games and staying near the top of the NHL standings. Interesting here will be Matt Murray's return to Ottawa, his first game in between the pipes there since moving across the provincial aisle in the summer.
10:00 p.m. HNIC Headliner: Stars vs. Flames
The 2021/22 first round playoff opponents face off for the third and final time this season, and it's an opportunity for the Flames to continue one of their bright lights in an otherwise disappointing season. While the team has failed to meet expectations this year and the Stars have shined bright to the tune of an 11-point edge in the standings, it's Calgary that has won both of their previous matchups, including one on March 6. Interestingly, Dallas had home ice advantage in both, though it ultimately didn't help much.
All the same, the games each saw just one goal of separation, so it's not like we're talking about routs here. The Stars, as mentioned, have been great this year, buoyed by their top line of Jason Robertson, Roope Hintz, and the fine wine that is Joe Pavelski. All three are over a point per game over their last 10, averaging about three shots on goal per. The team itself is looking to bounce back from a poor start to the Western Canada, having dropped games to Vancouver and Edmonton earlier in the week.
Afternoon Matchup (2:00 p.m.): Jets vs. Predators
The wind appears to becoming out of the Jets' sails at just the wrong time. Just as pundits began to lean into the idea of Winnipeg being Canada's best Stanley Cup shot, the team has gone 4-8-2 over the past month. Perhaps it wouldn't be a surprise to find out that this correlates with a stretch where starting goaltender and Vezina Trophy contender Connor Hellebuyck has looked human – in his appearances during this stretch, he's posted a .897 save percentage, not dramatically under the league average but certainly not the massive surplus value he was offering in the 41 starts prior.
When tasked with returning the bail-out favour, the Jets have rarely risen to the occasion, scoring more than three goals four times during this stretch, going 3-0-1 in those games. Unfortunately for them as well, the Predators have been shockingly good since selling off key pieces heading into the trade deadline – so much so that they're only four points back of the Jets, in fact. In their past month, they've posted a record of 9-4-1, almost mirroring Winnipeg. This effectively makes this a must-win game for the True North, who have an overtime win and a regulation loss in the season series.
Afternoon Matchup (4:00 p.m.): Oilers vs. Kraken
Connor McDavid's season is getting pretty inexplicable, even for him. With 13 games left in the season, the 26-year-old already has more points than any other player in the salary cap era, clearing Nikita Kucherov's 128 mark set in 2018/19. His 57 goals put him on track to chase Alex Ovechkin's total of 65 in 2007/08, and while some may point to how much of his productivity has been rooted in the power play, they all count on the scoresheet. Just ask the Oilers, who are 17-5-5 since Jan. 11, a 27-game span that has seen McDavid score 23 goals and notch 54 points. This is no doubt a season that needs to be appreciated for it's greatness.
For now, though, the Oilers captain and his teammate are focused on Seattle, a team they've had success against this year. All three games between the two teams have been high-scoring affairs, with Edmonton winning 7-2 on Dec. 30 and 5-2 on Jan. 17, while the Kraken won 5-2 on Jan. 3. Now that they've had a bit of time away from each other, I wonder if anything shifts there, but do still expect this to be a speedy affair.
Evening Matchup (7:00 p.m.): Canadiens vs. Lightning
The parallel evening game features two teams who always have a fun night out against each other, no matter how good one or the other is. In fact, these two teams will be seeing a fair bit of each other over the next few days, as Saturday will set up a Tuesday rematch in Montreal.
With that said, it seems like one that's ripe for Tampa's taking, as it looks to challenge Toronto for the second seed in the Atlantic Division. Montreal, which has been very streaky over the course of this season, is back in a losing rut after dropping eight of its last nine games.
Late Night Matchup (10:00 p.m.): Canucks vs. Kings
Last, and unfortunately not least, the Vancouver Canucks look to get a big two points in pursuit of, well, whatever it is they think they want. In an occurrence that was predictable as the sun rising, Vancouver has been red hot over the past few months, posting an 8-3-1 record with its three losses all being close calls. Had the Canucks maintained their record from the rest of the season prior to this streak, they'd be seven points farther back in the standings than they are right now, likely sitting in 28th place. Instead, they've leapt up to 25th, now only sitting 16 points back of the second Wild Card spot with 15 games to go!
Yeah, well, I'm sure ownership likes it, anyway. Fans probably aren't feeling too hot about the odds of getting Connor Bedard out of the draft lottery fading away, but hey, at least Elias Pettersson (13 points in his last 10 games) and Andrei Kuzmenko (eight goals in his last 10), have been a treat to watch. Some good news too comes in the fact that the Los Angeles Kings, their Saturday opponent, have gone 7-0-1 in their last eight. If hockey gods are real, they'll give Vancouver a shove back towards the basement. With that said, Vancouver did win the two teams' last game against each other by a decisive 4-1 score, so who knows where this goes.
Sunday, Sunday, Sunday
Amidst all that chaos, there are still two more games on Sunday! First, the Jets head over to St. Louis to take on the Blues. Winnipeg won't have to travel far from Nashville, but being the travelling and tired team on a back-to-back is never in one's favour. You can catch that game at 7:00 PM. As well, the Canucks head to Anaheim to take on the Ducks. This will be the last game in a western road swing for Vancouver, and a regulation loss here would undo a lot of the momentum earned over the past few weeks – which, again, is a good thing. Listen, tanking hurts, but the more ping-pong balls in the chamber for the Canucks, the better.
Where to Watch HNIC Games
Want to tune into these games? Of course you do, that's why you're here. Worry not, we're here to help!
As always, the headliner games will be best watched by Canadians on the CBC. Canada's public broadcaster flexes it's muscles by offering free hockey to all on Saturday night, in whatever way you wish to watch it – on their website, through their app, on your cable box, or even through the old school antenna.
For the rest of Saturday's games, you'll have to head elsewhere. For Winnipeg/Nashville, you'll find the game on TSN 3 (Winnipeg). For Edmonton/Seattle, you're looking to Sportsnet or Sportsnet One. Montreal/Tampa will be on Sportsnet East in English and TVA Sports in French, while Vancouver/Los Angeles will be on Sportsnet Pacific and 360, or CityTV.
On Sunday, you'll find the Jets once again on TSN 3, and the Canucks once again on Sportsnet Pacific.
For those looking to stream the games, your best official bet would be Sportsnet Now, with the premium package required for non-local games. To learn more about Now and your other options, check out CSB's "How to watch the NHL in Canada" guide!
Saturday Night NHL Lines
Lots of action is available on all of these games come the weekend. Our friends at NorthStar Bets already have the main lines up – check them out below! You'll also find all sorts of spreads and props available when you click through.
If you're looking for another book to bet at, we've also got you covered – check out our Best NHL Betting Sites guide for more info!