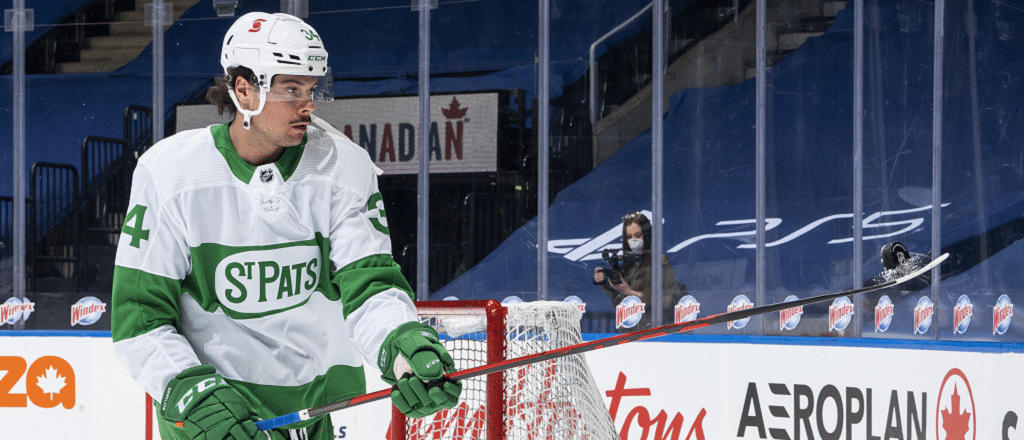 Two of the NHL's most well rounded teams – and among the stingiest defensively – take each other on in a Friday night battle that has the firepower to be exciting, but the philosophy to be a methodical slog. Which one will we get? One can only wait to find out, as the Toronto Maple Leafs and Carolina Hurricanes face off in National Hockey League action. Let's break it down:
Hurricanes vs. Maple Leafs odds
All odds courtesy of

Previous matchup
The two teams have only faced each other once this year, going toe to toe in mid-November. While the Hurricanes played their usual stingy defensive game and struck first on an early power play, it was the Maple Leafs who broke through in the end. Despite taking just 21 shots on goal, it was Calle Jarnkrok, John Tavares, and William Nylander who filled the net the rest of the way through, giving Toronto a 3-1 victory.
About the Hurricanes (44-14-8, 28-38 ATS, 28-35 o/u)
The Hurricanes are best known as being one of the defensive marvels of the league, with excellent gap control and positioning as a group that eliminates both shot quantity and quality from their opponents. Even the more basic stats back this up, with the team placing second in both penalty kill percentage and goals against per game. They're not as adept offensively, but still do enough to routinely win games.
Winning is something they've done a bunch lately, in fact. In the past two months, they've gone 17-5-1. Two of those losses have come in the past week to Vegas and New Jersey, though, so there is an opening for a quality team like the Maple Leafs to pounce.
Player to watch: Martin Necas
The panel that covered Toronto's loss to the Buffalo Sabres earlier this week did a pre-game quiz show, and one of the questions was regarding the Hurricanes' points leader so far this season. All three panelists answered incorrectly, which either says a lot about Necas' leap forward this year, or that the panels aren't as inside-out knowledgable as they're sold to be. Maybe both. Either way, Necas has cleared his career high in points by 20 already, putting up 61 in 66 games. With Andrei Svechnikov out for the season, he'll become even more important to the Hurricanes offence than ever down the stretch.
About the Maple Leafs (40-18-9, 30-37 ATS, 29-34 o/u)
The Maple Leafs, who feature on here for the third time this week (centre of the universe, baby!), are coming off a heartbreaking loss to the Colorado Avalanche. Sure, nothing really matters when you spend five months knowing that you're facing Tampa Bay in April, but you still want to win against a top opponents, and this game against the defending champions went right down to the wire. Morgan Rielly and Mikko Rantanen each scored in the first 15 minutes, followed by under 50 combined shots and no other goals the rest of the way – essentially, the opposite of my prediction yesterday (sorry about that). Toronto ultimately lost the coin toss to a Nathan MacKinnon tally, and a potential point with it.
Player to watch: Sam Lafferty
I just want to understand what's going on here with Lafferty. One of my big deadline gripes for the Maple Leafs was that they focused too much on getting defensive-minded depth rather than potential offensive contributors, even if they got good value along the way. Lafferty has just one assist in seven games since joining the team, and played a season-low 10:04 on Wednesday in a game that went to overtime. Maybe they're not using him properly, maybe he's not comfortable yet, but my concern here is that he may have been in a "someone has to get the points" situation in Chicago and that this trend may persist.
Probable goaltenders
Hurricanes: Frederik Andersen (17-7-0, 2.41 GAA, 0.903 SV%)- unconfirmed.
Maple Leafs: Ilya Samsonov (23-8-3, 2.36 GAA, 0.916 SV%)- confirmed.
Noteworthy Absences
Toronto remains more or less in the same spot it's been all week – Ryan O'Reilly is still recovering from his finger surgery, and Luke Schenn may or may not draw back in after missing time to be around for his child's birth. On Carolina's end, it's had Jake Gardiner, Ondrej Kase, and Max Pacioretty on LTIR for most of the year, and currently has goaltender Antti Raanta out with an undisclosed injury suffered on March 9. The biggest news for the Hurricanes, though, is that Svechnikov's season is done, as he underwent season-ending knee surgery yesterday.
Betting trends to watch
The Hurricanes are 7-3 in their last 10 away games, but only 4-6 against the puckline. Toronto is 5-5 in its last 10 at home, but 4-6 against the puckline as well.
Toronto has struggled to hit the over lately, doing so just four times in its last ten games, and Carolina is even worse with only three.
Wagers to consider
Let's start simple here – I'd be looking to take the Hurricanes here, straight up. They're the better team in the standings, they've got the better goal differential, and while their torrid hot streak has been calmed down a bit, the Leafs haven't been lights out either. The bigger thing here is that they're currently the underdog by the lines, when most signs to them being the slightly better team outside of not having home ice. This one's simply a shrewd value proposition. At time of publish, the Hurricanes sat at +105.
I figure this one's going to be a bit of a defensive battle, and if I liked a particular score, this screams 3-1 (either straight up or 2-1 with an empty netter). That sits at +1800 for the Canes, and +1600 for the Leafs. If you don't want to risk a team, exactly four combined goals sits at +425, and if you like the margin but not the totals, Canes by two sits at +550 and Leafs by two sits at +500.
If you think Sam Lafferty is going to stick it to me for calling him out above, a goal from him sits at +500.
Brent Burns is a pretty consistent bet for about three shots per game, and if this does become a battle of teams trying to put their defensive positioning to the test, that's going to mean pucks forced to the outside. So when I see the blue liner's shot line set at 2.5, I feel like there's something there for the taking. At -130 for the over, I'd really consider this one.
Other NHL Games Tonight
There are three additional games on the NHL schedule tonight. Here's who we've got on tap: