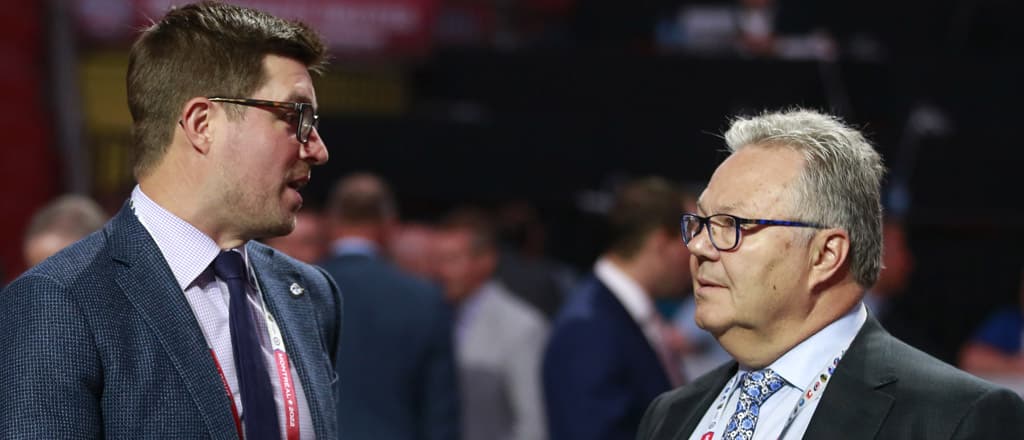 Ding ding! The National Hockey League trade deadline has come and gone, meaning that teams have essentially locked in their playoff-eligible rosters. All seven Canadian teams made moves, multiple in fact, over the past two weeks, so in this week's edition of Coast to Coast, we'll take a passing look at the weekend's games, but focus on how the teams themselves have molded themselves in the past couple of days.
Calgary Flames
Incoming
Outgoing
Dryden Hunt
Radim Zohorna
Troy Stetcher
Nick Ritchie
Connor Mackey
Brett Ritchie
For a while, it looked like the Flames weren't going to do anything at the deadline – surprising, given the team's underachievement in the standings so far this year. Two end-of-day trades today kept them from being shut out, but if we're being honest, neither move the needle. The first trade on this list is one at the AHL level, one where they swapped support players with the Maple Leafs as both the Toronto Marlies and Calgary Wranglers make runs at the top of the NHL standings.
The second deal, made with Arizona, is more impactful at the NHL level – Troy Stetcher brings defensive depth to every team he plays for and adds to the "Flames are the Canucks" factor that has been joked about for years. Connor Mackley, who heads out in his place, is a quality AHL defenceman but not one likely to grow into regular NHL minutes. Swapping the Ritchie brothers doesn't really do much besides save the Coyotes some money, but it is pretty funny.
Weekend Games: Calgary plays the second headliner on Saturday night, hosing the Minnesota Wild at 10:00 PM on CBC. Calgary desperately needs to pull a win out of this one, having dropped four consecutive and seven of their past nine. Their previous game against Toronto on Thursday felt very flat on their part, as the Flames lost 2-1.
Edmonton Oilers
Incoming
Outgoing
Patrik Puistola
Jesse Puljujarvi
Mattias Ekholm
(5% Retained)
6th Round Draft Pick (2024)
Tyson Barrie
Reid Schaefer
1st Round Draft Pick (2023)
4th Round Draft Pick (2024)
Nick Bjugstad
(50% Retained)
Cam Dineen
Michael Kesselring
3rd Round Draft Pick (2023)
The Oilers had a deadline that was both predictable and bold. Finally, the team made their definitive call on 2016 first round pick Jesse Puljujarvi, deciding to move on from the winger and trading him to the Carolina Hurricanes. Patrik Puistola is a 22-year-old winger that plays for Jukurit Mikkeli of the Finnish SM-Liiga, but it might not be worth getting too attached yet – his rights expire in June, and the Oilers might decide not to offer him an entry-level contract. Puljujarvi is a better player than many give him credit for, but with opportunity in the lineup being minimal and a media market that had turned on the player, the trade feels like a courtesy as much as anything.
Edmonton's big swing came in Mattias Ekholm, a high-end two-way defenceman who gives the Oilers a true defensive presence beyond the likes that other stopgaps have been in recent years. The price wasn't cheap, giving up big-minute offensive defenceman Tyson Barrie along with draft capital and their 2022 1st round pick in Reid Schaefer, but it addressed the team's biggest need with a marquee player, and Barrie's minutes can be taken up short term by Evan Bouchard. The acquisition of Nick Bjugstad is a little bit in the eye of the beholder – the 30-year-old has been a solid depth scorer throughout his career, though Michael Kesselring had turned a lot of heads in the AHL over the past year and it would be un-shocking to see him become a regular NHL defenceman in good time. The Oilers are aware of their window, though, and as such are willing to make such a move. Overall, a better deadline than I expected from Ken Holland's team.
Weekend Games: Edmonton co-headlines on Saturday night with the Winnipeg Jets, as they play their second game in as many nights against each other. We'll see which night ends up being the most exciting – if you're curious about tonight's game, Jake has your bet365 preview for today.
Montreal Canadiens
Incoming
Outgoing
5th Round Draft Pick (2023)
Tony Sund
Third-Party Retained Salary
Denis Gurianov
Evgenii Dadonov
Frederic Allard
Nate Schnarr
The Habs didn't do all too much, and honestly, that makes a lot of sense. The team is obviously still in the midst of its rebuild, and pending unrestricted free agents were minimal on their roster sheet to move. Some thought that there was a chance that Joel Edmundson and Josh Anderson could move with their terms attached, but neither deal materialized.
Montreal's main move was with Dallas, sending pending UFA forward Evgenii Dadonov to the Stars for Denis Gurianov. Gurianov has been an interesting young player over the years – a 26-year-old who has shown capability to produce at a half-point-per-game clip at the NHL level and the deliverer of a monster 2019/20 playoff run – but he still hasn't put together the totality of his frame and skill. Montreal is better situated to give him more time and take a second look at his toolbox, and landed the player for a veteran that they signed as a free agent eight months ago. They also picked up some draft capital in exchange for middle-manning the San Jose/Pittsburgh trade for Nick Bonino, and made a minor league deal to acquire local defenceman Frederic Allard in exchange for forward Nate Schnarr.
Weekend Games: Montreal is the lone Canadian team playing on Sunday, taking on the Vegas Golden Knights, who were coincidentally the last team to have Dadonov before them. Montreal has been uncomfortably good lately, winning six of their last ten in regulation, which is great for morale but tough for lottery odds.
Ottawa Senators
Incoming
Outgoing
Jakob Chychrun
1st Round Draft Pick (2023)
2nd Round Draft Pick (2024)
2nd Round Draft Pick (2026)
Future Considerations
Nikita Zaitsev
2nd Round Draft Pick (2023)
4th Round Draft Pick (2026)
Julien Gauthier
Tyler Motte
7th Round Draft Pick (2023)*
Patrick Brown
6th Round Draft Pick (2023)
* conditional pick
The Senators took a bigger swing than you would expect from a team in 20th place, but it made a lot of sense for them to do so. Ottawa, who are 7-2-1 in their last ten and have won four games in a row, have a record that is below pre-season expectations but comes with a lot of reasons for underlying optimism. What the team has been missing most of all, however, is a top end defenceman to take some of the load of Thomas Chabot in the short and medium term, and they addressed this by finally coming out on top of the Jakob Chychrun sweepstakes.
While I suggested Ottawa was the best fit in an early October post, there was some gossip along the way steering the likely candidates in many other directions. So much so that I wavered for a while, believing he'd end up with the Los Angeles Kings, who ultimately wouldn't give up defensive prospect Brandt Clarke and wouldn't retain salary. The Senators were willing to give up the draft capital that the Coyotes wanted, and navigated around the retention issue by dumping Nikita Zaitsev's contract onto the Blackhawks, which may also be addition by subtraction on the ice.
Two other lineup-fringe trades were made in swapping Tyler Motte to the Rangers for a younger option in Julian Gauthier, and adding Patrick Brown from the Flyers. But it was the big game hunt that matters for the Sens here – the team is now set to make a push for a wildcard spot now, and to thrive in the coming years with Chychrun adding to their defensive core.
Weekend Games: Ottawa takes on the dead-last Columbus Blue Jackets on Saturday night, as they look to make it five wins in a row. It's very much the least interesting of the four Canadian games on the Hockey Night loop, but it doesn't have to be. Another win would be huge for their playoff push, and if nothing else, it's time for Chychrun, who made his Senators debut on Thursday, to continue to build chemistry with his new teammates.
Toronto Maple Leafs
Incoming
Outgoing
Ryan O'Reilly
(75% Retained)
Noel Acciari
Mikhail Abramov
Adam Gaudette
1st Round Draft Pick (2023)
2nd Round Draft Pick (2024)
3rd Round Draft Pick (2023)
4th Round Draft Pick (2025)
Jake McCabe
(50% Retained)
Sam Lafferty
5th Round Draft Pick (2024)*
5th Round Draft Pick (2025)*
Joey Anderson
Pavel Gogolev
1st Round Draft Pick (2025)*
2nd Round Draft Pick (2026)
Erik Gustafsson
1st Round Draft Pick (2023)
Rasmus Sandin
3rd Round Draft Pick (2024)
Pierre Engvall
Luke Schenn
3rd Round Draft Pick (2023)
Radim Zohorna
Dryden Hunt
*conditional pick
The fourth-overall Maple Leafs made perhaps the biggest collective splash in the league over the past few weeks, making three significant trades and three more on the peripherals. The action got started two weeks ago with the addition of Ryan O'Reilly and Noel Acciari from St. Louis. Having to route O'Reilly's money through a third party meant that the trade cost the Leafs a fair share of draft capital, but it also got them a marquee forward and some quality bottom-six support in Acciari. Early dividends have been good – O'Reilly has three goals and five points in seven games, and Acciari has been a bit of a mini-wrecking ball on the fourth line.
Monday saw Dubas' next act, acquiring Jake McCabe and Sam Lafferty from Chicago for what was essentially two more draft picks and more paper shuffling. I'm less high on this move from a short-term hockey perspective, but what makes it is getting the full 50% salary retention on McCabe, who is signed for this year and the following two. Lafferty also carries a second year on his deal, meaning that neither are rental acts.
Some were shocked by the trade of Rasmus Sandin to the Capitals, but the McCabe deal was likely the nail in the coffin for him to play significant, if any minutes in the playoffs for Toronto, which moved up a conversation on his future. Toronto was aware that if they were to push him out of the lineup, his trade value in the summer would be in decline, and in my eyes were wise to cash him out now for a first-round pick and Erik Gustafsson, a player who brings similar elements but is a veteran upcoming free agent. This allows them to cash out futures on Sandin without really changing the now.
Lastly, the team moved Pierre Engvall to the Islanders to bring Luke Schenn "home" from Vancouver for basically the same cost. I'm less sure about this one – having Schenn return to the organization ten years after being traded has a nice sentimental touch, and the team likes having a "hammer" (physical, crease-clearing defenceman) in it's depth chart, but I worry that he might get over-relied upon and become a load-barrier instead of an occasional tool. Overall, I think the Leafs are a better team than they were a few weeks ago, which is huge when Tampa and Boston are in their sight, but I can't help but think could have aimed to get one more creative forward instead of building a depth chart of ten blue liners. We'll see how that evolves.
Weekend Games: Toronto takes on the Canucks on Saturday, in Vancouver. That means we'll get to hear complaining about 4:00 PM puck drops on the west coast, without even getting to see the two teams on HNIC! This is the secondary game, meaning you'll head to the Sportsnet of your choice for it, but it won't be without interest. The two teams last played against each other on November 12th, with Toronto coming out on top with a 3-2 victory.
Vancouver Canucks
Incoming
Outgoing
Vitali Kravtsov
William Lockwood
7th Round Draft Pick (2026)
Josh Bloom
Riley Stillman
3rd Round Draft Pick (2023)
Luke Schenn
Filip Hronek
4th Round Draft Pick (2023)
1st Round Draft Pick (2023)
2nd Round Draft Pick (2023)
4th Round Draft Pick (2024)
Curtis Lazar
The Canucks are an incredibly confusing team coming out of this deadline, which I suppose is no different from where they stand almost every other day, week, month, or year. The 27th-overall team seemed primed to be sellers with players like JT Miller, Connor Garland, Thatcher Demko and Brock Boeser being potential chips for other teams to buy in on. Instead, Vancouver made it loud and clear that they were serious about their process being a "retool" rather than a "rebuild", and that the retooling would come more in, against all odds, loading up.
Vancouver did make a nice little reclamation move with the Rangers on February 25th, acquiring Vitali Kravtsov in exchange for a seventh round pick and 24-year-old tweener William Lockwood. Kravtsov has looked good since joining the team and picked up his first assist on Thursday against the Wild. Moving Riley Stillman gave the team some cap flexibility, and sending out Luke Schenn and Curtis Lazar for third and fourth round picks restocked some draft capital.
But then there's the Filip Hronek trade. Hronek, who has had a solid if fortune year with the Red Wings, is a 25-year-old defenceman who really only fits the timeline if you believe the Canucks are on the cusp of their Stanley Cup window, rather than at the start of an organizational re-think. He has one year left on this deal after this one and will be due for a raise. Odds are, this is a player who fits in long-term as a second-pair right defenceman, maybe taking a presence on a second powerplay unit if Jack Rathbone doesn't develop as expected. To most teams, he'd be a good add at a 1st (via NYI) and a 2nd round pick. In 2-3 years, a player in his situation might be perfect for them. For now, it seems like a short-sighted effort to squeak the team into the playoffs, one that's been so common for the organization recent years that it's difficult not to see through it.
Not helpful to matters are the reports that the Canucks engaged in serious JT Miller trade talks with the Pittsburgh Penguins, but balked when "only" offered draft picks, rather than a pathway to a centre. A team looking to build for the long-term would've taken the parachute out of upcoming seven-year extension. A team looking to settle for good enough does what they did this week, be it with that reported non-move or the totality of proven work.
Weekend Games: The Canucks are the underdogs in a Saturday night battle against the Maple Leafs. Vancouver have won just two games in regulation over the past month, a twelve-game run, and it's hard to see that rut ending soon. But hey, Andrei Kuzmenko has found a way to bring a few of these recent games to overtime singlehandedly, and who knows, Hronek might push them over the edge here. I wouldn't bet the farm on it, but stranger things have happened, especially with the Leafs' uncanny ability to not live up to narrative-driven moments.
Winnipeg Jets
| Incoming | Outgoing |
| --- | --- |
| Vladislav Namestnikov | 4th Round Draft Pick (2025) |
| Nino Niederreiter | 2nd Round Draft Pick (2024) |
Lastly, we have the Jets, a team who are famous for not doing much of anything in moments like this. You know what, though? They did okay this time! It's not a ton to phone home about – a few years ago, Niederreiter and Namestnikov would've been big name pickups – but both players still remain potentially solid depth pieces for a team who's goal scoring hasn't really kept up with their record. Niederreiter has been a consistent half-point-a-game or better forward even in his late twenties and early thirties, with the ability chip in a bit defensively. Namestnikov is a tier below that, but can play third or fourth line minutes capably. He's also used to these deadline day moves at this point – this is the fourth time he's been traded under the wire in his career.
The Jets aren't a team that I see a strong long-term outlook for, and one that have overachieved a bit this year. But with the iron hot and the acquisition costs low, these moves make a ton of sense for them. Certainly, Connor Hellebuyck will appreciate the extra run support.
Weekend Games: The Jets take on the Oilers in the evening headliner. As mentioned in Edmonton's blurb, the two last faced on New Years Eve, with Winnipeg coming out ahead, and will play tonight in Edmonton before playing each other again on Saturday. Expect the odds to be a little better for the Jets in the latter game, given home ice.
Where to Watch HNIC Games
Want to tune into these games? Of course you do, that's why you're here. Worry not, we're here to help!
As always, the headliner games will be best watched by Canadians on the CBC. Canada's public broadcaster flexes it's muscles by offering free hockey to all on Saturday night, in whatever way you wish to watch it – on their website, through their app, on your cable box, or even through the old school antenna.
For the rest of Saturday's games, you'll have to head elsewhere. Leafs and Canucks will be found on Sportsnet, while Columbus and Ottawa can be found on Sportsnet 1, City TV, and for the French broadcast, on TVA Sports.
On Sunday, Montreal and Vegas face off on TSN 2 (Montreal) and RDS, depending on whether you want the English or French broadcasts.
For those looking to stream the games, your best official bet would be Sportsnet Now, with the premium package required for non-local games. To learn more about Now and your other options, check out CSB's "How to watch the NHL in Canada" guide!
Saturday Night NHL Lines
Lots of action is available on all of these games come the weekend. Our friends at NorthStar Bets already have the main lines up – check them out below! You'll also find all sorts of spreads and props available when you click through.
If you're looking for another book to bet at, we've also got you covered – check out our Best NHL Betting Sites guide for more info!