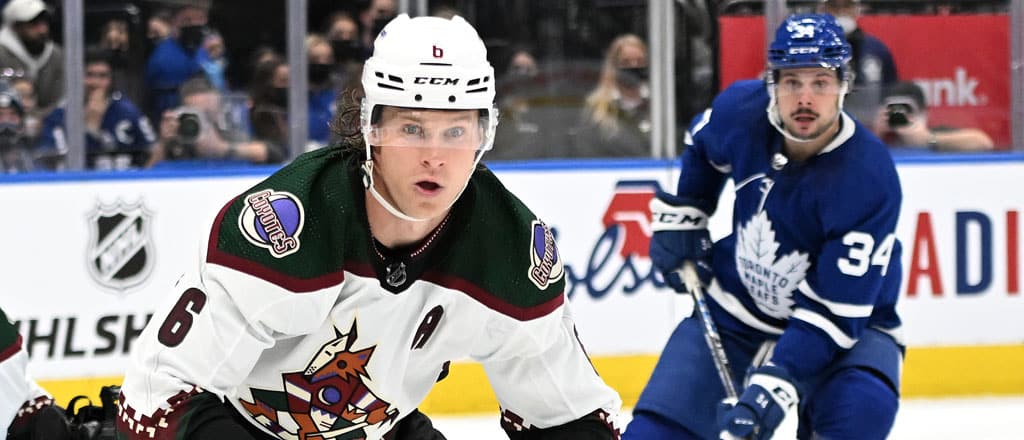 The National Hockey League season is just days away from beginning, but as teams begin to aim for the 2023 Stanley Cup, odds are we haven't seen the last of the significant, offseason-like transactions before the games really start to ramp up. One name that has been in trade conversation all summer – and really, for nearly the last calendar year, is Arizona Coyotes defenceman Jakob Chychrun, and it seems like there's reason to believe we could see him in the uniform of a Canadian team in the near future.
TSN's NHL insider Darren Dreger reported last Thursday that there were at least six teams interested in the 24-year-old blueliner. Among the American contingent of the Los Angeles Kings, St. Louis Blues, and Columbus Blue Jackets, Dreger also mentioned the Toronto Maple Leafs, Ottawa Senators, and Edmonton Oilers. Daily Faceoff's Frank Seravalli also zeroed in on the Senators as front-runners for his services in a radio appearance this Monday morning.
Why He's On The Move
Chychrun is a player who has been reported to be on the trade block for some time. In a lot of ways, it makes sense for both the player and the team.
On one hand, most NHL teams would love to keep a core defenceman on their roster as part of their push for long-term success. These are players who aren't easy to find, particularly at an efficient cost. If you're the Arizona Coyotes, though, you also have to be honest with yourself about your team's timeline. The Coyotes are still in the process of a long-tail rebuilding phase, and with what one hopes to be a temporary relocation to Arizona State University's 5,000 season seat Mullett Arena for the next three seasons, it's unlikely that the team is going to be spending to their maximum potential on their roster. Assuming the team is ready to inch towards being a contender in time for their departure to their next rink, Chychrun will be entering his late 20's at that point.
This means you've already used up his prime years, and the remainder of his six-year contract that he signed as an extension in November 2018. That contract, by the way, is well below the league standard for a player of his perceived value and his current workload, coming in at a cap hit of just $4.6 million for the next three years. This means that Chychrun could be a valuable trade chip on the market, if the Coyotes play their cards right – and they've certainly been looking for that play for a while now. From Chychrun's point of view, while he doesn't seem inherently against staying in Arizona as a market, these same issues reflect on his own career window – currently entering his prime talent years, awaiting his payday contract, does he want to spend his time on a team far out of the playoff picture, or does he want to prove himself somewhere where he can build a legacy and an even greater reputation?
What's The Asking Price?
Dreger's implication seems to be relatively consistent with ones we've heard over the summer, if not even a little lesser than it once was. "Some say that the Coyotes have softened, to some degree at least, in their expected return and are more willing now to take on a contract or contracts," said Dreger. "Granted, you've got to have a first-round draft pick, you've got to have a prospect involved in all of this, so the ask is still high."
The taking on of contracts is a welcome revelation for, well, pretty much every team in the league. Just nine NHL teams would be able to take on Chychrun's full $4.6 million cap hit without going over the ceiling, and that's including the Winnipeg Jets, who would be within $66,000 of the ceiling if they took him on outright, and the Coyotes, who currently possess him. As I've repeated in many previous pieces of work, the NHL is basically capped out on the whole, and will be until relief comes in the next 3-4 years. Of the three rumoured Canadian teams we mentioned, only Ottawa could take him on outright, but that's with Alex Formenton still unsigned. They also likely want some form of relief here.
In each case, all three teams have players that could be pointed to as the relief going the other way, of varying value.
Ottawa has Nikita Zaitsev, who they themselves took as relief from Toronto in 2019, as his seven-year, $22.5 million contract proved to be more than the Leafs wanted to chew. That's only gotten worse since joining the Senators, and he would likely be a negative value asset in this deal. Toronto, with an abundance of left-handed defencemen, would likely part with Jake Muzzin, who has two years left at $5.625 million. He'd be closer to a neutral asset – a healthy Muzzin is a good, moveable player, but he hasn't been overly healthy and in a deal like this, there would obviously be a lack of leverage to get positive value for him. Edmonton should be looking to move out someone like Tyson Barrie (or if they were really courageous, Darnell Nurse) as their dump in this deal, but it seems more likely that polarizing two-way, goal-driving but unproductive forward Jesse Puljujarvi and his $3 million cap hit would be among their priorities to polish off. The good news is that Arizona might view Puljujarvi as a positive asset, albeit with a cold trade market, it might not be by much.
Secondarily, you likely have to move out a first round draft pick. For the Oilers, that's no problem – they've got all of their first round picks for the next three years, and I don't think that Ken Holland knows what those are anyway. Toronto also has all three, with Kyle Dubas similarly willing to spend them (so long as you let him trade down to acquire half the sixth round on Day 2). Ottawa does as well, but this is where it kind of gets tricky – how sure are they of this year, in particular? The sooner the pick, the more valuable it's going to be in a trade negotiation, but as much as the Senators have improved, they're still looking to hop from the bottom ten into the playoffs, or risk a chance at Connor Bedard if the draft lottery should they move that pick unprotected. If it's protected, it likely has less value than a contending team that's a little happier to take the risk.
Last, you have prospects. All of these franchises have good young players that their fanbases will tell you are untouchable, that other markets will be completely unaware of, and the real answer is likely somewhere in between. This could be a shrewd avenue for Ottawa with regards to Erik Brannstrom – a 23-year-old blueliner who I'm still not sure where to place in terms of upside, but seems unlikely to get an opportunity under DJ Smith.
Generally, I think all of these teams have varying forms of availability to build up a Prospect+Pick+Contract offer for the Coyotes. Each has their own pros and cons; Edmonton will likely offer the "dump" deal with the most upside, Toronto will offer one that might be re-flippable to another team the sweepstakes (looking at you, LA), and Ottawa has what's likely the highest 1st rounder available and a deeper farm system to pick through.
The Slight Caveat
One thing I would warn these teams, from the perspective of getting into a potential bidding war, is that you're acquiring a player like Chychrun as a value gambit, rather than because you think he's going to be transcendent, and you have to be careful about paying transcendent prices for him.
Don't get me wrong, we're talking about a very good player here. We're talking about a big, decently young body with physical capabilities, good team-relative shot metrics, and a good shot, which have all amounted to a 18-goal, 43-point pace per 82 games from the blue line over the past three seasons. Chychrun, in a lot of ways, is built like your traditional defenceman that an old scout insists is good, but actually isn't – but in this case, actually is. For this reason, he's also a high-value contract for the next three years.
A player like him is conceptually very useful to all three teams. DJ Smith is an old-school, defensive minded coach, and you can assume he'd love to have Chychrun on his blue line. In Toronto, he'd be the spiritual (and probably literal) successor to Muzzin's spot in the group. In Edmonton, he'd bring cap value to the lineup that they don't have in most spots, cleaning up some of the front office's mess. He'd be a band aid to some of the problems that all three teams currently have. At the end of the day though, he's still not at the tier you'd expect to be in the Norris trophy conversation barring a stretch with a hot stick or hotter goaltender helping him out (in fact, none of our favourite Canadian sportsbooks had Norris Trophy odds for him at the time of publish – no matter how deep their list was – though this could change in time).
But at a certain point, it'll stop making sense, and you'll find more value in sticking with a player that doesn't fit your preferred style but contributes as much in the aggregate, or costs a bit more on the cap but costs much less to trade for. I'd use caution in a bidding war here and not it get to a point where you're offering multiple top prospects, unprotected picks, or walking out with zero cap relief and a need to find it in a low-leverage situation elsewhere.
The Favourite
Unfortunately for CSB Loyalists, while Canada is hockey-crazy and the books are well aware of it, none of the majors are offering prop bets on where Chychrun's landing spot is. If you're going reading this looking for an edge in the betting market, it might be worth looking at it from the context of team results; Ottawa or Toronto's season over/unders for points or their spot in the Atlantic Division, or Edmonton and maybe Los Angeles' in the Pacific. If this move comes to pass, it'll likely have some impact on the markets.
My personal guess, is that if this gets done, Ottawa is the most likely team in Canada to pull it off, if not the most likely team period. They have the most to gain out of pursuing the player – a need to dump the Zaitsev deal, and a big need for more reliable, big minute defencemen (who are not Zaitsev. Sorry Nikita, I know you're in some of our header images, and I even bought your jersey once. Long story). When it gets done and what goes back the other way is a whole other question – I think it'll mostly be in the futures department as far as return goes, and it's possible that this extends past this next week or so and maybe goes all the way to the deadline when teams have some clarity in what their first-round picks will look like.
In the meantime, Chychrun speculation will remain hot-button in hockey circles, and who knows, maybe it all leads to nothing. Maybe the College Coyotes find lightning in a bottle at ASU and decide to keep him? Who knows. Until the trigger is pulled, all we can do is daydream.