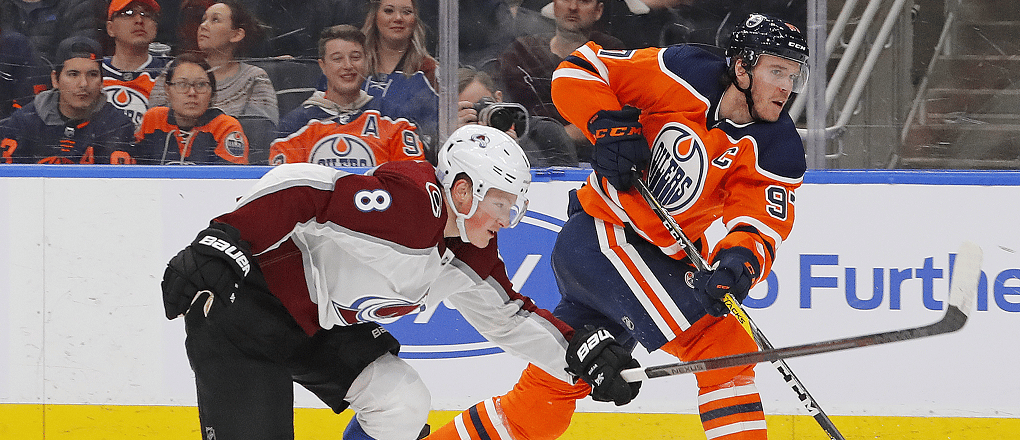 At the end of this series, one of the league's mega-stars will be playing in the Stanley Cup Final for the first time in their career. Actually, scratch that – two of the league's mega-stars will be doing so! While the Edmonton Oilers and Colorado Avalanche are a little bit apart in terms of their total depth and long-term roster sustainability, they can both lay claim to an argument that they hold two of the five best hockey players in the world – and in a seven game series, takeover talent can get you to the other side. Let's break down this star-studded battle.
Series Updates
This section will be updated as the series progresses. Check back regularly to keep tabs on the trends!
Game 1, 8-6 Colorado: Do you want goals? Well, we've got all the goals in the world! This game was utter chaos, and despite there being 14 puck deposits into the nets, we're all still talking about one the next day. Evander Kane and JT Compher traded goals in the sixth minute of the game, Nathan MacKinnon and Zach Hyman brought it to 2-2 not long after, but it was the tally with 14 seconds left in the first period that is dominating the headlines. Cale Makar streaked into the offensive zone and ripped a puck past Mike Smith to regain the lead just nine seconds after losing it, but the Oilers challenged for offside. Video reply showed us that Valeri Nichushkin didn't tag up at the blue line before Makar crossed in with possession, and that it wasn't even close – he was about a foot off.
As it turns out, a small wrinkle in the rules can lead to this still being a good goal, which led to mass initial shock when the referees confirmed their original "good goal" ruling. By looking closely at the video for what initially seemed like too long, they noticed that Makar's stick wasn't on the puck while Nichushkin was getting his last few inches in, which means that offside would have still been delayed to this point. While Makar pushing the puck upwards would count as maintained possession for just about every other rule in the book, it didn't count as puck control for this one, buying that half second. Most have begrudgingly accepted that the officials met the letter of the law in the moment, though a debate about how the rule should be written moving forward rages on – in most other leagues and levels of hockey, and in the land of common sense, the challenge would've been a slam-dunk case of offside. Instead, it was a goal, and 32 seconds into the second period, the penalty charged to the Oilers bench gave Colorado another via Nazem Kadri, giving this technicality the value of a two-goal swing.
That swing was game-deciding, but amazingly, we'd only gone through a third of the clock and a third of the goals. Ryan McLeod gave the Oilers one back, only to be met by three unanswered from Mikko Rantanen, a second from Compher, and Andrew Cogliano. The Oilers shocked the crowd by nearly pulling all the way back in the late second and early-mid third, but Gabriel Landeskog added an empty netter to ice the game in the final minutes. As you can imagine, no goalie played the full game in this one – Mike Smith was pulled for performance, while Darcy Kuemper self-pulled after experiencing blurry vision.
Headed into Game 2, bet365 has moved to -450 in favour of the Avalanche, to the Oilers' +350. Avs in 5 is the dominant exact-result at +240, with no Oilers option coming in lower than +850. At BetMGM, where they've added a ton of Head-to-Head player props for Game 2, they've got Colorado at 1.23 decimal odds to the Oilers' 4.25, and are also most confident in the Avs in 5. It'll be interesting to see if the Oilers can blow the lines out of the water with a win on Thursday.
Game 2, 4-0 Colorado: This was a game defined by about two minutes, driven by one line – and really, one player. This all occurred in the early minutes of the second period. Just before the four minute mark, a Darnell Nurse turnover was retrieved by Mikko Rantanen, slipped over to Nazem Kadri, and his wrist shot was deflected by Artturi Lehkonen to put the Avs up. Moments later, the line struck again – Lehkonen came out of a board battle with a loose puck, fed the puck to Kadri, who found Josh Manson for a point shot which beat Mike Smith clean. Lastly, two minutes after the wave started, Kadri carried a puck end-to-end and found Rantanen in front for a 3-0 lead. Goal scoring dried back up from there, though the Avs continued to control possession, particularly through the Makar-Toews pair holding back McDavid and the other heavy artillery. With five minutes remaining in the third period, the Avs removed any remaining doubt in this game. While on a powerplay, Cale Makar kept a departing puck in the offensive zone, sent it to Nathan MacKinnon, and his one timer trickled through Smith to effectively ice the game.
Edmonton will have a lot to figure out in a short period of time, now two games away from elimination. Getting shut out and only putting up 11 shots in the final 40 minutes is far, far from ideal, and there was a major lack of discipline on their part – hard to get back into the game in the third period, for example, when you concede four powerplays. On the plus side, they get to go back home for two games and have their fans and familiar surface behind them.
Heading into Game 3, BetMGM have this series as all but an inevitability in favour of Colorado at the moment. They're sitting at 1.11 decimal odds to the Oilers' 7.00. An Avs sweep is now the lowest-return outcome for specific results (2.75), with no Oilers option available under 10.00 (seven games). Over at bet365, the Avs are -900 to the Oilers' +600, with Avs in 5 being the favourite outcome at +200. If you really believe in the Oilers, now is the time to look into making a move, though going 4 of 5 (at worst) the rest of the way against Colorado is going to be a tough, tough task.
Game 3, 4-2 Colorado: The Oilers are now one game away from elimination, and they'll have to manage without their top goal scorer after a suspension. It all started so well for them too, as Connor McDavid took just 38 seconds to put Edmonton up in front. McDavid retrieved a puck fished out of the side boards by Zach Hyman and took next to know time corralling it, setting up a light fake, and beating Pavel Francouz, who was the shutout hero in Game 2. The momentum from the goal lasted a whopping eighteen seconds, though, as Evander Kane promptly hit Nazem Kadri from behind, injuring the Avalanche forward and taking him out for at least the rest of the series. Kane avoided missing the rest of the game, but still received a five minute major for boarding and since then, has received a one-game suspension on top.
This was enough to take away the buzz, and the Avs used that to their advantage. Valeri Nichushkin tied the game before the period was out, and put Colorado up with a second tally four minutes into the middle frame. The Oilers tied the game in the third period after Ryan McLeod galloped into the Edmonton zone and fired a long-range shot, but the Avalanche pulled away in the second half of the period. JT Compher scored what ended up being the game winner, and Mikko Rantanen added an empty netter for insurance.
With the series now set at 3-0 Colorado, the odds of an Edmonton comeback are astronomical – a full reverse sweep has only happened a few times in NHL history. As such, the decimal odds from BetMGM are just 1.02 on the Avalanche. Edmonton coming back sits at 15.00. Over at bet365, Colorado sits at -5000 to Edmonton's +1600.
Game 4, 6-5 Avalanche: Well, one of the most star-studded series in recent memories died the way it lived – skilled, goalful, and fast. While the Oilers skaters' efforts, particularly Leon Draisaitl and Zach Hyman's, were valiant, their season came to an end after the Colorado Avalanche completed their sweep of the last Canadian team in the pool. Cale Makar opened the scoring three and a half minutes into the opening frame, and then things quieted down for a little bit. Suddenly, the Oilers began the second period, as Hyman tied the game up with his 10th of the playoffs, set up by Draisaitl, followed by goals from Ryan Nugent-Hopkins and Connor McDavid in the final five minutes.
Home ice, two-goal lead, what's the worst that can happen? As it turns out, a lot. Devon Toews brought the Avs within one just 31 seconds into the third, bouncing a shot off Cody Ceci's leg to beat Mike Smith. Hyman restored the two goal lead via Draisaitl's third primary assist of the night, but then we saw the valley of Mike Smith that many worried about when the peak started to feel too good to be true. Gabriel Landeskog, Nathan MacKinnon, and Mikko Rantanen all beat him with relatively preventable goals – MacKinnon's in particular stinging after the megastar forward creeped out of the penalty box. The big guns in Edmonton weren't quite ready for it to end like this though, as Draisaitl picked up a fourth primary assist via Zack Kassian picking up his rebound.
The excitement was short-lived, unfortunately. A little over a minute into the first overtime of the series, Artturi Lehkonen picked up his own rebound off a deflection to ice the game. While the deflection was reviewed for a potential high stick, it was ultimately ruled a clean goal. In doing this, Lehkonen did something extraordinary – he scored the Western Conference Final-winning goal in overtime for the second consecutive season. Considering he played for Montreal the year prior and that his conference was only in the west due to the pandemic, this seems especially un-repeatable.
The Avalanche, who broke with a relatively new superstition and touched the Clarence Campbell Bowl in the post-game ceremony, will face the winner of the New York Rangers / Tampa Bay Lightning series in the Stanley Cup Final. With that series just one game apart and still only approaching Game 4 the next day, they might have to wait a while to meet their final boss.
The Matchup
On paper, the Avalanche buzzsawing their way to this point is of little surprise to the trained eye. After all, no team has had a better record in the past three regular seasons, going 137-52-19 with a whopping fifteen more regulation wins (118) than the next teams behind them. They've scored the second most goals in that span, allowed the fourth-fewest (not counting Seattle), and have had a massive lead in penalty differential in that time as well, allowing them to use their potent special teams to wreak havoc.
Prior to this year, though, it just hasn't worked out for them in the playoffs. Sure, it's not Maple Leafs levels of early-exiting, but eight years into the "Nathan MacKinnon era", the team had four playoff series victories in five appearances to show for it, including a second-round exit last year despite finishing first overall. This year, the Avs didn't finish quite atop the league, but maintained a similar record, and through a combination of things finally clicking and not having to face another truly high-end opponent just yet, Colorado finds themselves eight wins away from glory with an 8-2 record to show for it. They made quick work of the Nashville Predators in Round 1, sweeping them. While the St. Louis Blues put up a little bit of a fight in the second round, the Avs ultimately put them out of their misery in six games.
In the case of the Oilers, expectations weren't quite so high – while they have Connor McDavid and Leon Draisaitl, there's a bit more understanding that this isn't the best-built team beneath them. For a while, it even looked like they were destined to miss the dance entirely, as a deep early-season losing streak exposed many of head coach Dave Tippett's flaws. He was fired just after the midway point of the year, Jay Woodcroft took his place, and the team has had a dominant record since – their 0.724 points percentage to close out the regular season (26-9-3) under Woodcroft was second to the results of one coach this year – Jared Bednar of the Avalanche. The underlying numbers aren't exactly dominant, but like Colorado, the idea has seemed to be to be good enough and then leverage the stars when needed most, but arguably to an even greater extreme.
So far, it's worked for the Oilers, with their power duo both on pace for all-time great playoff numbers, and complimentary players like Evander Kane (12 goals in 12 games), Ryan Nugent-Hopkins (11 points in 12 games) and Zach Hyman (12 points in 12 games) chipping in just enough support to hop the finish line. Most surprising for them was the sudden late-season return of Mike Smith playing good hockey, dominating his last eight regular season games and posting a 0.938 save percentage against the Los Angeles Kings, a round that felt like a coin-toss and really did go down to the deciding Game 7. Smith was more pedestrian in Round 2 against the Calgary Flames, which should've been a death sentence given the increase in quality of opponent, but the big weapons at the top of the lineup went thermonuclear, shocking the hockey world with a five-game defeat of their provincial rivals.
The two teams have gone up against each other three times this season, all within the past ten weeks. Colorado got the best of a 3-2 overtime game on March 21st, and won 2-1 in a shootout on April 9th. Edmonton won the last of the season series with a 6-3 victory on April 22nd. Some would weigh all this in Colorado's advantage, as they went 2-1. Others wouldn't count a shootout towards their playoff thoughts, making this a 1-1-1 ordeal, and others might give the advantage to Edmonton for winning the goal battle (8-7, removing the COL shootout winner and EDM empty netter). Either way, it's closer than you'd think, which one supposes is a testament to the run the Oilers have had under Woodcroft.
The Star Power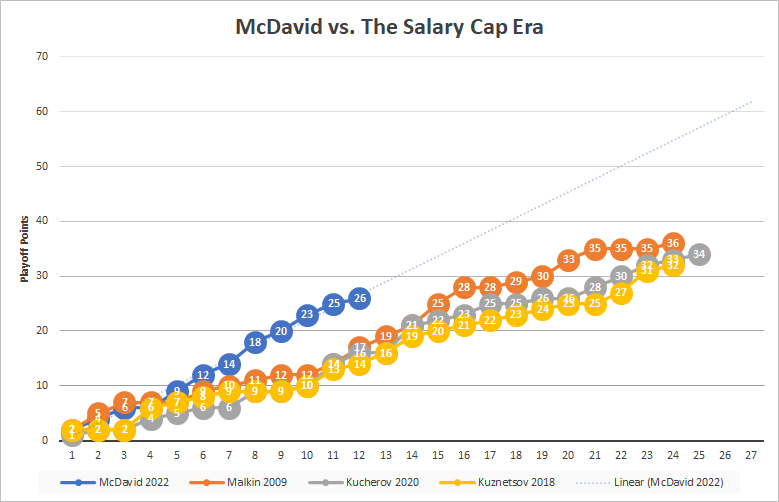 Connor McDavid, EDM – Look at this above chart. Look at it. McDavid is on pace for one of the single greatest playoff runs in NHL history should the Oilers see this through. Hell, even making this series go long might be enough to put him in the conversation even if the Avalanche win. Number 97 put up "only" 12 points in 5 games, and you'll see why I say only in a little bit. He averaged over 23 minutes a game as a counter-punch to Calgary's depth, and will likely do so again. Obviously, his biggest contribution in the Battle of Alberta was the series-winning goal in overtime last Thursday, and it's crazy to think that the last shot of the game was his only point of that performance, and even crazier to think that "just" an overtime winner is considered a low bar for him. To everyone else in this league, and currently the Avalanche – good luck.
Cale Makar, COL – Most of the media narratives frame this series as McDavid vs. Nathan MacKinnon, and I get it – the latter has been primed as waiting for his moment for years, and is still among the league's best. But the real match up here is McDavid vs. Cale Makar. Why? Two reasons. One, line matching will probably mean that the two centres trade blows, but rarely go up against each other as optimal situations are found for them. Makar, on the other hand, will spend lots of time skating against McDavid on the blue line. Two, Makar has simply emerged as the best defenceman in the league, and a Top-3 player on the planet. The 23-year-old already has 180 points in 186 career games, has spectacular possession numbers, and his eye test feels like a torch-passing from the revolution Erik Karlsson set off years ago, bringing back the hyper-dynamic defencemen previously only seen once every generation or two. There's a new wave, and Makar's blistering shot, incredible skating, and out-of-this-world awareness has allowed him to embarrass teams on the regular. It's crazy to think that MacKinnon is no longer the best player on the Avalanche, and crazier to think it happened without much of a decline, but facts are facts – it's Makar's show now.
Leon Draisaitl, EDM – Remember how I said McDavid "only" put up 12 points against Calgary, scoring at an all-time clip that would make even Hall of Famers blush? That's because Draisaitl put up two goals and fifteen assists in the series. That's 17 points in five games! His "worst" effort was three assists in a Game 4 victory. How crazy is that?
Now add in that Draisaitl hasn't been the most mobile player in recent weeks, with a nagging ankle injury that teams like the Flames had no hesitation about targeting with punishment. He might not be up to speed, but the constant threat of his shot, the raw intelligence behind his decision making, and having incredible linemates have made a barrage possible. Not to mention, there's not a ton of skating on a powerplay, though only three of his points came that way. At minimum, a broken Draisaitl is still an elite decoy, and at max, he's still producing at the same full-playoff clip as McDavid. Just scary.
Nathan MacKinnon, COL – So even though we've established that Makar is the pulse of the Avalanche nowadays, that doesn't make MacKinnon any less of a threat. In his last four seasons, he's produced 442 points in 338 regular season games – a clip of 107 per 82 -game season – and upped that to a 115 point pace in the playoffs. This year is actually his lowest per-game clip in the past three years, but while 13 points in 10 games isn't exactly a McDavid's pace, it's still that most mortals in the league would kill to put up.
Evan Bouchard, EDM – If the Oilers have any shot at winning this series, it's going to be because one of their defencemen rise to the occasion, contributing both on the scoresheet and in creating an effective counter-attack for the Oilers' horses. As crazy as it may sound to some, I don't think Darnell Nurse has looked like that guy, Tyson Barrie definitely hasn't, and as much as Cody Ceci and Brett Kulak have held their respective forts, they're set up for success in specific roles.
No, I think the breakout guy is going to have to be the 22-year-old sophomore, who led all Oilers defencemen in scoring this year with 43 points, and has put up 8 in 12 throughout these playoffs thus far. The Oakville native has put up strong shot-attempt differentials relative to his teammates as well, and is really showing signs of being the high-pedigree prospect he was when selected in 2018. Bouchard doesn't see at on of ice, getting more of a second-pair deployment rate, but that will have to change when going up against a team this creative and mobile, whether you want to slow them down or go blow-for-blow.
Nazem Kadri, COL – This has been a great year for Kadri on the ice, posting a career-high 87 points in 71 games, a leap in production that players don't usually hit when on the opposite side of 30 years old. It's great for him, though, as he'll be able to take it to unrestricted free agency. He's carried the momentum into the playoffs, producing 10 points in as many games and staying out of trouble, though a collision with Jordan Binnington in Round 2 drew some controversy from people pointing to his suspension-laden past to place intent, despite none being visible on the play.
The fallout from that was pretty disgusting on all levels – fans hurled insults and threats to him on social media to the point of law enforcement getting involved, Blues coach Craig Berube tossed fuel onto the fire by pointing to his reputation and then declined to comment when the consequences of that became apparent, and Blues players (David Perron especially) spent much of Game 4 attempting to exact revenge with overtly dirty plays. Kadri, with lessons learned through the years, didn't get distracted and instead had the best game of his career, putting up a hat trick and assist to gain firm control of the series.
Kadri will no doubt be looking to leave the Blues series in the past, and get back to excelling on the ice. In this series, though, it might not look like it did during the season – rather than leveraging him offensively, look for Colorado to use him as a matchup forward against the McDavid line, especially if they overload it with Draisaitl and Evander Kane again. Kadri is an elite shut-down centreman when he wants to be and has had success getting under McDavid's skin in past years.
Why the Colorado Avalanche could win
The Avalanche might be the most loaded team in the NHL – as much as you roll your eyes when the big media names predict the same team every year until they win, there's a reason they've been Stanley Cup Favourites, or close to it, for several years now. The above list barely scratches the surface on their firepower – Mikko Rantanen put up 92 points this year, Andre Burakovsky exceeded his career high by 16 points, and captain Gabriel Landeskog, when he wasn't out with injuries, turned his strong, physical two-way game into one where he also produced as a clip well into the 90s. Landeskog and Rantanen have produced at strong clips in these playoffs. Valeri Nichushkin is a two-way threat with a great defensive game and the recent add of Artturi Lehkonen adds another similar typed player.
We haven't really talked about their defensive corps beneath Makar, either. Devon Toews looks like the steal that most analytics experts predicted when they acquired him from the Islanders two years ago, establishing himself as a true first-pair, two-way threat. Sam Girard's season has ended with a sternum injury, but Bowen Byram is back and contributing. Erik Johnson isn't what he once was, but can contribute in sheltered minutes, and Josh Manson was a nice deadline add.
The Avalanche come at you at waves, can put on a show of skill or strength, and can play well on both sides of the puck. If there is a way to wear you out, they can do it. It's no guarantee to work, but it's as strong of a bet as any team can make in this league. If they can take advantage of that in the matchups away from Edmonton's stars, that should be enough to win the series.
Why the Edmonton Oilers could win
I feel like this paragraph has been the same in all three rounds that we've previewed the Oilers, and that's okay, because it remains the truth.
The Edmonton Oilers have Connor McDavid. The most purely skilled player the game has ever seen, well on his way to being one of the greatest ever relative to his peers. The ultimate takeover talent. So long as he's on the ice, they're in good shape. Yes, you can argue that it doesn't look good without him, but the results with him are just stupid – the 5-on-5 goals are 25-9 with him on the ice, with the process numbers still giving him a 63% expected goal share. When McDavid and Draisaitl are together, the goals are 17-5 at 5-on-5, and 28-7 overall. That is inexplicably stupid.
Yes, the Oilers are legitimately a bad hockey team without their captain on the ice. It shows up in the shot share (about 40% without him), and in the goal share (14-26 in all situations without him). Even Draisaitl on his own hasn't been great away from McDavid in these playoffs, which does make sense given the ankle injury.
But here's the reality: That doesn't matter right now. These are huge, five-alarm bells when talking about the long-term construction of the Edmonton Oilers. Ken Holland should be facing a ton of pressure for how little he's built around his starter's pack. But in the playoffs, only today matters. Today, you can run your mega-star into the ground to try to win. If you have to play him half the game to get him time away from Kadri and/or Makar, you do it. There is no tomorrow, and while the stars shine bright in these lineups, McDavid is a supernova, and is the closest thing you can get to a series-changing X-Factor in a skater. If he's healthy, if he's on the ice, the Oilers have a shot at winning.
Colorado Avalanche vs. Edmonton Oilers Betting Lines
We've been tracking the Oilers throughout the playoffs using BetMGM's odds, a nod to spokesperson Wayne Gretzky's peak there. Hey, this is a Canadian website, so it's only right to help the last team left with any sort of habit or superstition, right?
As luck would have it, neither platform (or any, really) like the Oilers in this series. Fair enough, it's hard to blame them for picking the deeper team that wins more hockey games. BetMGM is giving the Avalanche decimal odds of 1.40, versus the Oilers' 3.00. In fact, they have them as the most (2.20) and least (6.50) likely teams to win it all. BetMGM is, as always, loaded with props – my favourite to keep an eye on remains exact series outcomes; they have the Avalanche winning in five games as the most likely (4.50), followed by the Avs in six. In fact, an Avs sweep (8.00) is at equal or lower return than any Oilers victory besides a seven-game nailbiter (7.50). In other words: I think they like the Avs. If you'd like to learn more about BetMGM, check out our BetMGM Sportsbook Ontario review here on CSB!
We'll also take a glance at Bet365. They've got Colorado at -260, to Edmonton's +215. Their series outcomes have a little more variance – they've got Avs in 7 (+375) ahead of Avs in 6 (+400), and they do have the Oilers winning in six at lower odds than an Avs sweep – though they like the sweep more than Oilers in 7. If Bet365 feels like the book for you this round and you want to learn more, we've got you covered with our Bet365 Sportsbook Canada review.
Colorado Avalanche vs. Edmonton Oilers Prediction
I think a rational look at these teams would make it difficult to go against the Avalanche, if one had to pick a side. At the end of the day, they're just a better, deeper hockey team – particularly in the bottom half of the forward group, and on defence. It's also difficult to bet on a team running on one specific type of fortune to see it all the way through, which hurts Edmonton.
But again – 26 points in 12 games. Both McDavid and Draisaitl. Evander Kane is riding shotgun with them and scoring a goal per game right now. This isn't just a hot streak, it's one of the hottest streaks in history, and if the cooldown comes gradually instead of suddenly, the in-between is still enough to give Colorado a feeling of hell on earth. As well, even the struggling version of Mike Smith has out-stopped Darcy Kuemper in these playoffs – a factor not really addressed above due to the sheer unpredictability of it (we thought the Battle of Alberta had goalie battle potential, remember?), but if Kuemper keeps playing at barely league average and Smith looks even halfway between Rounds 1 and 2, that'll be a huge gain for the Oilers.
I still think depth beats out peaks here, especially when team depth still has room for monster peaks. But it's not a given. I'm just really excited to watch it, as you should be – this series has the potential for historical reverence if all goes to plan.