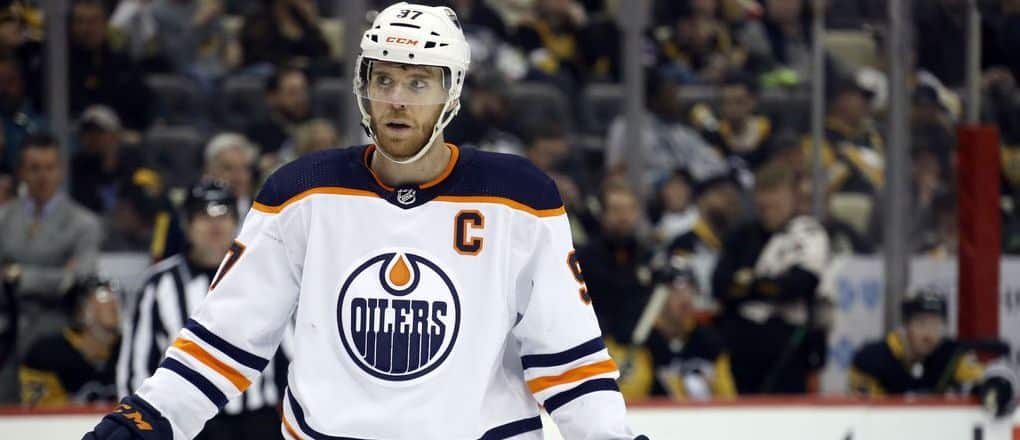 The NHL is no stranger to rivalries, but few bleed with more passion than the Battle of Alberta. The Edmonton Oilers and Calgary Flames are two of the NHL's more middle-aged teams historically, both joining the ranks in the late 70s / early 80s, and ever since they've been paired together, they've hated each other. The players, the staff, the fans, they all play, react, and cheer with chips on their shoulders.
In recent years, this has been contained to the regular season, but for the first time in 31 years, the two teams will bring the emotion to the playoffs. A lot has changed since 1991, but the bitterness lives on, and it should lead to a spectacular series – here's what we at CSB expect to go down!
Series Updates
This section will be updated as the series progresses. Check back regularly to keep tabs on the trends!
Game 1, 9-6 Calgary: It's hard to describe this game as anything but complete and utter chaos. While many in the US and Canada were focused on overtime in the Rangers/Hurricanes Game 1, only about a minute elapsed in the Battle of Alberta by the time the broadcasts flipped over. Normally, that's no time missed, but millions were left flabbergasted to see the Flames already up 2-0. You know all that stuff we talked about in the preview portion of this post about the great goaltending each team had in the first round? Well, they must have not gotten the memo. Elias Lindholm threw a knuckler at Mike Smith at the 26 second mark, and it beat him clean. Seconds later, the Flames re-entered the zone and Andrew Mangiapane quickly added another. Just five minutes later, Brett Ritchie added another, and Mike Smith's night was done.
Did that stop the goals? Absolutely not. Connor McDavid put Edmonton on the board a minute later, and though there was a lull for the rest of the period, the Flames built their lead back up with two more past Mikko Koskinen, who unbelievably had the best save percentage in this game by a large margin at just 0.865. The Oilers push came forth from here, as Evan Bouchard responded at the seven minute mark, initiating a run of four Edmonton goals to Calgary's 1 in a twelve minute span, closing the middle frame up at 6-5 for the Flames. Kailer Yamamoto finished a shocking comeback a minute and a half into the third period, but unfortunately for him and the Oilers, there was still eighteen and a half minutes left in the third period. Rasmus Andersson took the lead back for the Flames before the game could get to the three minute mark, and Matthew Tkachuk potted two insurance goals to go with his early-second tally to pick up a hat trick and secure a Game 1 victory. Needless to say, 15 goals wasn't the outcome we all expected – but boy, was it fun to watch!
Game 2, 5-3 Edmonton: For a brief moment, this game seemed like it was going to go the same path as Game 1. Six minutes in, and the Flames were already up 2-0 thanks to goals from Michael Stone and Brett Ritchie, leaving a little bit of doubt in Mike Smith. The Oilers would not fold so easily this time, though, eventually clawing back to tie up the series. The Oilers got themselves on the board before the end of the first through a great puck-protection move by Connor McDavid, leading to a setup of Duncan Keith to beat Jacob Markstrom. Tyler Toffoli did restore Calgary's multi-goal gap early in the second period, but it was all Oilers from there. McDavid closed the gap again a minute later, and Evan Bouchard tied the game with Stone in the box for a high stick on the other side.
In the third, Zach Hyman gave Edmonton their first lead of the game with a shorthanded tally, and Leon Draisaitl followed to put a bow on things. With the win, the Oilers steal home ice and set up for a chance to put Calgary in hot water on Sunday.
Game 3, 4-1 Edmonton: Heading into this series, the biggest question for the Oilers was if veteran goaltender Mike Smith would be able to keep up his torrid spring pace, given his history both long and short-term. Four periods into the Battle of Alberta, that was put in serious doubt. On Sunday, though, Smith got the last laugh in a sublime, roller-coaster appearance. The 40-year-old netminder stopped 32 of 33 Calgary shots on the evening, only conceding in the final five minutes, while the game was mostly out of reach for his opponent. The biggest part of his story, though, came when Milan Lucic was unable to let up from a puck chase and sent him into the boards. Replay angles showed that the collision was much less malicious than it looked at first glance, but it was still enough to send Smith to the concussion protocol "quiet" room for a chunk of the third period. Smith returned looking like, and received like a pro wrestler, and closed out the game accordingly.
On the offensive side of things, it was the Connor McDavid show once again, with a prominent appearance from Evander Kane. In a span of three minutes, the Oilers loaded up first line of 97, 91, and Leon Draisaitl counter-attacked off the rush, with the result being nearly identical all three times – a carry from Connor or Leon, a push to the net from Evander, and a goal created with great stick handling and position in the slot. This natural hat trick was preceded by Zach Hyman scoring off of – you guessed it – a McDavid/Draisaitl rush, albeit from further out.
Checking in on the lines after three games, Bet99 now has the Oilers at -182 to take the series, with the Flames at +146. BetMGM also has the Oilers as the favourites at 1.57 decimal odds, with the Flames at 2.45. The most likely outcome in their eyes is the Oilers winning in six games, a prop they have at 3.60.
Game 4, 5-3 Edmonton: The Oilers are now one game away from the Western Conference Final, but the pathway to their third victory was definitely not an easy or straightforward one. Things appeared to be on cruise control in the early goings, when Jacob Markstrom misplayed a puck behind his ow net and gave Ryan Nugent-Hopkins a gimme just 21 seconds in. Edmonton Bolstered that even further with goals from Zach Hyman (on the powerplay) and Evander Kane (his 11th of the playoffs) in the first period, leaving most believing the game and maybe even the series was at the point of no return. Grinder Zach Kassian even attempted a one-handed "Forsberg" goal on a breakaway, which felt like the death knell for the night.
Apparently, the Flames weren't quite ready for the clock to strike midnight, at least not right away. Elias Lindholm drew the Flames back within two with a powerplay goal at the nine minute mark of the second period, and just 36 seconds later, Mikael Backlund followed up with his fourth of the series. Things remained pretty quiet from here, at least for a little bit. Calgary was definitely more focused on the defensive side of things in this game, bringing back a banged up but still competent Chris Tanev into the lineup and deploying 11 forwards and 7 defencemen. They also tried running six skaters and a goalie at one point in the third period, something that usually gets you a Too Many Men penalty, and in this case, it did too. What was so peculiar was the high point of the penalty kill – in what seemed like a benign attempt to clear the puck out, Rasmus Andersson's slapshot from 130 feet away beat Mike Smith clean, making for one of the most shocking, improbable goals in playoff history. Combine this with a 3-0 comeback, and it was safe to believe that the wind was out of the Oilers' sails, and that a total rally was inevitable. Nugent-Hopkins had other ideas, though, and with fewer than four minutes in the period, cleaned up a loose puck in front of the net to pull the Oilers ahead. Kane added one more into an empty net to seal the game off.
Needless to say, while the Flames do get home ice for two of the next three games, it's not looking great for their odds down 3-1. Edmonton is favoured at -556 to Calgary's +400 on Bet99, and BetMGM has Calgary at 5.25 decimal odds to Edmonton's 1.17 on Bet99. The latter seems to be leaning towards the Oilers winning in six still – albeit at higher odds than after Game 3, at 3.75.
Game 5, 5-4 Oilers: One of the most fun series in recent memory is over as quick as it began, in a fashion that's shocked most of the hockey world and even created a little bit of controversy. The Oilers are heading to the Western Conference Finals for the first time since 2006, thanks to another outburst of offence from their core – though interestingly, the megastars saved the best for the end. Calgary started this game with the first two goals earned, via Andrew Mangiapane in the first and Mikael Backlund five minutes into the second period. That seemed to be a sufficient wakeup call for Edmonton, as within five minutes, Darnell Nurse and Jesse Puljujarvi had tied up the game. Gotta love that rapid-fire scoring, right?
Well, it turns out we hadn't seen anything yet, as the back end of the period game us one of the fastest outbursts of goals in the history of the playoffs. At 14:57, Zach Hyman put the Oilers up with a powerplay goal. Fifteen seconds later, Johnny Gaudreau tied the game at three, and sixteen seconds after that, the Flames regained the lead thanks to Calle Jarnkrok's first of the playoffs. Crazy right? Well, that lead only lasted 40 seconds, as Evan Bouchard dropped another one of his trademark Bouch Bombs to bring us all square once again.
The third period was scoreless on paper, but arguably not on the ice. As a puck was gliding towards the net, Blake Coleman put his skate to it as Cody Ceci was shoving him from behind. The goal was reviewed for a distinct kicking motion, and disallowed. Now, Coleman's skate never came off the ice, and the puck was going in regardless, so many (including myself) felt that it was unfair to call it a distinct kicking motion, at least to the degree of overturning a confirmed goal. Nevertheless, the war room believed that the pace of his foot propelled the puck, making it more than a redirection, and overturned it. This led to the game going to overtime, and five minutes into the bonus frame, Connor McDavid pocketed his seventh goal of the series and led his team further than they've been in his tenure.
The Matchup
Both the Oilers and Flames are coming in hot off of tight first-round matchups that ended in about as narrow of margins as possible. In Calgary's case, the Dallas Stars opted for a complete eradication of flow, slowing games down to a crawl in hopes to come out on the right side of a coin-toss at the final buzzer. Until Game 7, that plan was quite successful! The sixth-highest scoring team in the NHL scored just twelve goals in their first six games, including just one in their first two. In time, the Flames figured out how to get more looks for attempts and shots, and eventually Jake Oettinger proved human.
On Edmonton's end, they faced a similar opponent in the Los Angeles Kings, though their attempts at shutdown play were more in minimizing the power of Edmonton's stars than an all out effort to kill the presence of hockey in the series. As such, the first six games were very much a chess mass, but always including a team scoring four or more, including an 8-2 Game 3 win for the Oilers and a 5-4 OT win for the Kings in Game 5. While Anze Kopitar, Phil Danault and company did their best to counter-punch, Connor McDavid and friends just proved to be too much to shut down in the end, pulling away with 4-2 and 2-0 wins to take the series.
Looking at the teams' season series against each other, there's a lot more than blood and hatred. Okay, that's still the driver of the Battle of Alberta, but just run with me here. The two teams exchanged pairs of wins and losses in what already looks like a playoff series – Edmonton took the October 16th (5-2) and January 22nd (5-3) games at home, while the Flames took the March 7th (3-1) and March 26th (9-5) grudge matches in their own barn. Overall, Calgary controlled these games at 5-on-5, out-attempting the Oilers 206-153, outshooting them 125-92, scoring 58% of the expected goals, and two-thirds of the actual goals (14-7).
The Star Power
Connor McDavid, EDM – What more can be said about McJesus? We heaped tons of praise on him in our Oilers/Kings preview, and that might not have been enough in the end. McDavid currently leads all playoff skaters in assists (10), points (14), and plus-minus (+10), and achieved all of that in the span of seven games. The young man simply isn't human, and so long as he's in the lineup, he's the safest bet to produce, every night.
Johnny Gaudreau, CGY – Gaudreau entered the series with excellent regular season numbers, but a lot of questions about his history of playoff under-performance. Now, he's not quite producing at McDavid's pace, but did lead the Flames with eight points in seven games in the series against Dallas, and his two goals couldn't have been more clutch – a penalty shot to add insurance in Game 4, and the Game 7 overtime winner that could end up being the defining moment in his time with the team. With a lot of questions about his long-term future in Calgary, Johnny Hockey is making sure that he doesn't leave any doubt, regardless of outcome, that he cares about winning with his team.
Leon Draisaitl, EDM – It's pretty hard to Forget About Drai when he keeps putting up points. The German superstar put up five goals and four assists over the course of the first round, showing up on the scoresheet in every game where the Oilers did too – so all but Game 4. His biggest night, ironically, was in a loss, where he put up two goals and an assist only for the Kings to win in OT. With that said, he was relentless and put up huge minutes in all but the blowout games, doing what he could to give the Oilers a chance to win. Look to him to continue to be a goal scoring threat.
Matthew Tkachuk, CGY – Ironically, Matthew might not be the most popular Tkachuk in Calgary in this playoff run – brother and Senators captain Brady has been in the stands, on the microphone, doing whatever he can to cheer him on. You don't typically see that sort of border-crossing happen in the NHL, but family rules all, we suppose! Tkachuk only picked up one tally against Dallas but had five assists, and an incredible sub-plot-beef with John Klingberg in the early games. Don't be too shocked if that goal total turns around in Round 2.
Mike Smith, EDM – Is the 40-year-old veteran good again?! That's the question many are asking right now, after an improbable 9-0, 0.951 run to close the regular season, shutouts in Games 2 and 7 against Los Angeles, and a 0.938 save percentage in the series. It's mind-boggling given his mid-season struggles and the general concept of age curves, but sometimes you just have to get hot at the right time. Smith's games against Calgary have been hit and miss – a 45 save performance led to an Oilers win in October, and getting pulled after allowing 4 of 26 on March 26th was significantly less inspiring.
Jacob Markstrom, CGY – If we're going to mention one goalie who had an inspiring series, we may as well acknowledge the other. Jacob Markstrom is more traditionally elite and about eight years younger, so him carrying his own momentum in the playoffs is less surprising. But there was nothing close to a "stinker" in this series for him – an absurd 0.943 save percentage was derived from seven consecutive games of over 0.900 action, and six of seven performances ending in a save percentage over 0.920. Markstrom is a world-class goaltender with a Vezina case, which is important when the opponent has top-end fire power.
Evander Kane, EDM – Kane was a controversial mid-season signing with the Oilers due to a plethora of off-ice issues, which led to his termination from the San Jose Sharks in the first place. It remains valid to debate the moral decisions behind giving him such a quick new opportunity, but purely as a player, he's had a very strong start to his playoffs. Kane finished the first round tied for the second-most goals scored, and has the lead among players who advanced, putting up seven in as many games. He's maintained a physical element, with his 16 penalty minutes also landing in the top ten. He's someone who can both fill the net and get some of the tougher Flames off their game, which could play a factor.
Why the Calgary Flames could win
Simply put, the Flames have a lot of the things that both the old and new school agree are necessary to win in the postseason.
Reliable goaltending? As we said above, Jacob Markstrom was dominant against Dallas, and spectacular over the course of the season. He's been a top goaltender more often than not in the past few years, so you likely feel confident with him going into a Best-of-7 series.
Depth? The Flames have tons of it. Their top line (Gaudreau-Lindholm-Tkachuk) is elite, but their middle six also goes punch-for-punch with the rest of the league. They don't have an elite, superstar defenceman, but neither does their opponent and all six of their regular blue-liners are above replacement level. Coaching? Darryl Sutter's done a great job with the place. Momentum? They just broke through one of the great opposing goaltending shows of the past few years in dramatic fashion, reminding them that they can jump hurdles. The season series? The momentum is also in their hands.
Basically, now that they've shaken off the early-exit, playoff no-show concerns, they're back to just being a really strong, deep hockey team, which doesn't create guarantees but significantly weighs your coin in a Best-of-7 series. Plus, they'll have home ice advantage, meaning the C of Red will get more opportunity to cheer their boys on than their bitter rivals, they'll have last change and shorter benches more often, and all the other fun stuff that comes with that edge.
Why the Edmonton Oilers could win
The argument for the Oilers in this series is the argument for them in any series, and it's takeover talent. No, they don't have the depth of the Flames, particularly on defence and in goal, but they have the two best players in this series – which is incredible to say when Calgary has a player who likely got some Hart Trophy votes.
So long as Connor McDavid is playing some of the best hockey in his already Rushmore-chasing career, the Oilers have a chance at winning. So long as Leon Draisaitl is filling the net with him, they've got a chance at winning. Kane's stick getting hot is an added boost, Cody Ceci inexplicably producing at nearly a point per game is an added boost, and Mike Smith seemingly forgetting that it isn't 2012 any moree is a huge boost. There is still some further depth at forward for the Oilers, and if they can find a way to crack the defensive armour of the Flames and turn this into a high-even series, anything is possible.
It's going to be difficult. It's going to require extreme pace and relentlessness, it's probably going to require favourable puck luck and special teams calls, and it almost definitely will require a McDavid performance that gets referenced in his eventual Hall of Fame speech. But the playoffs aren't straightforward, and are made for these sorts of narratives, so it's impossible to rule them out.
Calgary Flames vs. Edmonton Oilers Betting Lines
In the first round, we focused on BetMGM for the Oilers/Kings series, and Bet99 for the Flames/Stars series. So let's give them both a look here! If you're curious about the two books before scrolling on, you can check out our BetMGM Sportsbook Ontario review and our Bet99 Sportsbook Canada review, both here on CSB.
Since the Flames have Home Ice advantage, we'll check out Bet99 first. Calgary, who have the fourth-best Stanley Cup odds  going into the second round at +580, are considered the early favourite to win this series. They come in at -200, to Edmonton's +160. Bet99 is also carrying odds for how long the series will last, feeling 6 games (+200) or 7 (+205) to be the most likely, with a sweep (+540) being the biggest long shot. More props will undoubtedly open as the series goes further, and lots of options are available for individual games.
Over at BetMGM, which favours the decimal odd format, they've already got an intricate list of props for the series, be it the score after three games, the exact series results, how many games will have shutouts or go to overtime, and more. Overall, they also favour the Flames at 1.50, to Edmonton's 2.65. Calgary in 5 to 7 games all come in at 5.00 for specific series odds, with the biggest longshot being an Edmonton sweep at 17.00. Like their competitors, they also feel 6 games is the most likely outcome by a slight margin.
Calgary Flames vs. Edmonton Oilers Prediction
The deeper you get into the postseason, the more you just want to throw your shoulders up and say "who knows". Because really, in such a short span, these sorts of series can go a lot of different ways as a result of sheer fortune, especially when the teams get closer together in terms of total talent.
With that said, it's hard not to feel a slight lean in this one in Calgary's favour. The combination of a very deep roster, a savvy coach, and great goaltending is just hard to go against, particularly when the team has shown capability in winning both offence-first and defence-first games. They can almost shift their focus from exploiting Edmonton's weak defence in one period, to clamping down their stars in the next, and that's a huge asset.
Again, though, the Oilers have the best player in the world, on track to be one of the greatest players to ever place up a pair of skates relative to his peers, and arguably the most purely talented to ever exist. They have another Top 5 forward with him, and scoring punch throughout their lineup. They've got momentum on their side even in areas where they're typically weak in the long-view.
I think Calgary wins this series, I really do. I also think that the longer it lasts, the less likely it is that they come out ahead. It's totally possible that the Flames get this done in five games or even a sweep, but if it starts pushing to six or seven, then all bets are off. Or perhaps on, depending on what lines you chose to chase!