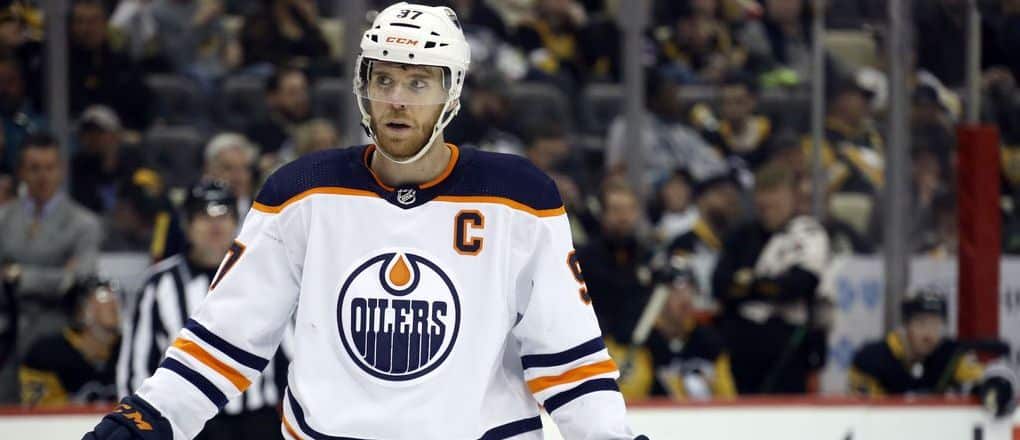 When you put the Edmonton Oilers and the Los Angeles Kings together in the same sentence, most people's minds go back over 30 years, to Wayne Gretzky's heyday and sport-changing trade from the former to the latter. A lot has changed in the NHL since, but the two teams remain, and both are hungry to make a big Stanley Cup Playoff push. First though, one must get through the other.
Here on Canada Sports Betting, we take a look at the two teams, and how this series could shake out.
Series Updates
This section will be updated as the series progresses. Check back regularly to keep tabs on the trends!
Game 1, 4-3 Los Angeles – How about those Kings, eh? A spectacular performance by their line of Trevor Moore, Phil Danault, and Alex Iafallo carried this game home for them. The Oilers did tie this game up twice, but at no point did Los Angeles trail, thanks to goals in quick succession from Moore and Iafallo, a second-period tally by Brendan Lemieux to respond to Kailer Yamamoto's equalizer, and a game winner by Danault initiated by a misplay of the puck by Edmonton goaltender Mike Smith. Those looking to Edmonton's stars to get them the W would be disappointed to see that Connor McDavid and Leon Draisaitl each getting a tally wasn't enough, but those who looked to them for individual goal props are probably pretty happy with the result.
Following the game, BetMGM narrowed the gap significantly on their full series line. The Oilers moved to 1.87 decimal odds, to the Kings' 1.95. The latter remain the slight underdogs despite the series lead, but that could change in a hurry if they completely steal home ice – and with Edmonton now having lost seven consecutive playoff games dating back to 2020, that doesn't seem out of the realm of possibility.
Game 2, 6-0 Edmonton – For the first time in the Ken Holland era, the Edmonton Oilers have won a playoff game. It was an ideal response for several of their players, in a game that started slow but was blown wide open by the home side in the second period. Leon Draisaitl opened the scoring a minute into the middle frame with a powerplay tally, while Darnell Nurse followed it up with a shorthanded goal shortly thereafter. Heading into the third up by three, Evander Kane and Jesse Puljujarvi jumped onto the scoreboard at the three-minute mark, scoring within 21 seconds of each other. It was an outright dominant performance in all regards, as Edmonton controlled the majority of the shot attempts and expected goals, only losing some of their control in garbage time. Just three Oilers finished with a negative shot attempt differential, and even those were -1's on a night where Edmonton controlled the attempts by a margin of 58 to 37. Mike Smith made 30 saves in the shutout.
BetMGM corrected themselves again, with the Oilers gaining a lot of their advantage back from the start of the series on the betting lines – though admittedly, not all of it. The Oilers sit at 1.50 decimal odds to win the series, while the Kings sit at 2.62. In terms of exact series results, any result leading to Edmonton winning comes at lower potential reward (4.00 to 4.80) than even the most likely Los Angeles result (Kings in 6 at 6.50).
Game 3, 8-2 Edmonton – It was a banner night for "You 8-2 see it" memes, and also the Edmonton Oilers. Building on their success in Game 2, Edmonton going this one started right away with Leon Draisaitl potting his third of the series just before the four-minute mark. Zach Hyman followed with a powerplay marker just two minutes later.
It would've been easy to rest on their laurels from there, but the Oilers took advantage of the Kings' disorganization and stepped on the gas pedal in the second. In the span of just over three minutes, Evander Kane scored a pair and Hyman picked up his own second of the game to extend the lead to five, giving Edmonton eleven consecutive goals. Anze Kopitar scored just sixteen seconds after the second Kane tally, and Phillip Danault added one more before the period closed out, but it was pretty clear at that point that the lead would be insurmountable. The Oilers added three more goals in the final six minutes of the game just for good measure.
Game 4, 4-0 Los Angeles – Perhaps the Oilers pushed a little too far with their curb-stomping in the prior two games, because Los Angeles looked completely refocused on Sunday night. From the start, they had total control of possession, and barely gave the Oilers a quality look. Most interesting, the goals in this game all came from the Kings' depth – Trevor Moore opened the scoring early in the second, followed by shrewd defensive pickup Troy Stetcher. Los Angeles fired a whopping 20 shots in the first period alone, and didn't let up in the back forty minutes, eventually ending the game at 46.
Carl Grundstrom, a 24-year old acquired from the Maple Leafs via trade in 2019, laid down the daggers in the final five minutes, much like the Oilers did on Friday. The Swede potted two goals in three and a half minutes, crashing the net both times and causing all sorts of commotion between two teams who clearly have no love lost between them.
Despite the series being tied at two after four games, BetMGM has gone back to their start-of-series odds for each team – they've got the Oilers at 1.40 on decimals and the Kings at 3.00. Interestingly, they've got the Oilers winning the next two games as the lowest "correct series result" return (2.45), while the Kings winning in 7 (5.75) or 6 (6.00) have much higher potential rewards.
Game 5, 5-4 Los Angeles (OT) – The Edmonton Oilers are now officially in trouble. Most hoped for another response game similar to what the Albertan club showed in Games 2 and 3, but what they got instead was… decidedly not that. Their star players were strong, but the rest of the team put up a performance who's abysmal-ness was merely masked by the final score. The Kings started the game all over their opponents, and before Edmonton could even take their first shot, Los Angeles found their way onto the scoreboard via Troy Stetcher on a goal where the team had five skaters who formerly played for Canadian teams on the ice (Trevor Moore and Carl Grundstrom formerly of Toronto, Stetcher and Alex Edler formerly of Vancouver, and Phil Danault formerly of Montreal). The score held steady in for the rest of the period, but warning signs were made loud and clear by a 16-5 shot differential.
Zack Kassian put the game all square early in the second period, but was quickly responded to by Adrian Kempe and Andreas Athanasiou in a frame that was closer by the shots, but still well in control. In the third period, Connor McDavid and Leon Draisaitl came out to play with three special-teams goals (two powerplay, one shorthanded), but a Phil Danault powerplay redirection in between meant that the herculean effort by the mega-stars still only got Edmonton to overtime. In the extra period, the Kings controlled the from the opening faceoff, and it only took a minute and a half for Kempe to walk around Duncan Keith and tally the goal that puts his team one goal away from moving on to Round 2 in what would be a shocker to some, but has certainly been a viable outcome all along.
Checking in with BetMGM, they've now moved the Kings to the favourite to win this series. Their decimal odds sit at 1.57, to Edmonton's 2.45.
Game 6, 4-2 Edmonton – Last night, the best player of his generation showed us why he has that moniker. It took just 1:40 for Connor McDavid to make his impact on this game, making a breakout pass, accepting the puck back at the blue line, and then wrapping the puck around Jonathan Quick to put his Oilers up. Early in the second, Evander Kane added insurance off a net-front redirection, and things looked really good for Edmonton.
The Kings though, as we've seen over this past week and change, don't go down without a fight, and halved the lead with a one-time blast on a Los Angeles powerplay with seven minutes to go in the middle frame. Carl Grundstrom added another thirty seconds into the third period, and suddenly the brink was looking closer and closer to the Oilers again. No problem, said the big names – McDavid went on another one of his deep end-to-end rushes, passed the puck to Leon Draisaitl, and he dropped it with some extra sauce to Tyson Barrie, who buried what would end up being the winning goal. Kane added an empty netter to officially force Game 7.
How does BetMGM feel about the winner-take-all matchup? Well, the Oilers are back in the favourite's seat for that one, setting at 1.45 decimal odds. The Kings now sit at 2.80. Let's see where this ends up!
Game 7, 2-0 Edmonton – This one had an unlikely hero on the scoresheet, but an expected face driving the bus. Connor McDavid was nothing short of brilliant in one of his best overall games of his career, logging over 27 minutes, attempting a dozen shots, controlling over two-thirds of the opportunity while on the ice, and maybe most importantly setting up… Cody Ceci, of all people? for the opening and eventually series-winning goal in the back third of the second period. Fitting for the Gretzky Bowl, McDavid went to the back of the Edmonton net, stopped, reversed, and found the polarizing defenceman for a wrist shot that many thought he didn't have in him. This was part of a period where Edmonton outshot the Kings 24-11, and really, one where their lead should've expanded to more than a single goal.
To make up for Jonathan Quick's best efforts to keep it tight, Mike Smith was perfect on the other end, eventually stopping all 29 shots on goal that he faced. With four minutes remaining, another incredible individual effort from McDavid gave crucial, though ultimately not-needed insurance to the result. Now, the Oilers move on to the Battle of Alberta, to take on the Flames in Round 2.
The Matchup
The two teams went up against each other four times in their regular season series this year, and if you base the edge on those, you have to imagine the Oilers are feeling pretty confident. After the Kings started things off with a decisive 5-1 win on December 5th, Edmonton took all three games in calendar year 2022, winning 5-2 on February 15th, 4-3 in a shootout on March 30th, and 3-2 on April 7th.
At 5-on-5, Edmonton had a one-goal edge over the four games 9-8, and a slight edge in expected goal share (shot attempts graded for quality), while the Kings controlled 54% of the shot attempts overall. The Oilers' edge in xG comes via significantly more shots in the slot, though Los Angeles had one more goal from in tight. Looking at the full season, both teams ranked in the green in 5-on-5 shot attempt share – Los Angeles ranked 6th at a 54.1% share, and Edmonton in 8th at a 52.9% share. Both see slight dips on xG, but remain positive and in the top half of the league.
One area where the two teams differ greatly is in finishing – while Edmonton's 1.33% edge in this regard feels small, it's the difference between the middle (16th) and last (32nd), and could be the Kings' Achilles heel when it counts.
On the injury front, both teams have pretty significant pieces of their defensive depth charts unavailable. Edmonton has been without minute-muncher Darnell Nurse since April 24th, and it remains to be seen if his issue is larger or just something they're holding back on before puck drop of Game 1. Over in the city of angels, Drew Doughty's bounce-back year was halted by a wrist injury in March, while under-the-radar shutdown defenceman Sean Walker had his season end after just six games. The Kings would obviously much prefer to have those two in the lineup, though the fact that their seasons were called off over a month ago has given them room to settle on the group they'll have to ride with.
The Star Power
Connor McDavid, EDM – Gee, you think? The man nicknamed "McJesus" was always going to be the star of this show. The 25-year-old generational talent had a season of career highs this year – not as productive on a per-game clip as last year, but still putting up a bonkers 44 goals and 123 points on the year, earning him his fourth scoring title in just his seventh season in the league. Only Nikita Kucherov (128 in 2018/19) and Joe Thornton (125 in 2005/06) have put up more points in a single season since the introduction of the salary cap. This is going to be the guy most look for to deliver on production props, or from a hockey perspective, the player with the most capability to take the series.
Phil Danault, LAK – This isn't a particularly traditional pick, and Danault isn't a name that typically sells tickets. But if history is any indication, this is a player who can change the course of this series in a hurry. Over the years, the 28-year-old has made a name for himself as one of the best matchup forwards in the league – someone you can put out against other teams' superstars and slow down the pace of their game. Last season saw him excel for Montreal despite scoring just 6 goals and 28 points in 75 regular season and playoff games – this year in LA, he's maintained his defensive reputation while putting up 27 goals and 51 points in 79 games.
Not only will he allow for weapons like Anze Kopitar to play more offensive-minded minutes, he seems to have found his own groove and could add some touch on the counter.
Leon Draisaitl, EDM – Already the best player to ever come out of Germany, the 26-year-old centre/winger has proven to many that he's not just a product of McDavid. This year was an exclamation point on that thought, as the Cologne native potted 55 goals and 110 points while rotating between being 97's winger, and the centre of his own line. One of the deadliest shooters in the NHL, he'll keep the Kings' stingier defensive group busy.
Adrian Kempe, LAK – It was only a matter of time before the 2014 first-round pick started to live up to his potential and boy, did he ever in 2021/22. Entering the season with a career high of 16 goals at any pro level, he more than doubled the mark with this lap around the league, scoring 35 in 78 games to lead the Kings in tallies. While his stick has been hotter than previous years, shooting at 14.2%, this isn't substantially above his career average of 11.4% – the large change has come from shooting substantially more, especially at 5-on-5. Previously taking about six shots per hour at full strength, he improved his rate to 9.1 this year – or in all situations, prop-useful terms, from about 2 shots on goal per game to 3.2.
Why the Edmonton Oilers could win
At the end of the day, the object of hockey is to score more goals than the other team, and there are few teams that can score like the Oilers do. Their 283 ranked seventh in the NHL this season, and the gap between them and Los Angeles in that regard is much bigger than the goals against gap. They've got one of the league's most fearsome powerplays, the best player in the world in McDavid, another Top-5 player in the world in Draisaitl, and several quality secondary contributors like Ryan Nugent-Hopkins, Zach Hyman, and Evander Kane. Their defensive corps aren't amazing in their own end, but players like Nurse, Evan Bouchard, and Tyson Barrie can move the puck in the right direction in a hurry.
More important than all this though, is that two things seem to be trending upward in a hurry for them. Most obvious is the momentum shift that's come since bringing Jay Woodcroft in as head coach after letting go of Dave Tippett – Edmonton's 25-9-3 record is third-best in the league since then. As well, goaltender Mike Smith has turned a sub-replacement level season into a red-hot 9-0, 0.951 SV% run in April. Can he continue that into the playoffs? At 40 years old, it's tough to say, but a continuation of that run could go a long way for the Oilers.
Why the Los Angeles Kings could win
How do you stop an unstoppable force? Well, with an immovable object. That's what the Kings are going to be hoping for in this series. Los Angeles has been strong defensively – fifth-best at limiting shot attempts over the course of the season, second best at limiting shots on goal, and sixth-best at limiting goals against at 5v5. In Danault and Kopitar, they have two spectacular two-way forwards, allowing them flexibility in how they go up against McDavid and Draisaitl.
They can also lean on a group that has experience with going deep, with the likes of Kopitar, Jonathan Quick, and Dustin Brown having all been part of the 2012 and 2014 championship groups, and players like Danault, Viktor Arvidsson, and Alex Edler having finals experience elsewhere. Quick and Brown are particularly interesting ones to look at; the former has had a pretty good season and has found even deeper gears in the playoffs in the past, and the latter recently announced that this would be his last season – meaning that no player in this series will be leaving more on the line than him for the next week or so. That determination can be contagious, and when you combine that with the fact that the rebuilding Kings have much less pressure on them than the Oilers do with two megastars' primes risking waste, the underdogs could certainly prevail here.
Edmonton Oilers vs. Los Angeles Kings Betting Lines
Let's have a little fun here. Again, this is the "Wayne Gretzky Bowl", of sorts, and most of you by now have seen Gretzky's promotional efforts with BetMGM. They recently launched in Canada (you can check out our BetMGM Sportsbook Canada review for more on that), and sure enough, they've got futures bets already available.
Outright, they like the Oilers at 1.40 decimal odds over the Kings at 3.00. They've also got series results options (Oilers in 5 or 6 being the lowest odds at 4.50, Kings in 4 the highest at 17.00), over/unders for the series length, props on how many games will go to overtime, how many shutouts will be posted, who will lead the each team and the overall series in goals, and more.
Edmonton Oilers vs. Los Angeles Kings Prediction
Honestly, this series could go either way – a sentence you're going to hear a lot when poking around for information. If you're betting on the series outcome, I'd be doing it based off of favourable line values, rather than sheer confidence in a team, because a battle of two teams close in the standings, similar in aggregate control, much different in process and with the ever-important goaltending battle in the hands of two veterans? Well, that could go anywhere.
I think I'd feel safer with Edmonton, sheerly because they're riding a lot of momentum going into the postseason, and I'm a big believer that the playoffs are defined by volume of hot streaks. Simply put, the Oilers have more talent that can get hot and their best players are better than Los Angeles' best players. Especially after a shocking first round against Winnipeg last year, I have to imagine both McDavid and Draisaitl will be playing with chips on their shoulders, and having just one of them catch fire will go a long way.