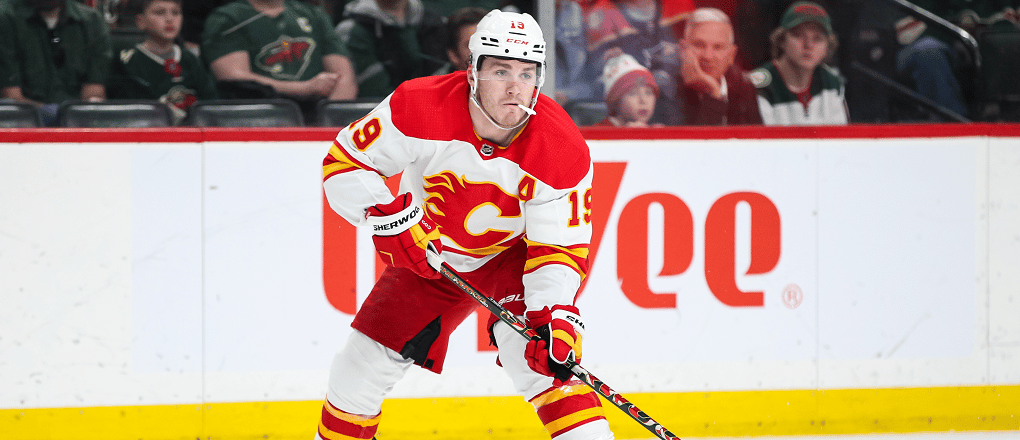 The Western Conference isn't quite as wild as the East this year, from a perspective of the quantity of juggernauts with serious Stanley Cup aspirations. But you don't need a battle of goliaths to get hyped up for a fun series, particularly when you get two teams like the Flames and the Stars together. Yes, the Alberta vs. Texas storyline writes itself, but you also get two competitive teams with a lot to prove, willing to play lunch-bucket hockey to get there if needed. Let's break it down a little, shall we?
Series Updates
This section will be updated as the series progresses. Check back regularly to keep tabs on the trends!
Game 1, 1-0 Calgary – This was about as gritty and grindy as a game could get, which is fitting for these two teams. Elias Lindholm opened the scoring just five seconds into Calgary's first powerplay of the game off a quick faceoff play, and then.. that was it. At least from a scoring perspective. Despite a combined nine more powerplays over the course of the game, the two teams both played to keep the game tight – Calgary to not give up their lead, Dallas to not let it get any deeper while they tried to find an open opportunity. Calgary was masterful in preventing the latter, limiting the Stars to just sixteen shots over 60 minutes, making it a very easy night at the office for Jacob Markstrom.
A taste of how Calgary plans to trust their top players came in the dying seconds of the game. After Dallas iced the puck with under 30 seconds remaining, Darryl Sutter sent out his top line of Johnny Gaudreau, Elias Lindholm, and Matthew Tkachuk rather than a pure shutdown trio. It made hockey sense as an offensive-zone start, but also showed his stars that he trusts them to protect a lead in a big moment. Bet99 has reacted to this by sharply bolstering the odds for Calgary – they're now -770 favourites to Dallas' +500 to win the series outright.
Game 2, 2-0 Dallas – Maybe take back what we said about Game 1 being as gritty and grindy as a game could get. Game two really pushed the limits on this, to the point where the dullness of the experience was only held into watchability by the fact that it was a game with playoff implications. Joe Pavelski opened the scoring about eight minutes into the first period by tipping a Jason Roberts floater off a turnover, and then.. that was basically it for the vast majority of the game. Similar to Game 1, Dallas played shutdown, Calgary played cautious, and the two teams combined for only 52 shots on goal over the course of the game. Michael Raffl sealed the ordeal with an empty netter with a minute to go.
If there was a standout in this game, it was in the Calgary net, as Jake Oettinger put up a 29-save shutout. But the bar here was really low. This was the sort of game where, if this were the regular season and you had nothing on the line, you'd have moved on to other plans by the second intermission, if not sooner.
Game 3, 4-2 Dallas – Our pre-series shoutout to Joe Pavelski continued to look pretty good in this one. Having already put up the winner in Game 2, the veteran forward potted both a second-period equalizer and his second consecutive GWG midway through the period. Both were scored in similar ways – rebounds in the high-danger area of the slot. The buildup to those moments was a shockingly normal game in comparison to the first two in this series, with the two teams actually trading chances and even goals. Radek Faksa scored his first of the playoffs midway through the period, followed by Trevor Lewis scoring for Calgary on a play that some felt to involve goaltender interference. Elias Lindholm briefly put the Flames up in the second period via a one-timer at the hash marks, but the Pavelski-led rally began for Dallas shortly after.
Looking at Bet99 on Monday morning, they still like Calgary heading into Game 4 but the gap on the full series has closed significantly. Calgary sits at -122 to win the series, while Dallas has crept all the way up to -102. Expect a big jolt here after tonight's game.
Game 4, 4-1 Calgary – After losing back-to-back to the underdog, it was imperative that the Flames pull home ice advantage away from the Stars while they still could. Finally, Calgary were able to stand out offensively, though it took them some time. This game didn't get it's first goal until almost exactly at the midway mark, as the Flames took advantage of Jani Hakanpaa and Radek Faksa taking a pair of penalties just 17 seconds apart. Rasmus Andersson made the home team pay with a knuckler of a one-timer from the point on the 5-on-3, which was the lone successful shot of Calgary's 39 in the first two periods.
They finally managed to convert more of their momentum into a bigger lead in the third, though. Johnny Gaudreau made the most out of a penalty shot drawn on a breakaway and went backhand on Jake Oettinger, who still had a brilliant 50-save performance on the night, to give the Flames some insurance. Elias Lindholm bolstered the lead even further with eight minutes to go, and while Tyler Seguin would break Jacob Markstrom's shutout, Mikael Backlund removed all doubt from the game in the final minute with an empty netter.
Once again, the market has corrected a bit on Bet99, though not to where it was after Game 1, or even at the start of the series – they're starting to take Dallas a little more seriously. Nonetheless, the Flames remain the favourites at -264, with Dallas trailing at +205.
Game 5, 3-1 Calgary – Fans across the NHL scene were treated to repeating experience last night – the underdogs taking control of their games, only to have the favourites claw back to win all three times. It happened in Florida, as Washington went up 3-0 and lost 5-3, it happened in New York, as Pittsburgh went up 2-0 and lost 5-3, and it happened in Calgary last night. Granted, Dallas' lead was only one, but in this series, 1 may as well be 7. After a scoreless first period, Jason Robertson put the Stars up with his first career playoff goal, coming in off the boards and ripping a wrist shot glove-side past Jacob Markstrom. This lead held throughout the second period, and for some of the third, but Mikael Backlund's redirection of an Andrew Mangiapane pass in the slot gave Calgary life. Mangiapane struck again a few minutes later with a perfect wrist shot in motion, and Trevor Lewis added an empty netter to ice it.
The defining line of this game, without a doubt, was the trio of Mangiapane, Backlund, and Blake Coleman – even without direct contributions from Coleman, his physicality and retrieval play helped the other two get key touches. The Flames on the whole were buzzing throughout, though, with only Milan Lucic having a negative shot attempt differential. It seems like Calgary has finally gained some control in this series, and Bet99 feels the same way about it: they've got the Flames at -715 to get the job done, to Dallas' +480. That's the widest they've favoured Calgary by since they won Game 1.
Game 6, 4-2 Dallas – The Stars aren't going down without a fight, tying the series and forcing a Game 7 on Friday night. Roope Hintz opened the scoring in the Lone Star state with a wrist shot that beat Jacob Markstrom late in the first period, and that lead was given some insurance by Michael Raffl early in the second. It's a good thing that it was, too, as Michael (Stone) and Mikael (Backlund) quickly responded for the Flames to tie the game. Thankfully for Dallas, one of their top core pieces stepped up at the right time – Miro Heiskanen restored the lead with two and a half minutes to go in the middle frame, and thus began the lockdown defence that the Stars have made a habit of all season. Tyler Seguin added an empty netter and brought the series to the edge.
Game 7, 3-2 Calgary (OT) – The last game of the first round had all the potential to be a snoozefest, but ended up being a great sendoff to all the matchups. Despite being the lowest-event series, the action started here almost immediately. A successful dump-and-chase effort by the Stars was converted into an opening goal by Jamie Benn just forty seconds into the action, and stood alone for the rest of the period. Once the second hit, the Flames got their response from mid-season acquisition Tyler Toffoli, only to be responded to in the next shift by Vladislav Namestnikov to restore Dallas' lead. Matthew Tkachuk tied the game back up once again, but looking at the shot totals, it really felt like it should've been more than a 2-2 game at that point.
You see, Calgary outshot Dallas by an absurd 26-4 in the second period, and entered the third up 43-12 in that regard. Realistically, it should've been their game by a large margin at that point, but Stars netminder Jake Oettinger was putting up one of the great performances in NHL playoff history in between the pipes. As he had all series, he kept the Stars in this game, but at no point was it as lopsided as this. The pendulum normalized a bit in the third period, but once that was moved through with no goals, overtime tilted back into the Flames' favour. The young goalie did his best to hold the fort and lead his team to an incredible upset, but fifteen minutes into OT, Johnny Gaudreau finally shook the playoff choker moniker off his name once and for all, beating Oettinger with an incredible tough-angle wrist shot to end the series. It took some time for the heavy favourites to get this one done, and the Stars deserve credit for that – but in the end, Goliath found his rhythm.
—–
The Matchup
Dallas crossed over into the Pacific Division for the playoffs via their wildcard spot, so these two combatants have only faced off three times over the course of the regular season. Despite a 13-point gap in their records, this season series was actually pretty close. The Flames ultimately took two of the three games and Dallas needed overtime to secure their lone victory, but all three games were decided by one non-empty net goal. Unpacking the underlying numbers though shows a different story. On top of out-scoring the Stars 7-6 at 5-on-5, Calgary controlled 58.3% of the shot attempts in the series, 54% of the scoring chances, and 52% of the expected goals.
In the context of the full season, you see similar trends. Calgary's underlying shot metrics remind one a lot of head coach Darryl Sutter's peak years in Los Angeles, where despite a heavy style of play, the team would still be able to tilt the ice in their favour. The Flames finished the year ranked third in shot attempt share (55.6%) to Dallas' 19th (49.0%), which ranks third-lowest among playoff teams. The disparity shrinks a little when you look at expected goals (4th vs 14th), and a lot when you narrow it down to the share of high-danger scoring chances (Calgary 4th at 55.3%, Dallas 9th at 53.4%), but the Flames still consistently come out ahead. But if you care about results over process, that's where it really spreads apart. No team has a better share of the 5v5 goals than Calgary (58.5%, +57), while Dallas ranks last among playoff teams and 20th overall (48%, -12). That's a pretty big gap, to say the least.
Both teams are leaving a decent chunk on the table in terms of injuries. For Calgary, they've lost Sean Monahan for the year, recently pulling the plug on what's been a tough season for him to get hip surgery for the second consecutive year, putting his long-term aspirations into question. On the flip side, the Stars are without both of their originally planned goaltenders for the foreseeable future – Anton Khudobin had season-ending surgery and Braden Holtby's return has been an unknown for weeks now. Thankfully for them, Jake Oettinger has lived up to the pressure, and Scott Wedgewood has also been above-average in relief, but relying on your third and fourth goalies to carry you home is playing with fire. Puck moving defenceman John Klingberg has also missed considerable time down the stretch, but expects to play in this series.
The Star Power
Johnny Gaudreau, CGY – I'm not sure that anyone has ever crushed a contract year like Gaudreau has this season. In the two years prior to this one, "Johnny Hockey" produced 37 goals and 107 points in 126 games – a very respectable rate of about 70 points per 82 games. This year? He eclipsed that just in assists, or just in even strength points. Gaudreau finished the year with career highs in goals (40), assists (75), points (115), plus-minus (+64), and shots on goal (262). He controlled play, with the Flames getting 57% of the shot attempts while he was on the ice. Obviously the question now remains whether he can back this up in the playoffs, given a largely unproductive past in that regard (19 points in 30 games), but few in the sport are coming in hotter.
Joe Pavelski, DAL – Speaking of spike seasons, father time seems to have completely forgotten about "Little Joe". The man put up a career high in points at 37 years old. 37! In 82 games this year, Pavelski scored 27 goals, picked up a career high 54 helpers, and just barely missed the point-per-game mark. Pavelski is a hard-nosed, honest producer with a solid two way game and a willingness to go to the front of the net, which as many will tell you, is key come the playoffs. In Dallas' run to the 2020 Stanley Cup Final, Pavelski put up just one fewer goal in their 27 games (13), than he did in his 67 game regular season, showing that he could elevate his game. Now, he's already coming in with 27 to his name.
Matthew Tkachuk, CGY – The trend in this series is breakout seasons, and in this one, the older of the Tkachuk sons/brothers cemented himself as a true superstar – and one who could get under your skin like few others could. A play driver, a penalty drawer, a super-pest, a natural finisher, Tkachuk is essentially what happens when you put "hard to play against" into a blender. This year, he picked up 42 goals on that unbelievable line with Gaudreau and Elias Lindholm, and added another 62 points for his first 100 point season. He allowed Gaudreau to stay away from physality by throwing 93 hits of his own, and had an insane 60% shot attempt share while he was on the ice.
Jason Robertson, DAL – Another brother on this list, Robertson clearly had some unfinished business after finishing as a runner up in the Calder Trophy race for rookie of the year in 2021. The 22-year-old former second-round pick went from a 45 point in 51 game clip in his first full season, to 79 in 74 this year, leading the Stars with 41 goals along the way. Robertson isn't a dominant physical player but plays fearless hockey, allowing him to get into the right places to score. This will be his first playoff experience and I'm really looking forward to seeing where it goes for him.
Why the Calgary Flames could win
Unlike our previews on the Oilers/Kings and Lightning/Leafs series, this one feels a little more like a one-sided affair. Simply put, the Flames have had an incredible season – not always getting dominance in the wins and losses column, but smothering teams with their style of play and raking in the key categories that tend to lead to future wins.
Most impressive, of course, is that top line of Gaudreau, Lindholm, and Tkachuk. Out-scoring teams 73-31 while on the ice together is just bonkers, and isn't significantly out of line with their 62.5% high-danger chance share and 61.1% expected goal share. These are the sorts of numbers that few felt to be possible in today's parity-driven league, but this group checked all the right boxes in terms of scoring touch, defensive intelligence, tenacity, and just a sprinkle of good fortune to tie it all together. There is massive leverage in having far and away the best line in a shortened series, when you can lean on your big guns in key situations.
Calgary is more than just them all the same. Their second line of Andrew Mangiapane, Mikael Backlund, and Tyler Toffoli is a similar blend at a slightly lower tier, Blake Coleman jumped from being a key contributor to the Tampa Bay Lightning to taking on a challenge in Cow-town, and they've even found a way to get the most out of Milan Lucic at this stage of his career. Their blueline lacks a star presence but finds a way to contribute, and if I had to bet on any goalie in this series, it would probably be Jacob Markstrom.
Why the Dallas Stars could win
There isn't a ton of confidence to be put in claiming the Stars will win this series, but it's not impossible. First of all, hockey is a very random sport that often makes fools out of even the best of us, and all it takes to flip a narrative is a few lucky bounces.
Secondly, there's experience in this lineup. Much of the current Dallas group was also around for the team's 2020 run to the Stanley Cup Final, so they know what it takes to get to the other side. Of course, the age curve hasn't been kind to most of the group that was there (Pavelski notwithstanding), but a few of the younger players, like Robertson and Roope Hintz have off-set that with their own growth.
On the subject of the veterans, though, I can't help but look a little at a trio of players who have underperformed this season. Jamie Benn, Tyler Seguin, and Alexander Radulov one combined to be one of the scariest lines in hockey. This year, they combined to score two more points than Johnny Gaudreau on his own, despite only missing ten games combined. I just feel like there's another push left in the trio, particularly 30-year-old Seguin, who in most years would've been with the stars on this list, and not just because of his team's name. Players like Miro Heiskanen, John Klingberg, Radek Faksa, and Denis Gurianov have also been underwhelming on the production front this year. I'm just saying, it's possible that a few of these guys click for a week or two, get hot at the right time, and get this done. At the same time, it's not a theory that I'd stake a ton on.
Calgary Flames vs. Dallas Stars Betting Lines
Another Canadian matchup means another opportunity to take a glance at some of the best sportsbooks in Canada, and see how they're feeling about this series.
My first stop was Bet99 Sportsbook Canada, whom we recently reviewed. Understandably, they really like the Flames as the outright winner of this series, putting them at -345 to Dallas' +250. They've also got props available for the exact series result, with Calgary winning in five games coming at the lowest odds (+330), and Dallas sweeping at the highest (+2400). They're also taking props on who will lead the series after 3 and 4 games, and how long it will last regardless of who the winner is.
Sports Interaction Canada, on the other hand, has very similar odds for this series, taking Calgary at -345 to Dallas' +251. They also have the Flames in 5 at +330, and if you believe in the Dallas sweep, you're getting a little less value at +2300. Their props are a little more in depth – for example, you wager on who will have more goals between Tkachuk and Robertson, how many points Gaudreau will tally in the series, and many more.
Beyond those two, you'll find most, if not all Canadian outlets offering game-by-game odds, along with some series futures and plenty of props.
Calgary Flames vs. Dallas Stars Prediction
I really want to give the Stars an opportunity here. I've been a Radulov fan for years, really like Robertson, and everyone loves a good upset. This might be John Klingberg's last chance to go on a run with the group before he tests free agency, and who knows what's next for Pavelski and Benn in their careers. It's also super fun when an unexpected goalie goes on a run.
But if one is thinking logically, this seems like the time for the Flames to shake some of their playoff rust off and make some noise. The mismatch here is just too strong, and their top players are just too hot. There isn't a position where Dallas really has an advantage at the moment and they're the most banged-up team. Certainly, they'd be fun to see go on a tear too. Tkachuk having a Brad Marchand-like breakout is appointment viewing, Gaudreau's playing himself into a monster raise, and guys like Andrew Mangiapane are really fun and overlooked by the casual hockey populace. Heck, I'm even enjoying Milian Lucic and his cowboy hat entrances to the rink that we see on Hockey Night in Canada.
This will be a really fun series either way. Either we see a team live up to its name and keep up its scorching-hot pace, or we see a crazy upset. No matter what, a matchup to tune into for sure.