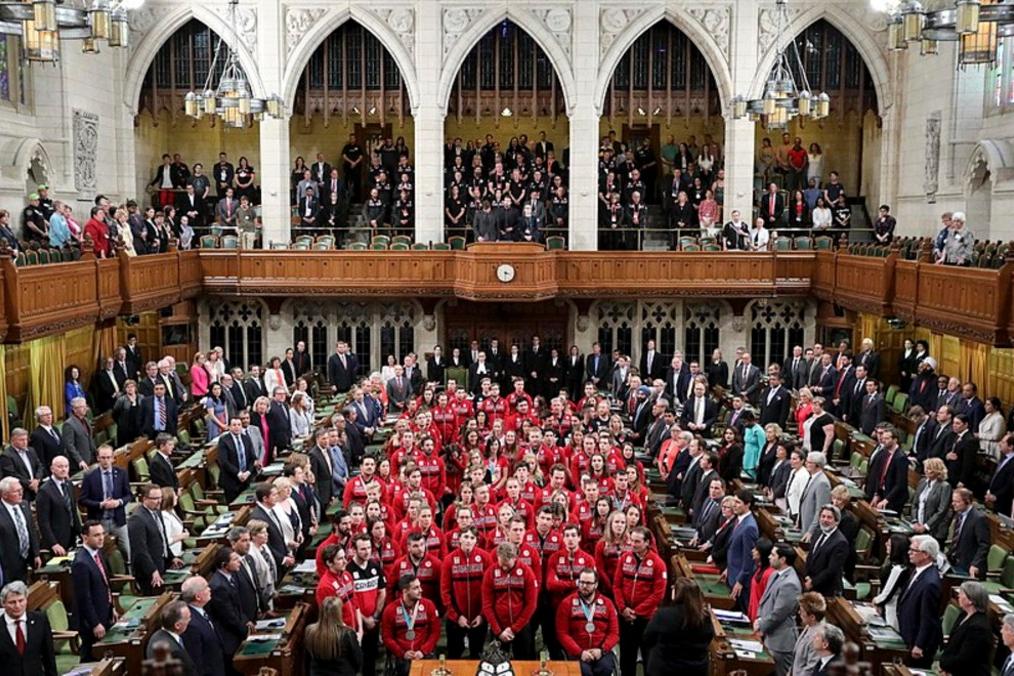 With 21 medals in total, Canada finished 19th in the overall standings by total medals at the Tokyo Paralymic Games. Canada's final medal tally was five gold, 10 silver and six bronze. Sixteen different athletes representing seven Canadian provinces brought home medals. Swimmer Aurelie Rivard led the way with five medals, while athletics competitor Brent Lakatos won four medals. Swimmer Danielle Dorris was also a multiple winner with two medals.
Canadian Paralympic Best Moments
Canada finished in 19th place at the Tokyo Paralympic Games, winning 21 medals
The Canadian tally was five gold, 10 silver and six bronze medals
Swimmer Aurelie Rivard was Canada's top medallist, winning five
It was a record-setting performance for Canadian athletes at the Tokyo Paralympic Games, which concluded on September 5. A world-record-setting performance, to be more precise.
Canada won five gold medals during the Games. All five of Canada's gold medal-winning performances were achieved in world record-setting times.
Aurelie Rivard set new world records in both the women's 100m and 400m freestyle S10 races, while Danielle Dorris broke the world record in the women's 50m butterfly S7. Greg Stewart (Kamloops, BC) set a new Paralympic record en route to his F46 shot put title, while the performance of Nate Riech (Victoria, BC) also was Paralympic record-breaking in the men's T38 1500m.
In total, Canada posted 49 top-five finishes during the 12 days of competition. Canadians won medals in five different sports: Para-swimming (8), Para-athletics (8), Para-cycling (3), Para triathlon (1), and Para judo (1). Para-swimming (three gold, three silver, two bronze) and Para-athletics (two gold, four silver, two bronze) are tied as Canada's most successful sports.
"Beyond exciting results on the field of play, Tokyo 2020 has been a huge success for the growth of the Paralympic Movement, showcasing sport at the highest level, sharing so many stories of excellence and humanity, and how sport can positively impact the entire world," said Marc-Andre Fabien, President of the Canadian Paralympic Committee.
The Paralympics are held immediately following the completion of the Olympic Games and in the same host city.
Paralympic Legends
Both Rivard and wheelchair racer Brent Lakatos added to their already awe-inspiring Paralympic legacies.
Rivard of St-Jean-sur-Richelieu, Quebec, was Canada's top athlete in Tokyo, coming home with five medals. She won two gold, one silver, and two bronze. Rivard now has 10 Paralympic medals through three Games appearances.
Lakatos of Dorval, Quebec was close behind. He finished with four silver medals won at Tokyo 2020. Those outcomes brought his career total to 11 podiums throughout his five Paralympic Games.
Danielle Dorris of Moncton, New Brunswick was Canada's other multi-medallist in Tokyo. she won gold in the 50m butterfly S7 and silver in the 100m backstroke S7. At the age of 18 years and 11 months, Dorris was Canada's youngest medal winner.
Shining Debuts
Dorris was among a total of 10 Canadian athletes won their first Paralympic medals in Tokyo. Stewart, Riech, Kate O'Brien and Morgan Bird of Calgary, Alberta, Priscilla Gagne of Sarnia, Ontario, Keely Shaw of Midale, Saskatchewan, Sabrina Duchesne of St-Augustin, Quebec, Zachary Gingras of Markham, Ontario, and Marissa Papaconstantinou of Toronto, Ontario were the others.
Five of those first-time medallists captured them in their first Paralympic Games appearance – Stewart, Riech, Gingras, Shaw, and O'Brien.
Gagne, who was Canada's Opening Ceremony flag bearer, became the first Canadian woman to win a medal in Para judo. She won a silver in the 52 kg category.
Repeat Performances
Six medallists from Rio 2016 came home with hardware from Tokyo. Those athletes were Rivard, Nicolas-Guy Turbide of Quebec City, Quebec, Katarina Roxon of Kippens, Newfoundland, Lakatos, Stefan Daniel of Calgary, Alberta and Tristen Chernove of Cranbrook, B.C.
Chernove was the oldest member of Team Canada to make the podium. The 46-year-old Para cyclist won silver in the track individual pursuit.
One medal was won by multiple athletes. That was the women's 4x100m freestyle relay comprised of swimmers Rivard, Bird, Duchesne, and Roxon.
Where to Bet On The Paralympics?
Can you bet on the Paralympic Games? You most certainly can. There are a number of leading online betting sites that will provide bettors with the chance to place a wager on the Paralympics, whether it be a moneyline or point spread wager, a future book bet, a parlay wager, or an athlete or team prop wager. The best bet you can make is to shop around in advance and seek out the right deal before joining one of these sportsbooks. Check out Sports Interaction and Bet99 as examples.
The signup bonus offers that are in place at all of these recommended sites will prove advantageous to the bettor. And since you'll get a good deal wherever you go, why not check out several sites and find the ideal fit for your needs?
Do you want a risk-free first bet as a signup bonus? Perhaps you find a no deposit bonus to be enticing. Or maybe you simply like the feel of cold, hard cash in your account and you want to go for a matching first deposit bonus. Whatever option you choose, you're already a winner.
Remember that new players and returning customers are eligible for better bonuses when they deposit using Bitcoin. As well, take advantage of the betting advice offered at these sites to help newcomers acclimatize to sports betting.
See below the top sportsbooks where you can wager online and choose the right one for you: