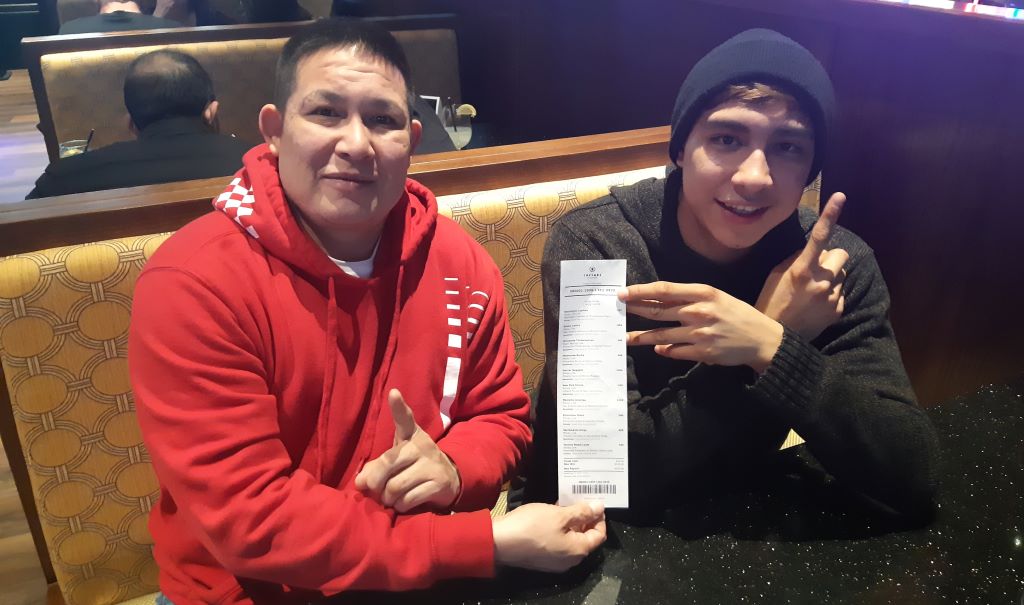 Caesars Windsor opened its full-service retail sportsbook last Wednesday, much to the delight of local sports bettors.
The sportsbook opened at 3 p.m. ET on Wednesday to the public and immediately began taking wagers from patrons, who seemed grateful for the new venue.
"I love it! I'm going to bring all of my friends and family here," exclaimed Edwin Wright, a local chef who frequents Caesars Windsor.
Wright explained that he also bets online with PROLINE +, FanDuel, and bet365, but he much prefers placing in-person retail wagers. On Wednesday night, he had Caesars odds sheets spread all over the table in the sportsbook while he cooked up a huge 10-leg parlay.
He found the betting kiosks easy to use, and appreciated the friendly staff at the sportsbook that were able to quickly and efficiently answer the questions he had on opening night.
"Sometimes, I'd go to the PROLINE retailers, and if I had a question, they had no clue what I was talking about," Wright explained. "Today, it was easy to get help."
Many casino guests stopped by to check out the new sports lounge throughout Wednesday evening, and there was a steady flow of bettors using the kiosks.
"This casino really needed this," explained another guest, who had asked for the college men's basketball game between Georgia and Mississippi State to be put up on one of the 22 TVs in the sportsbook so that he could root on his bet.
He described himself as an avid sports bettor who also frequently bets online. A local to Windsor, he explained that his mom used to work for the Ontario Lottery and Gaming Corporation and that gambling has always been very prevalent in his family. He's visited many sportsbooks in the United States, but loves that there's now a local option.
"You can't compare this book to Las Vegas," he said. "The ones [sportsbooks] in Vegas are huge and they really know how to do it right. When I go to Vegas, I love having a TV in my booth so I can switch easily to whatever game I want to watch quickly and easily without asking anyone. This is a great sportsbook for Canada, though. I like that there's somewhere local to go and bet and watch games."
Earlier in the day, NHL Hall of Fame goaltender Grant Fuhr was on hand to help casino officials and local politicians officially open the casino. He too mentioned to Canada Sports Betting that he liked the small, intimate vibe of the Caesars Windsor Sportsbook compared to the "gigantic" venues in Las Vegas.
Not a perfect launch
Although many guests at the new sportsbook had overwhelmingly positive things to say about the new venue, they did have a few concerns about the opening.
"Why the hell did they open it on a Wednesday night? Why not on a NFL Sunday or at least on the weekend? We've got NFL Wild Card weekend coming up. That would've been a logical time to open it up and really promote it. It's awfully dead in here for an opening night," one guest, who was shocked that there weren't any promotions or giveaways at the sportsbook on Wednesday night, told CSB.
Wright explained that he usually gets promotional emails for all Caesars Windsor events, but said he wasn't notified via email about the opening of the sportsbook.
Another guest pointed out that the LED sports ticker in the attached Legends Sports Bar didn't extend over to the actual sportsbook seating area. He thought that it would be an easy improvement that the casino could make to enhance the sports betting experience for patrons.
Some guests also pointed out they'd like more odds printouts available around the sportsbook. Only a couple of odds listings for each sport were available on display racks throughout the book, and several patrons mentioned they prefer to look at printed copies of the odds rather than consulting the kiosks or online Caesars odds. It's very clear that some older bettors in Ontario have developed ingrained habits from filling out PROLINE retail slips for decades.
My experience at the sportsbook
After attending the ribbon cutting ceremony in the afternoon, I decided to stick around throughout the evening hours to fully experience the first night at the new sportsbook.
I arrived shortly before 7 p.m. ET and planned to have dinner and drinks throughout the evening hours. The crowd had really thinned out when compared to the hustle and bustle of the initial opening.
The menu featured items you would expect to find at any typical sports bar: nachos, wings, poutine, burgers, sandwiches, and steak. Prices are on par with other casino dining options. You can order a burger and fries for $17, and I elected to grab a steak sandwich and fries for $26.
Most alcoholic drink options ranged from $7-$10. Again, what you'd expect to pay at any of the other bars inside the casino. Unfortunately, there wasn't a drink special for opening night other than the Caesars for a Cause promotion, which saw $1 of proceeds going to The Hospice of Windsor & Essex County.
Game awareness was a huge issue at the sportsbook leading up to the early slate of evening games. None of the TVs featured the pregame show for the Toronto Maple Leafs vs. Nashville Predators, which was clearly the Canadian game of the night after reviewing both the NHL and NBA schedules. I had to ask to get the game up on the TVs right before puck drop, and I also requested that the Detroit Pistons game be featured on the screens. Given Windsor's close proximity to Detroit, I was shocked that the Pistons were an afterthought at the sportsbook, which is also attempting to draw patrons from across the border. If you've visited any sports bar in Ontario, you'd know that the Maple Leafs always receive the highest TV priority as one of the undisputed most popular teams in the province and country.
Once the TV situation got sorted out, the experience was quite enjoyable. Several patrons began rooting on their bets and began mingling throughout the evening. There was a consistent flow of bettors using the kiosks and betting windows, and Caesars Windsor had four staff members dedicated to educating and helping people with their betting needs. As several guests also noted, the overall turnout was disappointing, though, considering it was the grand opening.