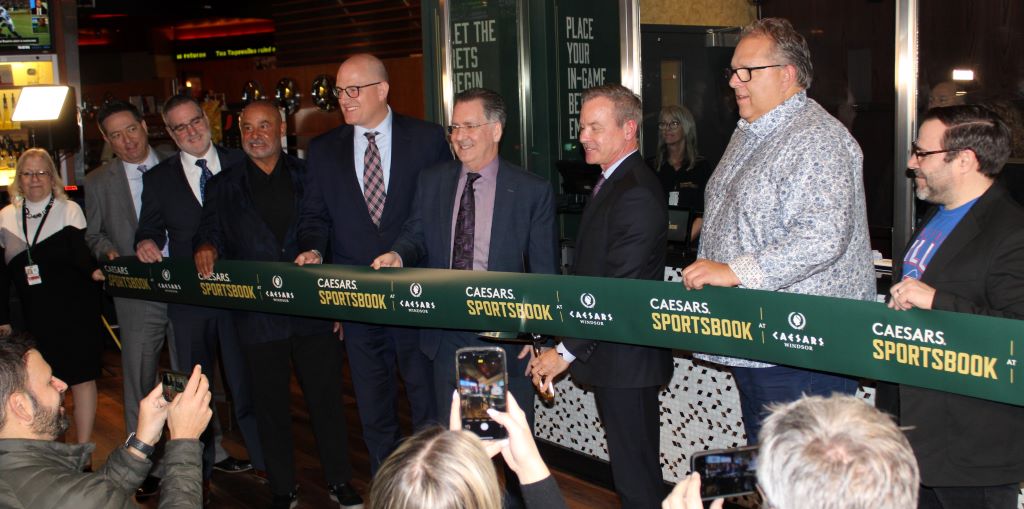 Ontario finally has its first full-service retail sportsbook.
The Caesars Windsor Sportsbook opened its doors to the public on Wednesday afternoon after Hall of Fame NHL goaltender Grant Fuhr assisted sportsbook executives and local politicians with cutting the ribbon to proclaim the new space officially open.
Located in front of Legends Sports Bar inside the casino, the 1600-square-foot space features three betting windows, seven self-service betting kiosks, 22 large screen HD LED TVs with state-of-the-art sound, and a dedicated seating area for sports bettors.
Patrons can enjoy food and beverage from Legends Sports Bar in the intimate and modern sports lounge, which is adjoined to the main casino floor. The grand opening event featured new menu items from Legends Sports Bar, including the launch of Caesars for a Cause, with Caesars Windsor Cares donating $1 from every specialty Caesar ordered to The Hospice of Windsor and Essex County.
"Welcome to the sportsbook at Caesars Windsor. Man, I've waited a long time to say that. This has been a long, long road," President of Caesars Windsor Kevin Laforet said at the opening. "We had to get the sports betting legislation done, we had to get the provincial approvals, that all came together late last year. Working with OLG [Ontario Lottery and Gaming Corporation] and the Caesars sportsbook group here, we were finally able to get it open."
Caesars Windsor debuted several sports betting kiosks on its casino floor in November after OLG and the Ontario government came to an agreement on compliance issues. With the addition of the new sportsbook, Caesars is expecting much more betting volume coming from the kiosks in the future.
"It [the betting volume] will build. We knew there would be more interest once we opened the sportsbook. Once you have the game excitement on, you'll see more action, you'll see more in-game betting. We'll see the volumes really go up," Laforet added.
Politicians, at the provincial and local level, had been advocating for years for in-person sports betting at casinos, and those discussions hit a bump in the road during the COVID-19 pandemic.
"The last several years have been particularly challenging as we've all dealt with the effects of COVID," Windsor Mayor Drew Dilkens said. "I can't think of a better way for Caesars Windsor to bounce back than opening up this sportsbook today after years and years of talking about it. This will allow Caesars Windsor to be competitive with our neighbours in Michigan and Ohio, and the other [retail sports betting] operations there. People that come to this facility will have options."
There are several retail sportsbooks, such as The Barstool Sportsbook at Hollywood Casino at Greektown, BetMGM Sports Lounge, FanDuel Sportsbook at MotorCity Casino Hotel and many others, just across the border in Detroit that have been operating for a few years now.
Fuhr, who placed the first ceremonial bet on the Jacksonville Jaguars moneyline over the Los Angeles Chargers on Saturday, has visited a few retail sportsbooks in the United States.
"I think they've done a phenomenal job. I'm spoiled, I live in the United States right now and we've had sportsbooks for a while now. It's nice to be able to come home and have that option," Fuhr, who proclaims he's not a huge sports bettor, said. "I like it because it's nice and intimate. Some of the American sportsbooks are gigantic. I was at the grand opening of Circa in Las Vegas and it's a monster sportsbook. I like the intimate setting here, it's very Canadian."
Although Fuhr, a five-time Stanley Cup champion, opted to place his ceremonial first bet on the Jaguars, he couldn't resist talking a little bit about the NHL. When asked which team he would back with a $100 wager to win the Cup, Fuhr replied "I'd probably take the Colorado Avalanche (currently +650 at Caesars) to repeat."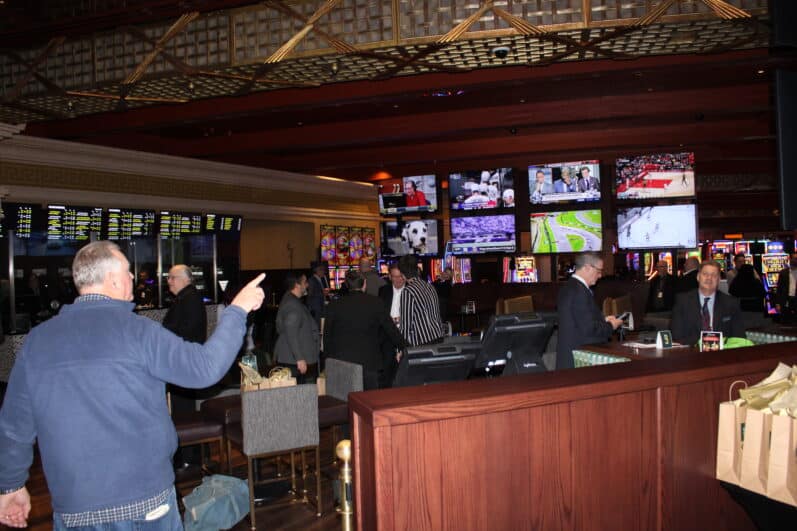 Sportsbook rules
Patrons visiting the Caesars Windsor Sportsbook should be educated on the in-house rules.
The minimum bet is $5, and the maximum bet is $500 for non-Caesars Rewards members, and $1,000 for Caesars Rewards members. Bettors can earn Caesars Rewards and tier credits with sports betting; you earn one Tier Credit and one Reward Credit for every $5 of potential profit on sports bets placed. The earning maximum is two Reward Credits for every $1 wagered. You can't use rewards credits to place a sports bet, though.
Winning tickets must be redeemed where the bet was placed. Online winning tickets via the Caesars Sportsbook must be redeemed online. Winning bets made at Caesars Windsor (kiosks or betting counter) are redeemable at Caesars Windsor's Main Cashier Cage.
The Caesars Windsor Sportsbook will only accept wagers in Canadian funds and odds found using the sports betting kiosks mirror the online odds available to Ontario users.
There's a significant amount of signage around the casino to indicate where the sportsbook is located on the property.