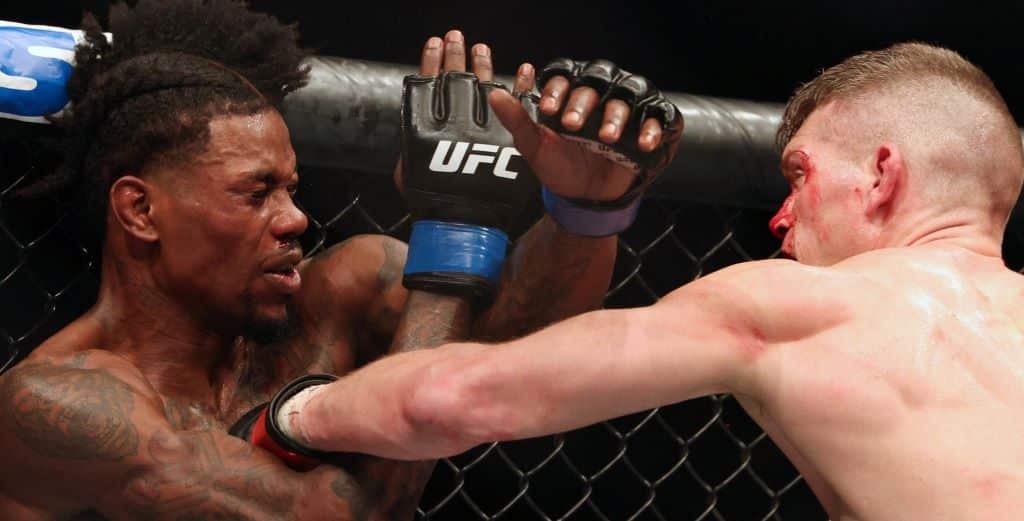 Bettors in the province of Alberta will no longer be able to legally wager on UFC events.
Just one day after Ontario's iGaming regulator banned wagering on UFC events due to integrity concerns, Alberta's online gambling regulator also made the decision to take down its UFC markets last Friday in the province.
"Effective December 1, Alberta Gaming, Liquor and Cannabis, stopped offering and accepting wagers on UFC events due to possible risks of wagering integrity. Previously placed UFC wagers on PlayAlberta.ca have been voided and the stake returned to the player," an AGLC spokesperson told Canada Sports Betting. "AGLC will continue to monitor standards implemented by UFC before reinstating betting options on Play Alberta."
Play Alberta, which launched sports betting in Sept. 2021 shortly after Canada decriminalized single-event wagering, is the province's only regulated, legal gambling website.
Alberta sports bettors that have accounts with illegal grey market operators will still be able to wager on UFC events.
Last Thursday, the Alcohol and Gaming Commission of Ontario, made the decision to ban wagering on UFC because the organization was in violation of its Registrar's Standards. The UFC does not prohibit all insiders (coaches, managers, handlers, athletic trainers, medical professionals, or other persons with access to non-public information) from betting on UFC events.
In early November, several U.S. sportsbooks reported some suspicious betting activity surrounding a UFC event.
Last Friday, the UFC announced that coach James Krause, and any fighters working with him, would be banned.
"UFC has since advised Krause and the respective managers working with impacted fighters, that effective immediately, fighters who choose to continue to be coached by Krause or who continue to train in his gym, will not be permitted to participate in UFC events pending the outcome of the aforementioned government investigations," the statement read.
Where does the rest of Canada stand?
The British Columbia Lottery Corporation's PlayNow.com platform is the only 100% legal and regulated online gambling website in B.C., Manitoba, and Saskatchewan, and the only site whose profits go back to those provinces to support important programs and services.
As of Friday afternoon, UFC markets remained up on BCLC's various betting platforms.
"We are aware of the Alcohol and Gaming Commission of Ontario (AGCO) and Alberta Gaming, Liquor and Cannabis (AGLC) recently issuing an order to stop offering bets on the UFC," a BCLC spokesperson said. "BCLC and its vendors regularly review patterns of betting on PlayNow.com to detect aberrant patterns as part of our commitment to integrity. We have not detected any anomalous betting patterns on PlayNow.com for UFC events. BCLC will continue to closely monitor any new developments in coordination with our partners in other provinces, as well as B.C.'s gaming regulator, the Gaming Policy and Enforcement Branch (GPEB)."
In Quebec, bettors can still wager on UFC events, at least for now. Sports bettors can wager legally online in Quebec using the Mise-o-jeu platform. As of Tuesday morning, UFC odds are available on the site.
"We are monitoring the situation closely and have done a thorough review of UFC betting in recent weeks," a spokesperson for Loto-Quebec said. "Nothing abnormal has been detected, so we continue to offer bets on this type of event. Our clients are free to choose from our entire betting offering."
The Atlantic Lottery Corporation offers online sports betting on behalf of the governments of Nova Scotia, New Brunswick, Newfoundland and Labrador, and Prince Edward Island. UFC markets are still available to bettors in these provinces.
"At this point in time, we're continuing to offer the UFC on our Proline list and are monitoring the situation closely," Director of Sports Betting Scott Eagles told CSB. "We're following the same due diligence with our liability management and anomaly detection that we always have with our betting markets. We have not received any guidance to do otherwise."
Bans pushing bettors to grey market?
Although UFC betting is now off the table in the legal markets in Ontario and Alberta, grey market operators are still taking bets from Canadians. Bettors should be cautioned about the dangers of wagering with an unregulated sportsbook as they'll potentially lose a number of consumer protections when betting with an illegal offshore site.
Wagering with a regulated sportsbook ensures that winnings are paid out, deposits and banking/personal information are secure, and that game odds are competitive and fair. Regulated sites also have standards in regards to responsible gambling measures, which are crucial to ensuring you play within your means.
One Canadian iGaming executive called the UFC ban "ridiculous" as he fears it will push more Canadians to the grey market (or black market in Ontario)
All this does is push people over to the black-market operators (there is no grey market now in Ontario) to continue betting on a top 6 North American sport," he said.
Ontario is the only Canadian province to adopt an open iGaming model, which includes a number of private operators in the market in addition to provincial lottery games. As of Oct. 31, any operator that is not licensed with the AGCO is now breaking Canadian law as regulators attempt to halt illegal operations in the province.
Provincial lottery corporations are the only entities offering iGaming and sports betting in Canada's other provinces. These corporations have banned together to form a coalition against illegal online gambling and are pushing the federal government to crack down on illegal gambling site operators.